Detective Pikachu Now The Highest-Earning Video Game Movie Ever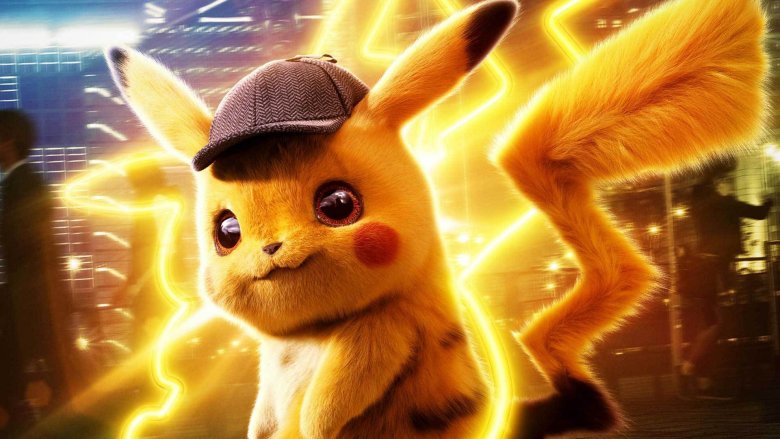 Pokemon: Detective Pikachu has solved the mystery of how to go about making a successful video game adaptation.
The Ryan Reynolds-starrer currently sits at $143 million dollars in domestic box office receipts, making it the highest-grossing video game movie in history by a healthy margin. Worldwide, the flick has raked in an impressive $429 million dollars, also a record. (via Box Office Mojo)
There were quite a few factors working in the film's favor. It's an adaptation of the hot-selling 2016 Nintendo 3DS title of the same name, and due to the game's emphasis on its story, some of its reviewers felt that — in contrast to, say, Super Mario Bros. — the material actually lent itself better to a movie than a game. The movie featured lovingly-rendered visuals with plenty of Easter eggs for Pokemon fans of all stripes, and its cast also featured the winning combination of Justice Smith (Jurassic World: Fallen Kingdom) as a young man in search of his police detective father, and Ryan Reynolds (Deadpool) as the title character. Seriously, who doesn't love that guy?
Detective Pikachu received above-average critical notices, which likely combined with strong word-of-mouth from the Pokemon game series' fervent fan base to contribute to a longer stay in theaters than your average game adaptation. It also helped that said fan base is decidedly of the international variety, helping the flick along to an unusually strong overseas box office performance.
While it may seem like "highest-grossing video game adaptation" shouldn't have been too terribly difficult a title to claim, Detective Pikachu did conquer some formidable earners on its way to the top spot. Domestically, the flick knocked 2001's Angelina Jolie-starring Lara Croft: Tomb Raider ($131 million dollars) from the top spot. Rounding out the top five: 2016's animated feature The Angry Birds Movie ($107 million dollars), 2018's Rampage ($108 million dollars), and 2010's Prince of Persia: The Sands of Time ($90 million dollars).
Globally, Detective Pikachu ousted Duncan Jones' Warcraft from the top position; while that film flopped with a $47 million dollar stateside gross, its absolutely titanic overseas box office earnings catapulted it to the top of the video game adaptation pack with a $433.6 million dollar total. The next-highest grosser: Prince of Persia, which likewise overcame a relatively weak domestic reception to score $336 million dollars globally.
We know what you're thinking: where does the supremely ill-advised, epic boondoggle that was 1993's Super Mario Bros. fit into this equation? The flick — which somehow managed to land John Leguizamo and Bob Hoskins as its leads and Dennis Hopper as King Koopa — was a perfect example of how not to adapt a video game property, taking the weirdest of liberties with its source material while peppering in enough random references to the iconic Nintendo game to alienate casual moviegoers. With a $20.9 million dollar domestic gross, it is the 28th-highest grossing video game flick of all time, right between 2015's Hitman: Agent 47 ($22.4 million dollars) at #27, and 2012's Silent Hill: Revelation 3D ($17.5 million dollars) at #29.
If you're thinking that Detective Pikachu's success must surely have paved the way for a sequel, well, aren't you astute. It has, in fact, been in the works since early this year, well before the first film was even released. While Detective Pikachu relied on a committee of screenwriters (no fewer than seven are credited with its story and screenplay), the sequel has thus far been entrusted to just one: Oren Uziel, who penned 22 Jump Street and co-wrote the forthcoming Sonic the Hedgehog with Josh Miller and Patrick Casey, the scribes behind the "School Spirit" installment of the Hulu horror series Into the Dark.
Of course, Detective Pikachu might not hold the crown for long, as we have a wealth of intriguing-looking video game flicks coming our way in the next couple years. In addition to Sonic, which drops on Valentine's Day, next year will bring us Monster Hunter (starring Milla Jovovich, Meagan Good, and Ron Perlman) and Uncharted, which will star Spider-Man: Far From Home's Tom Holland and Bryan Cranston of Breaking Bad fame. 
2021 will see the release of producer James Wan and director Simon McQuoid's Mortal Kombat reboot (currently in production in Australia), and in 2022, we'll get a big-screen adaptation of Minecraft from director Peter Sollett, the man responsible for the 2008 classic 2008 YA adaptation Nick and Norah's Infinite Playlist.
By the time those flicks hit the screen, however, Detective Pikachu 2 will probably have come around to clean house once again. Assuming the production doesn't hit any roadblocks, we should get some news sometime before the end of the year as to when the sequel will be kicking into gear; we'll keep both ears to the ground, and keep you informed.