A Quiet Place 2 Begins Filming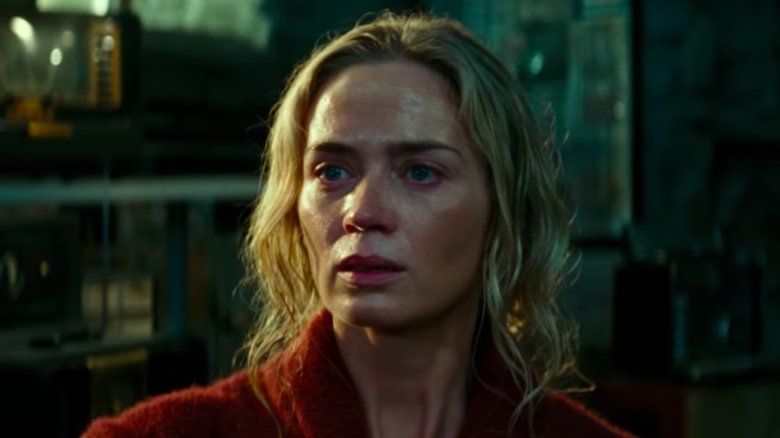 Some people just can't keep quiet about their exciting new projects.
The sequel to A Quiet Place, writer/director John Krasinski's breakout 2018 horror hit, has officially gone before the cameras. Krasinski broke the news with an image posted to his Twitter account.
#PartII pic.twitter.com/jnZiylihYT

— John Krasinski (@johnkrasinski) July 15, 2019
For those uninitiated, A Quiet Place followed the travails of one family as they navigate a post-apocalyptic world overrun by blind alien  monsters who hunt by sound. As the film featured a near-absence of dialogue and a soundtrack full of (mostly) silence, one could make the case that it made for a slightly uncomfortable theater viewing experience — but that didn't stop horror fans from flocking to the picture, which cleaned up to the tune of $340 million dollars at the worldwide box office.
The movie starred Krasinski and his wife, Emily Blunt, as the Lee and Evelyn, the heads of the Abbott family — but (spoiler) since Krasinski's character sacrificed himself to save his children at the conclusion of the first film, the director won't be stepping back in front of the camera this time. Blunt will appear, and the film will center on the Abbott family as they find themselves helping an outsider (Cillian Murphy) negotiate their monster-infested world.
That's not to say, however, that A Quiet Place 2 will just give us more of the same, only with one fewer family member. Krasinski and returning co-screenwriters Bryan Woods and Scott Beck have all teased a few details about what we can expect, with Krasinski indicating that the film will be less of a continuation of one family's story, and more of an expansion of the world in which the films are set.
Speaking with Entertainment Weekly late last year, the director related that at first, he wasn't even interested in exploring a sequel to A Quiet Place — until a "very small idea" opened up the world for him. "This is a world you can play in, this isn't just a character to remake," he said. "It's actually a world, which is a whole different, very unique experience. It's not like Alien or Jaws where the main villain is the thing you're repeating; it's an actual entire set of rules and the circumstance that the world has undergone that you can play in very different facets."
For their part, Woods and Beck have never had any shortage of ideas about where a second chapter could go. Even before work had begun on the sequel's screenplay, in April of last year, the pair said that several set pieces that ultimately weren't included in the first film might find a home in the second — especially considering the fact that this time around, the budget is bound to be just a little bigger.
Speaking with MovieWeb at that time, Woods said, "We have so many scary ideas that just didn't even make it into the final script, let alone the final movie, but just written, we would love to see this sequence. Some sequences that were just quite frankly too expensive to even do in [the first] movie."
Even Brian Tyree Henry (Spider-Man: Into the Spider-Verse), who has joined the sequel's cast in an undisclosed role, had a few nuggets of info to disclose in an interview last month. "I really think that what we'll do is we'll see more of that family continuing to survive [but] finding out that they're not the only ones," the star told the Observer. "And I think that we're also going to get a few answers to the origin of where and how this whole [alien invasion] happened. I think that people want to know that. But I think you're just going to see another side of it... more of humanity that survived this thing in this next story."
Now that the cameras are rolling on the flick, it likely won't be too long before we get some plot details that are a little more concrete. We can also expect more casting news at some point, considering that the announced cast so far is pretty slim. Aside from Blunt, Murphy, and Henry, the only players confirmed to be taking part are Millicent Simmonds (reprising her role as Regan Abbott from the first movie) and Noah Jupe (returning to portray her brother Marcus). 
We will, of course, be keeping our finger on the pulse of this one, and we'll keep you up to speed on any interesting details as they're reported. A Quiet Place 2 is slated to hit screens on March 20, 2020.