What The Cast Of The Original Spider-Man Looks Like Today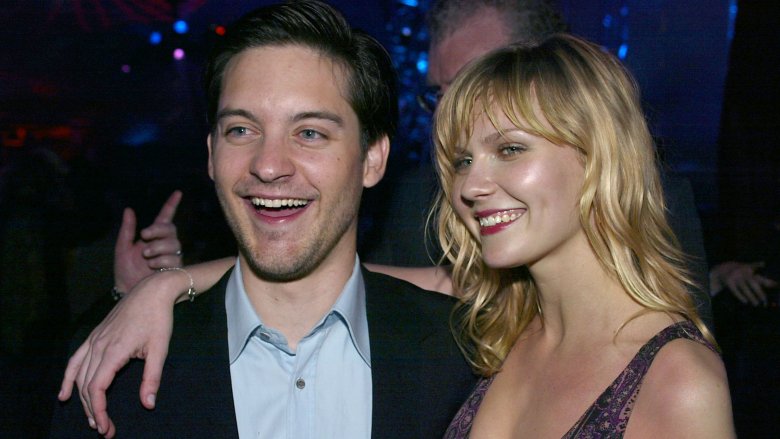 Kevin Winter/Getty Images
With Spider-Man: Far From Home currently webbing up millions at the box office, it's easy to forget that the superhero genre wasn't always such a well-paved path for studio heads. Sure, there were films like the Superman and Batman outings of the 1970s, '80s, and '90s, but even those were a matter of mixed success and rarely suggested the potential for industry-wide change. Then, in 2002, a film came along that proved the genre was actually a gold mine hiding in plain sight: Spider-Man.
The original Spider-Man, directed by horror genius Sam Raimi, brought in a worldwide box office total of over $800 million. It was more than your typical summer blockbuster, earning two Oscar nominations and raising the bar for superhero success. The film also helped jump-start the careers of several actors and actresses. Let's take a look at what the cast of Sam Raimi's Spider-Man looks like today.
Tobey Maguire - Peter Parker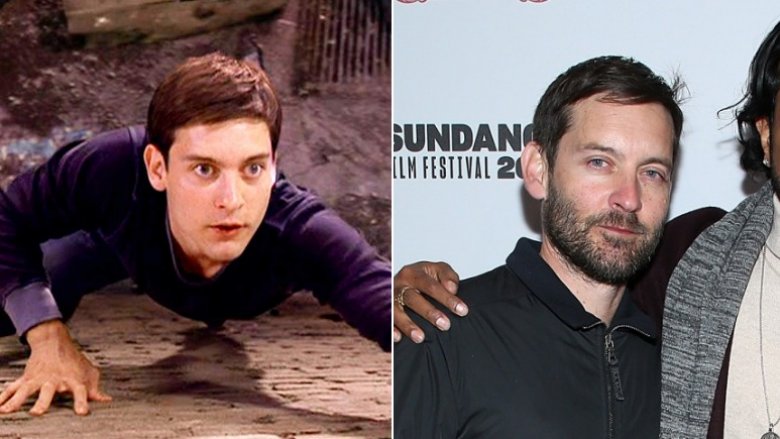 Phillip Faraone/Getty Images
Prior to being cast as the lead role of Peter Parker in Spider-Man, Tobey Maguire wasn't a blockbuster megastar. He was more known for reflective parts in dramas like 1999's The Cider House Rules and 2000's Wonder Boys. Still, his performance as NYC's resident wall-crawler garnered rave reviews and launched his celebrity to new heights. In an interview with The Guardian, Maguire reflected on his rags-to-riches story, and how his upbringing helped mold his determination. "As a kid, I was very poor. I mean, it's all relative, but we would get groceries from neighbors... My family had food stamps and government medical insurance," he recalled. "And I wanted to get out of that, so my ambition was initially to make money."
Maguire certainly succeeded in making money. He went on to reprise the role of Spidey in two sequels, reportedly earning $17.5 million and 5% of the back end for 2004's Spider-Man 2. After he decided to hang up his "glorified leotard," Maguire went back to focusing on dramas. He played the jockey Red Pollard in Seabiscuit, Captain Sam Cahill in the intense wartime love triangle Brothers, and Nick Carraway in 2013's The Great Gatsby. 
In 2014, Maguire's reputation took a major hit when he was implicated in Molly Bloom's tell-all memoir, Molly's Game. Bloom outed Maguire as a jerk, who once even allegedly tried to force Bloom to get on a poker table and bark like a seal for a tip. Not very Spidey of you, Tobey.
Kirsten Dunst - Mary Jane Watson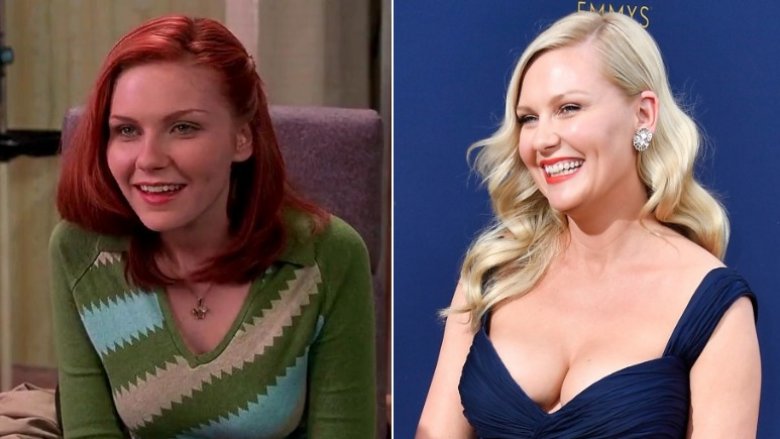 Frazer Harrison/Getty Images
Kirsten Dunst's first break came at a young age, landing the part of the child vampire Claudia in 1994's Interview with the Vampire. In the film, she got to kiss Brad Pitt, an experience she recalled being "gross" because "Brad had cooties." Little did she know that some eight years later, she would experience another on-screen kiss that would become arguably the most iconic scene in her repertoire: her redheaded Mary Jane Watson smooching Maguire's Spider-Man upside down in the rain. Although the scene looked amazing, when speaking to CNN back in 2002, Dunst noted that shooting it wasn't very hot. "It was hard to film because Tobey couldn't really breathe," she explained. "He'd be breathing out of the side of his mouth while we were kissing, so it was really one of the most unromantic kisses, but it looked really romantic and nice."
Since playing MJ in Raimi's Spider-Man trilogy, Dunst has experienced ups and downs. In 2008, the then-25-year-old actress checked herself into rehab to deal with depression. After treatment, she turned her attention to independent films such as 2010's dark thriller All Good Things and 2011's sci-fi drama Melancholia. In 2015, Dunst starred in the second season of FX's Fargo as Peggy Blumquist, which is where she met her future fiancé, Jesse Plemons. In May of 2018, the two welcomed their first child, Ennis Howard. Dunst's most recent major on-screen appearance was in Sofia Coppola's 2017 period drama, The Beguiled, alongside Colin Farrell and Nicole Kidman.
James Franco - Harry Osborn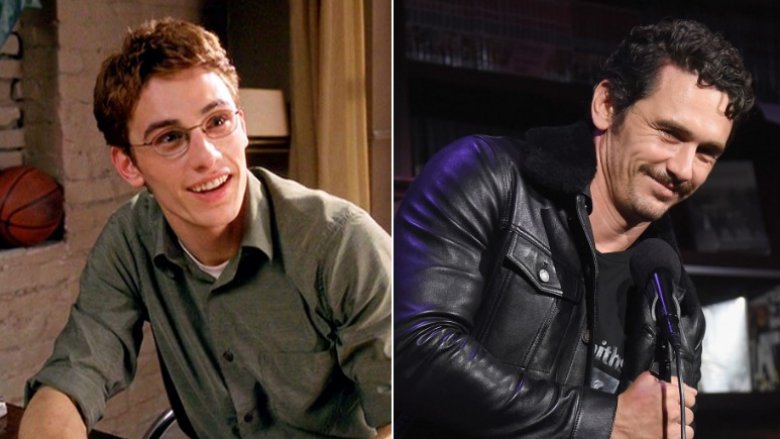 Gary Gershoff/Getty Images
Since his time playing Harry Osborn, Pete's best-friend-turned-foe, James Franco has become a household name. Year after year, he is consistently one of the busiest actors in Hollywood. In 2014, Franco spoke to IndieWire about why he's able to stay so busy. "A lot of people are unnecessarily slow," he said, bemoaning the usual studio system of negotiations and bureaucracy. "If you truly love filmmaking and getting things done, just go and you can do it."
Since Spider-Man, Franco has become one of the most well-rounded actors of his generation, known for comedic prowess in hits like Pineapple Express and The Interview, but also demonstrating the range for poignant dramas like Milk and 127 Hours (which earned him an Oscar nomination in 2011). His HBO period series, The Deuce, spanned three seasons, airing from 2017 to 2019. 
But his career has an alleged dark side. In early 2018, five women accused Franco of sexually exploitative behavior. Although the actor denied the allegations, he still took a beating online when he wore a "Time's Up" pin to the Golden Globes. Here's hoping that the actor who played New Goblin was only a villain on-screen.
Willem Dafoe - Norman Osborn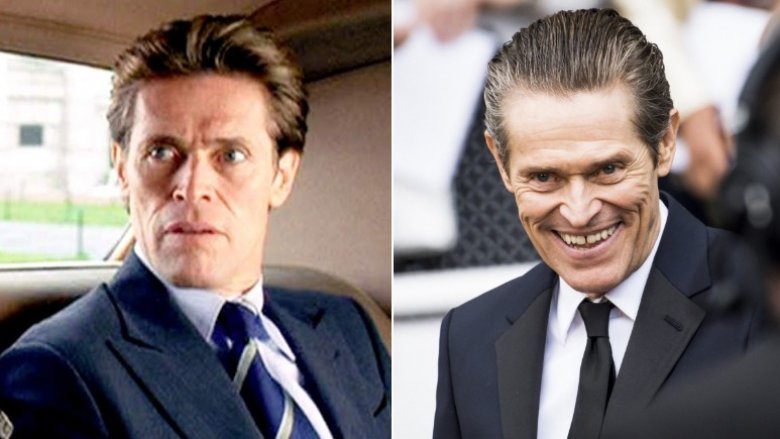 Gareth Cattermole/Getty Images
When your film's villain spends the majority of his on-screen time behind a mask, you better nab someone with a voice that can carry his dialogue. Sam Raimi did just that when he cast Willem Dafoe as Spider-Man's big-bad, Norman Osborn, AKA The Green Goblin. Dafoe's menacing, gravelly delivery was perfect for the role, making his Gobby arguably one of the best super-villains ever. In a recent interview with GQ, Dafoe commented that while playing Green Goblin was fun, playing his alter-ego was actually even better. "Everybody thinks about the Green Goblin and that was fun, but the more interesting role was probably the father, Norman Osborn. Because you could play these scenes where it would switch from comedy to drama in a line."
Since his time on the glider, Dafoe's career has remained solid. He has become one of esteemed director Wes Anderson's go-to guys, starring in The Life Aquatic with Steve Zissou, Fantastic Mr. Fox, and The Grand Budapest Hotel. No stranger to action flicks, he also appeared in 2014's John Wick, 2016's The Great Wall, and 2018's Aquaman.
Although he has enjoyed a successful career, you have to imagine that Dafoe wants an Oscar win. The actor is one of the 23 actors who have received the most Oscar nominations without winning one. He has been nominated four times, with the most recent being for his performance in 2017's surprise indie-hit, The Florida Project. Hopefully Dafoe has a few more surprises in store.
J.K. Simmons - J. Jonah Jameson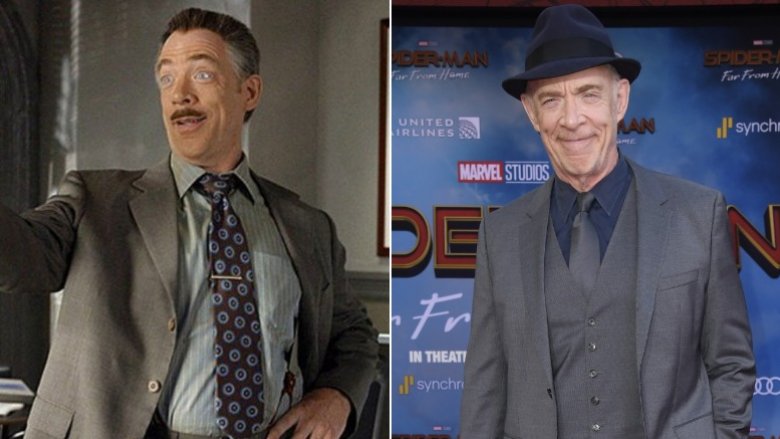 Frazer Harrison/Getty Images
It's hard to picture anyone other than J.K. Simmons playing the boisterous, Spidey-hating media figure, J. Jonah Jameson of the Daily Bugle. Simmons has the perfect voice for the classic comic book character, and in Raimi's Spider-Man trilogy, he was arguably one of the best aspects. Much to the delight of fans everywhere, the mid-credits scene in Spider-Man: Far From Home showcases the return of Simmons' Jameson, officially introducing the character into the MCU.
Spidey roles aside, Simmons' career has really blossomed since 2002. He has starred in movies of varying pedigrees, ranging from award-winners like La La Land and Juno to blockbuster action flicks like Justice League and Patriots Day. He even won an Oscar for his performance in 2014's drummer drama, Whiplash, in which he played a terrifyingly intense instructor to Miles Teller's aspiring musician. 
In an interview with Independent, Simmons noted that the Oscar win has allowed him the luxury of turning down roles. "I thought, you know what? I don't think I'm going to have to sweat whether I'm going to have job offers coming up...so maybe I can take more time off and enjoy being with my family. My priority is real life." It's good to hear that Commissioner Gordon can now enjoy a well-deserved day off.
Rosemary Harris - May Parker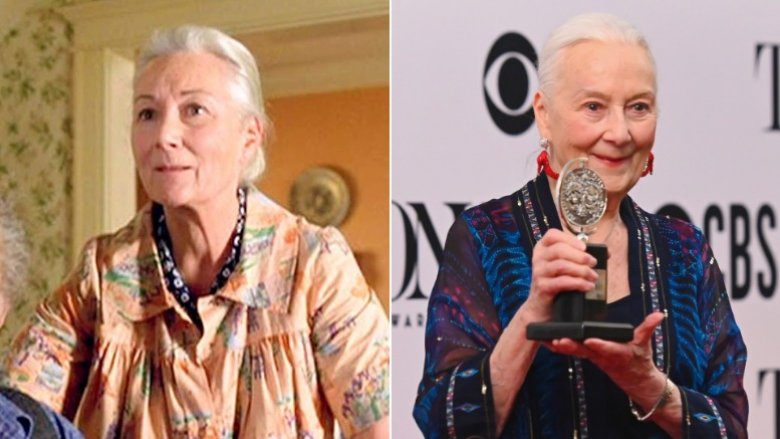 Nicholas Hunt/Getty Images
What's a Spider-Man story without Aunt May? Peter Parker's beloved relative has long been a staple in the Spidey comics, and when Sam Raimi had to cast the role back in 2002, he made a solid choice in Rosemary Harris. Harris was far from a no-name actress, having been nominated for an Academy Award for her performance in 1994's period romance, Tom & Viv. She was also a huge figure in theater, having won a Tony award prior to 2000.
After Raimi's Spider-trilogy wrapped up in 2007, Harris starred in a few films, including 2007's Before the Devil Knows You're Dead and 2012's This Means War, before she ultimately transitioned back to the stage. These days, at age 91, Harris is back on Broadway, playing Henry Higgins' mother in My Fair Lady. Although she has starred in theater productions alongside legends like Laurence Olivier and Sam Beckett, Harris told the New York Post that she still gets recognized most for the role of Aunt May.
Joe Manganiello - Flash Thompson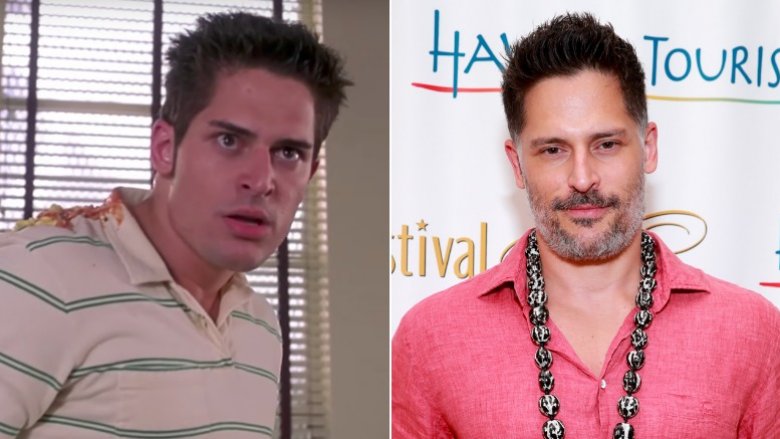 Rich Fury/Getty Images
It's all too easy to forget that Joe Manganiello, who had a cameo as Slade Wilson AKA Deathstroke at the end of 2017's Justice League, actually made his first comic book movie appearance in 2002's Spider-Man. When speaking to Kevin Smith on the IMDboat at 2018's San Diego Comic-Con, the hunky actor shared a shocking revelation from back in the day. "I actually initially auditioned for Peter Parker...I wore my glasses and I had a button down shirt and I came in and read for Peter Parker, knowing full well, like, who are you gonna get...well if I'm Peter, who's Flash, like a lineman from the Dallas Cowboys or something?" Manganiello would've undoubtedly been the buffest Peter Parker to date.
Since his time bullying Maguire's Parker, Manganiello's fame has grown quite extensively, especially thanks to roles that require large amounts of shirtless screen time. He seems to be a female fan-favorite in just about anything he appears in, whether it's the dreamy Owen Morello in One Tree Hill, the provocative male stripper Big Dick Richie in Magic Mike and Magic Mike XXL, or the beefy werewolf Alcide Herveaux in HBO's True Blood. Hey, there are definitely worse things to be famous for!
Michael Papajohn - Carjacker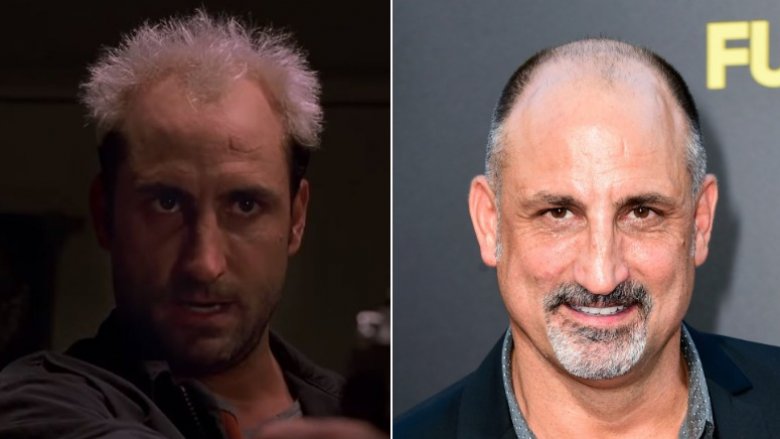 Frazer Harrison/Getty Images
Although he may not be as famous as some of his Spider-Man costars, Michael Papajohn has one honor that no one else can boast: being in both 2002's Spider-Man and 2012's The Amazing Spider-Man. In the original picture, he played the carjacker that killed Uncle Ben, and ten years later, he played the limo driver escorting Irrfan Khan's character during the first Lizard attack. 
In an interview with HuffPost, Papajohn reminisced on what it was like to work on the set of Raimi's original movie. "Sam was so passionate, you know? And I was nervous that first day and I just tried to plug that into the role. The first time I got in front of the camera, he was 60 yards away... And the first time I was on the monitor, he yelled, 'Papajohn, I'm so happy you're playing this role!'"
With multiple projects in post-production, the the actor is far from burnt out. Papajohn has eaten up small roles in major pictures for the past fifteen years, appearing in blockbusters like Live Free or Die Hard, Terminator Salvation, Transformers: Revenge of the Fallen, and Jurassic World. He's definitely come a long way from playing college baseball at LSU.
Elizabeth Banks - Betty Brant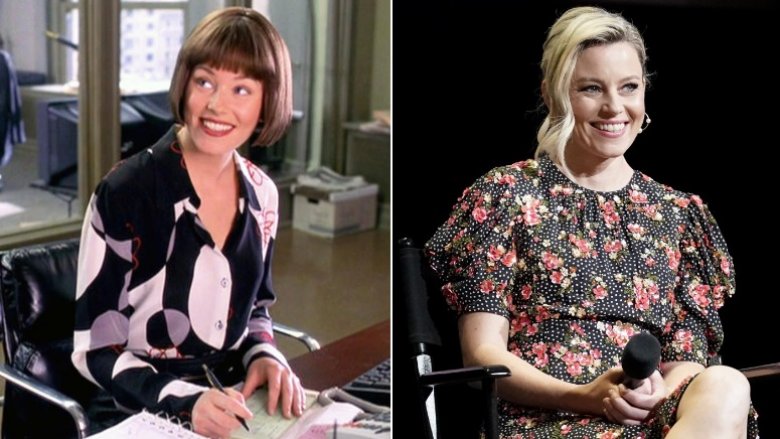 Erik Voake/Getty Images
Much like Joe Manganiello, it's also easy to forget that the lovely Elizabeth Banks was in Sam Raimi's Spider-Man trilogy as Betty Brant. Although the then-28-year-old Banks was a great addition to the cast, there was a bit of controversy surrounding her audition. When speaking to Glamour UK (via Variety), Banks stated that she had actually auditioned to play Mary Jane, but age discrimination kept that from happening. "Tobey [Maguire] and I are basically the same age — and I was told I was too old to play her...I was like, 'Oh, OK, that's what I've signed up for.'"
Although that missed opportunity probably stung, Banks still went on to enjoy an extremely successful Hollywood career. She received three Emmy nominations for her guest roles in 30 Rock and Modern Family, and her comedic prowess helped her shine in hilarious motion pictures like The 40-Year-Old Virgin, Zack and Miri Make a Porno, and Pitch Perfect. Her most recognizable role, however, is that of the always-fashionable Effie Trinket in The Hunger Games movies.
Next up, Banks is both directing and starring in the new Charlie's Angels reboot/continuation, slated to hit theaters in November of 2019.
Jack Betts - Henry Balkan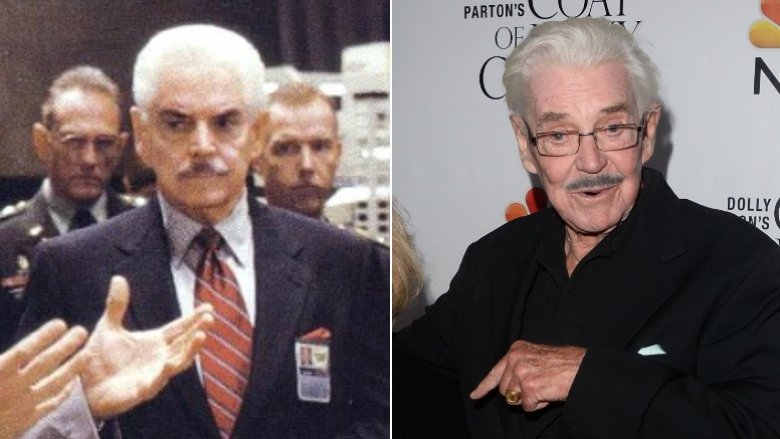 Matt Winkelmeyer/Getty Images
When Sam Raimi hired Jack Betts as Henry Balkan for 2002's Spider-Man, he was casting a highly experienced actor with tons of credits under his belt. Betts had already appeared in All My Children and Everybody Loves Raymond, as well as movies like 1999's Office Space and 8MM. He even played Councilor Brody in the TV show, Power Rangers Lost Galaxy. Still, Betts was perhaps most recognized for his work in old time spaghetti westerns like 1967's Halleluja for Django and 1971's Down with Your Hands... You Scum!.
Although Betts' best work is most likely behind him, he still pops up in episodes of various television shows. For example, in 2009, he appeared in episodes of both The Mentalist and Monk, and in 2019 he was in an episode of Freeform's Good Trouble. Still, his most memorable performance was obviously getting killed by Norman Osborn back in 2002.
Cliff Robertson - Ben Parker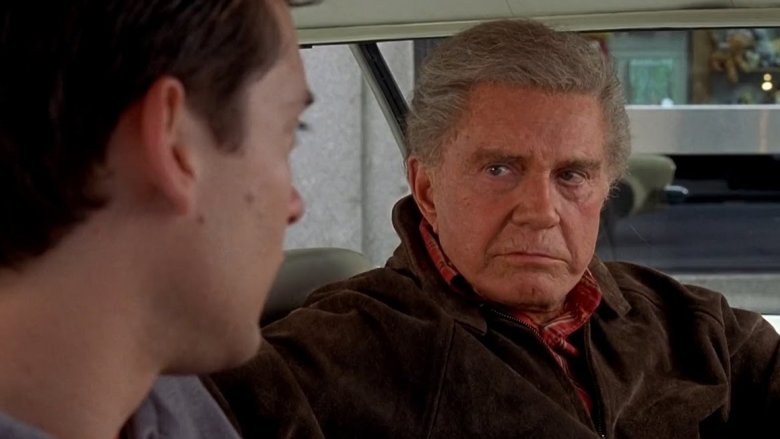 It must be said: Cliff Robertson was a nearly perfect casting for Ben Parker in Raimi's Spider-Man. His earnest and fatherly presence was exactly what fans wanted to see in Uncle Ben, and he shone in the role. An Oscar winner for his performance in 1968's Charly, Robertson enjoyed the resurgence of new fans that his role as Uncle Ben had brought. "Since Spider-Man 1 and 2, I seem to have a whole new generation of fans...That in itself is a very fine residual."
Sadly, Robertson's final acting credit came from a small flashback scene in 2007's Spider-Man 3. He passed away due to natural causes at the age of 88 on September 10th, 2011, a day after his birthday. In one of the four eulogies given at his funeral, Robertson's stepson Christopher Lemmon noted that the great actor "never lost sight of his humility." It seems as though he was as good man both on and off camera.