Why Deathstroke From Justice League Looks So Familiar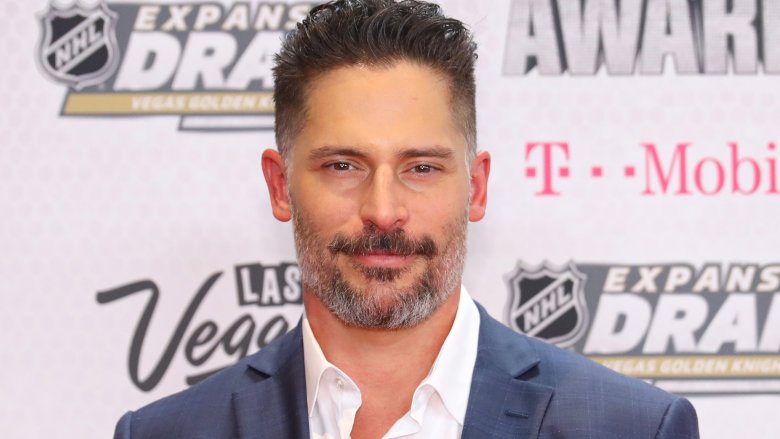 Getty Images
Fans of DC Comics villain/occasional antihero Deathstroke are in for a treat when they catch Justice League in theaters. The world's most fearsome mercenary makes his big-screen debut in a post-credits scene that sets him up to square off with Batman in a future film. Comics readers and TV viewers are likely to be familiar with Deathstroke, who's appeared in everything from Arrow to Teen Titans, but they may be less familiar with the actor behind the mercenary. 
Joe Manganiello has put together a pretty respectable résumé over his roughly two decades in the film business, but he's not quite a household name (yet). He's still at a point where his profile begs the question, "Why does that guy look so familiar?" The answer could be credited to any number of the many TV shows and films Manganiello he's appeared in—and we're taking a look at some of the most memorable right here.
Spider-Man (2002)
Justice League is Manganiello's first foray into comic book movies as a full-fledged supervillain, but it actually isn't his first time playing antagonist to a costumed good guy—that was actually in 2002's Spider-Man, as infamous bully Eugene "Flash" Thompson. He brings a campy relish to the role, clearly reveling in the alpha male persona that comes with playing the biggest jerk in the school. He's unbelievably horrible to Peter Parker at every opportunity, to the point that you can't help but cheer when he finally gets what's coming to him in the form of Peter's first spider-powered beatdown. 
As good as Manganiello was in his brief appearance, he wasn't brought back for either of the two sequels in any major way (he does have a blink-and-you'll-miss-it cameo at the end of Spider-Man 3, though). It's a shame, both for him and the character. In the comics, Flash goes on to become a crucial character in the Spider-Man mythos, even at one point serving as the vessel for the alien symbiote Venom. That it was never expanded upon in the original Spider-Man trilogy is a bummer.
How I Met Your Mother (2006-2012)
The years after Spider-Man were pretty lean for Manganiello, who's been open about the difficulties that followed his first big break. But he never gave up, and eventually he landed a recurring role on the hit sitcom How I Met Your Mother, joining the cast in 2006 as Brad, an old law school friend of Jason Segel's Marshall. 
The two initially bond over their newfound bachelorhood and become bros yet again, though later seasons would see Brad take on a slightly more antagonistic role. He makes a move on Cobie Smulders' Robin at Marshall's bachelor party, leading Neil Patrick Harris' Barney to punch him in the face (don't worry, they make up later). Later appearances find him on the other side of the courtroom from Marshall, and the end of the show even reveals that they're political opponents in an election (Brad is, appropriately, shirtless and still obscenely attractive). 
In total, Manganiello appeared in seven episodes of How I Met Your Mother. Pretty soon he was back on the small screen on another show—albeit one that was significantly less funny. 
ER (2007)
Manganiello followed up his first appearances on How I Met Your Mother with a brief stint on long-running hospital drama ER as Officer Litchman, a policeman who finds himself wrapped up in the world of County General Hospital. His appearance in the 19th episode of season 13 led to three more follow-up episodes the following season. During those episodes, he was positioned as a love interest for series regular Linda Cardellini's Samantha Taggart. Unfortunately, things between Litchman and Samantha didn't last and the third episode of season 14 was Manganiello's last appearance, but it wouldn't be the last time he graced a famous melodrama with his presence.
One Tree Hill (2008-2010)
Between 2008 and 2010, CW melodrama One Tree Hill gave Manganiello his most significant TV role yet. He joined the show as Owen Morello, a bar manager who strikes up a romance with series star Sophia Bush's Brooke, and appeared in twelve episodes over the course of three seasons. Owen's relationship falls apart when Brooke wants to adopt a child, and when his efforts to win her back fail, the former alcoholic turns back to the bottle, with his relapse and eventual recovery comprising most of his arc in season six. The thirteenth episode of that season was the last time viewers saw Owen for a while.
Fortunately, Manganiello got the chance to send the character off on a slightly more positive note. Owen makes a brief return appearance in season 7, which finds him on the road to recovery, regularly attending AA meetings and forming a friendship with fellow addict Millicent Huxtable. Owen was the longest-running character Manganiello had played at the time, but it was his next role that proved to be his biggest break yet.
True Blood (2010-2014)
Manganiello next appeared as Alcide Herveaux, a hunky werewolf who showed up in the third season of HBO's vampire drama True Blood. Alcide is a fan favorite character from the books the show is based on, and fans are actually responsible for Manganiello getting the role in the first place—which he nailed, thanks to his natural nice-guy charm and, well, what he looks like without a shirt. He also brought gravitas to the more serious moments for the character, most revolving around a power struggle amongst his wolf pack. 
Being a romance-driven show, it was surprising when the character started out as a platonic friend for series protagonist Sookie Stackhouse, though the chemistry between the characters was undeniable. Of course, pretty soon he was a full-fledged love interest for Sookie, further complicating the love triangle she was caught in with two other vampires. By the time the series jumps forward in time for its final season, we find that Sookie has actually ended up marrying him. Alcide tragically dies in the show's final season, and there's no better testament to how well-loved Manganiello was in the role than the response to the character's death.
True Blood wasn't Manganiello's first brush with stardom, but it was definitely the one that set him on course—and it opened up a pretty significant film opportunity a few years later in the form of the Magic Mike franchise.
White Collar (2012)
Season three of the USA Network's White Collar saw Manganiello sign on for a one-episode guest appearance in "Neighborhood Watch," which features him in an antagonistic role as Ben, the neighbor of series regular Tiffani Thiessen's Elizabeth Burke. Burke happens to accidentally overhear Ben planning a crime with his wife Rebecca, and she enlists the help of protagonists Mozzie and Neal (played by his future Magic Mike costar Matt Bomer) to help catch him. 
The episode was well-received, drawing comparisons to Alfred Hitchcock's Rear Window both in plot and execution. It was the first time in a while Manganiello played a full-fledged villain, experience that would come in handy a few years later when he landed the role of Deathstroke. Manganiello's time on the show only lasted one episode, but he and Bomer would reunite onscreen later in the year on the silver screen, albeit this time as friends—and in far skimpier clothing.
Magic Mike (2012)
Manganiello's combination of charm and killer physique clearly got him the right kind of attention from director Steven Soderbergh, who cast him in a memorable supporting role in his 2012 smash hit dramedy Magic Mike. The film followed the stories of a group of male strippers working for a club called Xquisite in Tampa, Florida run by Matthew McConaughey's sleazy emcee Dallas. Manganiello appears in the film as a heartthrob dancer with the memorable name Big Dick Richie. His go-to costume? A classic fireman getup. The role sees him performing in some insanely wild dance numbers, with a standout moment being a spot he performs behind a sheet so that only his shadow is visible. Funny enough, he almost didn't take the role, worried that playing a stripper would make his male fans hate him. It was Chris Rock, of all people, who convinced him to take the role, aptly observing, "Man, guys are gonna hate you anyway."
Richie definitely plays second fiddle to the film's leads. That said, it was a huge stepping stone in Manganiello's career, opening up significant opportunities.
Sabotage (2014)
Toward the end of his four-year tenure on True Blood, Manganiello landed a role in End of Watch director David Ayer's Sabotage, starring Arnold Schwarzenegger, Sam Worthington, and Terence Howard. The film is an explosive (literally) action thriller about an elite DEA task force that finds itself in too deep after $10 million in cartel cash vanishes from one of their raids. When teammates begin getting killed, it soon becomes clear that someone on the squad is behind the theft—and the murders. 
Manganiello plays Grinder, a character mostly recognizable due to his distinct cornrows that stick out like a sore thumb. The good news is that Grinder isn't behind the murders, but the bad news is that this only becomes clear when he gets sniped himself, taken out mercilessly by one of his own teammates. Sabotage didn't go over too well with critics and was ultimately a box office failure, but it does feature some killer action sequences and lots of big guys shooting guns and blowing stuff up, which is kind of all you want from a movie like this. It didn't damage Manganiello's popularity, either—the following year saw him take a former supporting role and turn it into a star-making performance.
Magic Mike XXL (2015)
Big Dick Richie returned in the 2015 followup to Magic Mike, coyly titled Magic Mike XXL. With Magic Mike leads Matthew McConaughey and Alex Pettyfer not returning for the sequel, Manganiello saw a significantly larger amount of screen time in this one, effectively playing just under Tatum's titular Mike—and stealing the show. His character gets one of the more compelling arcs in the film as a serial dater who's realizing he wants to settle down and get married but lives a lifestyle that makes finding the right lady difficult. He's also getting old and finds it difficult to meet women his own age who can take his career seriously.
Richie is also the centerpiece of what is almost indisputably the highlight of the film, a scene that involves Richie being dared by Mike and company to try to get a smile out of a sour lady working the checkout counter of a gas station. He ends up performing an impromptu striptease set to "I Want it That Way" by the Backstreet Boys right in the middle of the empty minimart. It's hilarious but also genuinely heartwarming, and it's very hard to watch it and not be immediately endeared to both the character and the actor, whose comic chops were as evident as his abs.
Pee-wee's Big Holiday (2016)
Manganiello, having proven his killer comedic skills in Magic Mike XXL, appeared in another hilarious role soon after, playing a fictionalized version of himself in 2016's Pee-wee's Big Holiday. Unlike many cast-as-themselves celebrity roles, Manganiello is actually a pretty imperative character over the course of the movie. The whole plot is set into motion when he befriends Pee-wee, and upon realizing that Pee-wee has never left his hometown, he ends up convincing his new buddy to take the first vacation of his life. Joe invites Pee-wee to his birthday party in New York City, which prompts Pee-wee to hit the road for an adventure. 
Obviously, things don't go according to plan and Pee-wee ends up sidetracked, lost, and everything in between. But when things take a dire turn in the form of Pee-wee falling down a well and getting trapped, his new best buddy Joe comes to the rescue and makes sure Pee-wee gets to his birthday party safe and sound. Manganiello plays himself as a perfect caricature—over-the-top macho but quietly still a goofy little kid at heart. His genuine chemistry with Pee-wee is totally organic and incredibly heartwarming. It's a pretty absurd turn for Manganiello, but he sticks the landing perfectly.