Sonic The Hedgehog Movie Producer Says Fans Will Be Happy With The Redesign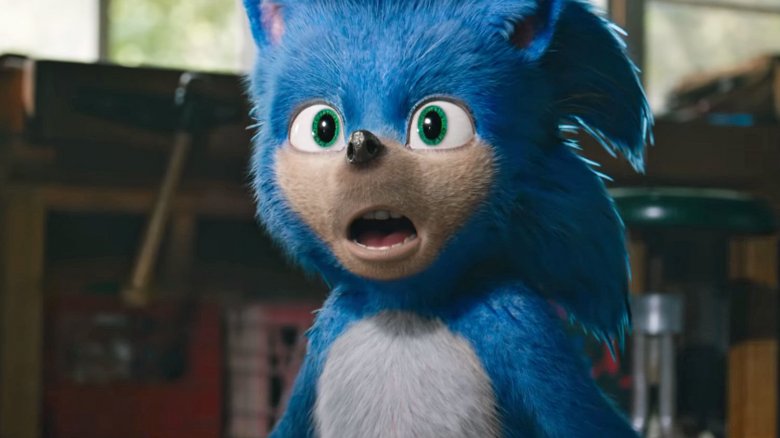 Fans of a certain speedy blue hedgehog have reason to be cautiously optimistic.
Tim Miller, a producer on the forthcoming live-action Sonic the Hedgehog feature, recently sat down with Variety to discuss the rationale behind the character's redesign — and based on what he's seen of that redesign, he thinks Sonic die-hards will be pumped.
In case your internet stopped working for about a week back in late April and early May, a brief recap: on April 30, studio Paramount dropped the first trailer for Sonic the Hedgehog, which looks pleasantly goofy and sufficiently action-packed, and features Jim Carrey on his "80% Ace Ventura" setting as villain Dr. Robotnik. Fans immediately flooded social media to complain — not about the flick itself, but about the title character's design, which featured such bizarrely human traits as ripped calves and, well, teeth that simply can't be unseen.
Mere days later, the film's director Jeff Fowler took to Twitter to announce that he had heard the criticism loud and clear, and that Paramount had agreed to push back Sonic's release date so that he and his team could completely overhaul the offending design. The response to his tweet could generally be categorized as "shocked, but grateful," as fans tended to agree that they's rather wait a little longer for the movie than have to stare at that monstrosity for literally any length of time.
The Sonic team has doubtless been toiling endlessly on the redo for the last couple months, because apparently, there's been some significant progress. Miller has been pretty busy as of late; the Deadpool director made his remarks to Variety as he was preparing to take off for San Diego Comic-Con to promote his next feature Terminator: Dark Fate, and he's also a writer, director, and producer on the Netflix anthology series Love, Death, & Robots. But in between all of his various duties, he sneaked a peek at how Fowler's team has been coming along with their task, and he liked what he saw.
The multi-hyphenate first took the time to address the backlash, saying that he intends for Sonic to kick off "a franchise, and it has to be great." He then continued: "Look, I was with fans and so was [Fowler].  When the s–-t hit the fan, I went [to Fowler] and said, 'The most important thing to do, man, is [acknowledge the mistake]. He'd already sent a tweet out an hour before I got there. He's a good man. It was exactly the right way to handle that. The fans have a voice in this too. There's a right way to listen."
Asked if he had gotten a look at Sonic's revamp, Miller said, "In fact, I have. And I think the fans will be pleased."
Miller is a guy who knows a thing or two about pleasing fans, as Deadpool — his feature directorial debut — more than did justice to a beloved Marvel comics character who had been sorely in need of his own solo vehicle for quite some time. For his next trick, he'll be charged with revitalizing the ailing Terminator franchise with the aid of James Cameron, who is returning to the series as a producer for the first time since 1991's Terminator 2: Judgment Day. While Terminator: Dark Fate doesn't drop until November, we got the first teaser trailer back in May — and in our humble opinion, it looks pretty great.
Aside from Carrey, Sonic the Hedgehog will feature Ben Schwartz (Bojack Horseman) as the voice of Sonic, as well as James Marsden (Westworld), Tika Sumpter (Ride Along), Natasha Rothwell (Love, Simon), Neal McDonough (Captain America: The First Avenger), and Adam Pally (Iron Man 3). The flick is now slated to hit screens on February 14, 2020.