San Diego Comic-Con 2019: DC Universe Bringing Doom Patrol, Titans, And More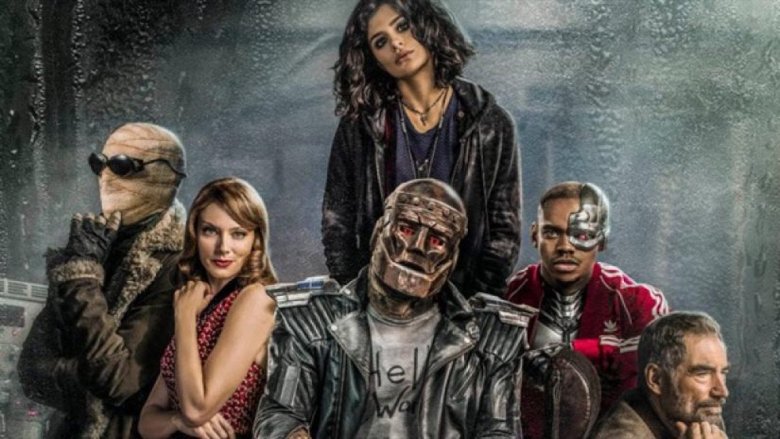 Don't count DC Universe out just yet.
The streamer has announced that it will field a substantial presentation at San Diego Comic Con 2019, with stars from all of its original series on hand and plenty of sneak peeks and exclusive footage. The panel will take place on Saturday, July 20. (via Deadline)
Word on the street lately has been that, with the introduction of its WarnerMedia streaming service on the horizon, Warner Brothers — which owns the film and television rights to all DC properties — may be mulling over the option of letting DC Universe die on the vine, perhaps folding one or two of its original series into the new streamer's original lineup. The abrupt cancellation of Swamp Thing after only one episode had dropped intensified this speculation even more, but all along, the streamer's executives have insisted that Warner has no immediate plans to pull the plug.
They appear not to have been pulling our legs, and a high-profile panel at SDCC could be just the shot in the arm DC Universe needs. There has certainly been no concerns over the quality of its programming; even the late Swamp Thing got rave reviews, and the currently-running series that will be presenting at Comic-Con have likewise won over the majority of critics.
Case in point: Doom Patrol, based on a long-running DC comics property and starring Bredan Fraser, Timothy Dalton, April Bowlby, Diane Guerrero, Matt Bomer, and Alan Tudyk. The singularly weird team-up series has bowled over reviewers who rightly praise it as being like nothing else on TV, let alone in the superhero realm, and showrunner Jeremy Carver has said that he has plenty of ideas as to what directions a potential season 2 could take. Of course, a second season hasn't yet been announced — but SDCC would be a pretty good place for just such an announcement.
The streamer's inaugural original series, Titans, actually has been officially picked up for a second season, so its presentation is likely to be the most substantial. The fresh batch of episodes will introduce such iconic characters as Superboy (Joshua Orpin), Deathstroke (Esai Morales), Aqualad (Drew Van Acker), and Bruce Wayne (Iain Glen), and we would certainly expect that the San Diego crowd will get a first look at one or more of these characters in action during the panel.
Also presenting: Young Justice: Outsiders, which just debuted the second half of its hotly anticipated third season on July 2. The animated series, a revival of the beloved Cartoon Network show which ran for 46 episodes between 2010 and 2012, has scored with critics while serving up a slightly edgier, crisply animated continuation that has basically been everything long-suffering fans could have asked for. There will also be a few words from the minds behind the upcoming Harley Quinn animated series, along with an interactive display that will take participants on a virtual tour of lovely Arkham Asylum.
There has so far been no word on which stars and creatives will be attending, but if you happen to be a DC Universe subscriber already, there will be a few special perks available to you. Bring your paraphernalia for exclusive signings, and get ready to check out some screenings that non-subscribers won't be invited to, such as the premiere of DC Spotlight: Shazam!, a documentary about the making of this year's hit flick. You'll also be able to score VIP tickets to a very special ceremony: Batman's induction into the Comic-Con Hall of Fame, an honor we honestly have a hard time believing that the Caped Crusader is just now receiving.
The DC Universe panel will be located in the Indigo Ballroom and will take place at 7 PM on the 20th. We'll keep our eyes peeled for more SDCC announcements, and keep you informed.