Will The Russo Brothers' San Diego Comic-Con 2019 Panel Feature The Avengers: Endgame Cast?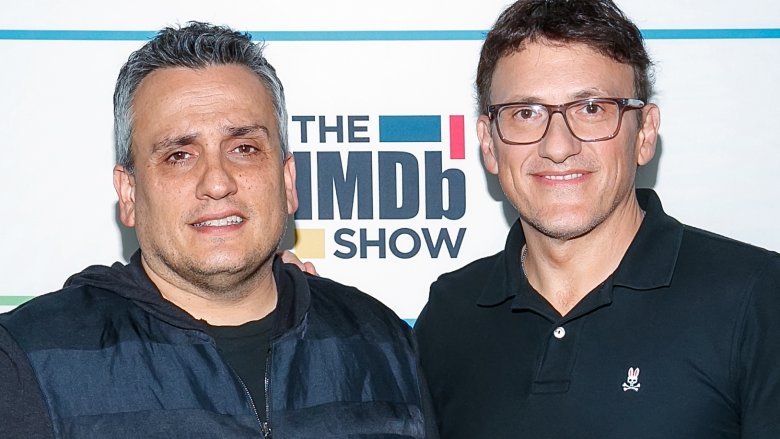 Rich Polk/Getty Images
Ah, San Diego Comic-Con. The entertainment convention set in sunny California that every Marvel, DC, movie, TV, and comic book fan looks forward to each year. The 2019 event is expected to outdo 2018's in a major way, seeing Marvel Studios return to the hallowed Hall H for a panel hosted by Avengers: Infinity War and Avengers: Endgame directors Joe and Anthony Russo. 
We know a few things about the Russo Brothers' San Diego Comic-Con 2019 panel — like that it's called "A Conversation with the Russo Brothers," will take place on Friday, July 19 at 11 AM PST, is moderated by Collider editor-in-chief Steve Weintraub, and will feature the sibling filmmakers speaking about their time directing Avengers: Endgame and discussing their AGBO Studios projects — but one thing everyone has wondered about is whether they'll see their favorite actors reunite and join the Russos for the presentation. 
So, will the Russo Brothers' San Diego Comic-Con 2019 panel feature the Avengers: Endgame cast?
According to Deadline, it's highly likely. 
The outlet reported on July 2 that some stars of the Marvel Cinematic Universe might join Joe and Anthony Russo when they chat about Avengers: Endgame during "A Conversation with the Russo Brothers." Sources close to Deadline further indicated that "some form of an Avengers reunion is in store" at this year's San Diego Comic-Con, which runs from Thursday, July 18 to Sunday, July 21. The rumored reunion may happen at the "A Conversation with the Russo Brothers" panel, but if it doesn't, Deadline suggests that those who portrayed Earth's Mightiest Heroes up on the big screen will come together for the Marvel panel on Saturday, July 20. (We aren't sure which panel Deadline is referring to, as it doesn't appear that Marvel has announced an official movies panel as of this writing.)
An Avengers reunion at San Diego Comic-Con 2019 would mirror the one that took place during the 2010 event, when Marvel Studios announced the official line-up of 2012's The Avengers: Robert Downey Jr. as Iron Man, Chris Evans as Captain America, Mark Ruffalo as Bruce Banner/the Hulk, Jeremy Renner as Hawkeye, and Chris Hemsworth as Thor, as well as Samuel L. Jackson as Nick Fury and Clark Gregg as Agent Phil Coulson. 
In the aftermath of Avengers: Endgame, which closed out the Infinity Saga that began with 2008's Iron Man, the film that is widely considered the start of the MCU, it would be incredibly impactful for the actors who played our favorite heroes to return to the stage for a final reunion — as a way to thank the fans, reflect on their time portraying their respective crime-fighters, and say a final goodbye. Should a reunion actually happen, we suspect Downey Jr., Johansson, and Evans to shed the most tears: Iron Man and Black Widow both died in Avengers: Endgame, and Captain America went back in time, lived a full life, grew old, then passed on his shield to Anthony Mackie's Sam Wilson.
No matter what ends up happening at the Russos' San Diego Comic-Con 2019 panel, Avengers reunion or no Avengers reunion, we're just happy that Marvel Studios is making an appearance at the event after skipping out on it last year. The hope is that the Avengers: Endgame cast will appear for a panel – but the bigger wish is that Marvel will finally announce its slate of Phase 4 films during SDCC. Keep those fingers crossed and those peepers peeled, friends.