Will Daisy Ridley's Rey Be In The New Star Wars Trilogy?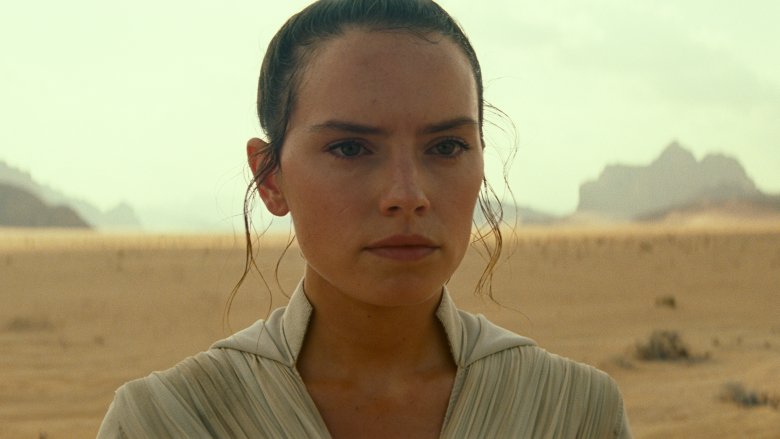 With the December release of Star Wars: The Rise of Skywalker, the Star Wars sequel trilogy comes to a close — and with it, the Skywalker saga ends. However, the beloved franchise will live on with a feature film project that Game of Thrones showrunners David Benioff and D.B. Weiss are cooking up behind closed doors, plus a brand-new trilogy directed by The Last Jedi helmer Rian Johnson that is said to feature characters from The Force Awakens, The Last Jedi, and The Rise of Skywalker. 
Ever since Lucasfilm president Kathleen Kennedy teased that there are familiar faces that the company "may very well wanna see down the line in the future," fans have wondered whether Daisy Ridley's Rey will be in the new Star Wars trilogy.  
Ridley herself gave the answer — and it's bound to disappoint many. 
Speaking with Buzzfeed during a recent interview broadcast on the live video streaming app Periscope, Ridley confirmed that she is "not in the next trilogy." 
She then noted that Lucasfilm executives have "always said it was going to be a separate story," so she isn't surprised that she isn't a part of the upcoming trilogy. 
The actress, who made her Star Wars debut as the scrappy Force-sensitive fighter Rey in 2015's The Force Awakens, added that she isn't certain which project Lucasfilm will release first after The Rise of Skywalker – "the Rian one" or the one from "the guys that did Game of Thrones." This contradicts previous reports indicating that Benioff and Weiss' Star Wars movie would be the next film in the franchise, and would be the first in a series of three movies. Unless plans have changed, Ridley either has her facts mixed up or is intentionally confusing us.
Considering Mark Hamill's Luke Skywalker, Carrie Fisher's Leia Organa, and Harrison Ford's Han Solo all returned for the sequel trilogy, it stands to reason that decades down the line, Ridley's Rey could reappear. Perhaps she'll become to a new generation what Luke was to her: a wise (but slightly curmudgeonly) Jedi who teaches up-and-comers the ways of the Force. That Rise of the Skywalker apparently features the famous villain Emperor Palpatine should also offer more evidence that no Star Wars character is shut out of the series for good. 
See Ridley take her apparent final turn as Rey when Star Wars: The Rise of Skywalker opens on December 20.