Does Annabelle Comes Home Have A Post-Credits Scene?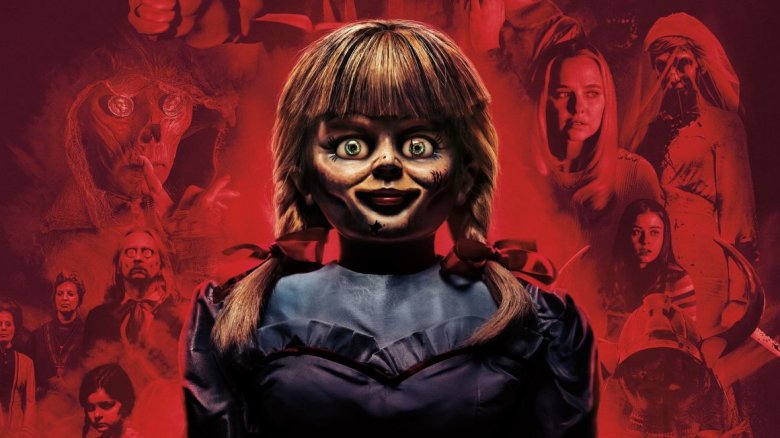 Warner Bros. Pictures
New Line and Warner Bros.' Conjuring universe grows bigger with the release of Annabelle Comes Home, the seventh entry into the overall franchise and the third installment in the Annabelle spin-off series. Led by returning stars Patrick Wilson as Ed Warren and Vera Farmiga as Lorraine Warren, Annabelle Comes Home sees the married couple bring the possessed doll into their house, store her in a glass box in an artifacts room, and even have her blessed by a priest. Of course, the story isn't that simple, and Annabelle Comes Home quickly spirals out into a spook-filled tale that follows the Warrens' daughter, Judy (McKenna Grace), as she unleashes evil spirits into the real world. 
It's a horror film worth checking out if you're a fan of the genre, and everyone looking to head to cinemas to see it is probably wondering the same thing: Does Annabelle Comes Home have a post-credits scene?
Well, Looper can answer that question with just three words: No, it doesn't. 
This is a deviation from the new norm for the Annabelle movies, which recently took a page from Marvel Studios' book and included an end-credits stinger in its previous movie to tease what was coming next in the Conjuring universe. Annabelle Comes Home's predecessor Annabelle: Creation wrapped up with a jaw-dropping revelation about the real-life Annabelle whose spirit ultimately possessed the porcelain doll, then shocked audiences with a post-credits scene that set up The Nun, the spin-off of 2016's The Conjuring 2 that centered on the terrifying entity seen in the Annabelle sequel. 
Though it's easy to see why fans would expect Annabelle Comes Home to include a post-credits scene to continue the tradition established in Annabelle: Creation, the pic truly does go without any kind of after-movie sequence. Sitting through the credits won't offer up any information about where the Conjuring franchise will go post-Annabelle Comes Home, but those who decide to keep their butts in their seats can feast their eyes on cool renderings of a few movie stills. Hey, it's better than nothing, right?
Annabelle Comes Home is in theaters now.