Tom Holland Was Supposed To Be In Spider-Man: Into The Spider-Verse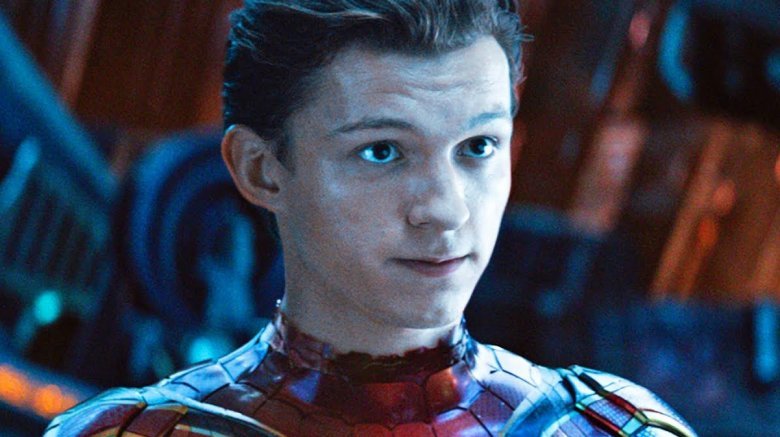 Spider-People of all size, age, gender, and species were seen in Spider-Man: Into the Spider-Verse — but one iteration of the hero that was noticeably missing from the film was Marvel Cinematic Universe actor Tom Holland's Peter Parker. If things had gone differently behind the scenes, Holland actually would have been a part of Into the Spider-Verse, as he was all set up to make an appearance before the idea was scrapped. 
The 23-year-old actor revealed in an interview with JOE, "At one point I was supposed to be in it. There was going to be another Peter Parker... There was like a scene in a train station or something, and it was going to be like an Easter egg. I was going to walk through the background and say like 'Hey, kid' or something."
Holland added that he was and still is "heartbroken" that his Spider-Man: Into the Spider-Verse cameo "never happened."
Spider-Man: Into the Spider-Verse features various different Spideys – from the biracial Brooklynite Miles Morales (Shameik Moore) and Gwen Stacy's alter-ego Spider-Gwen (Hailee Steinfeld) to a piggy version of the hero named Spider-Ham (John Mulaney) and the Japanese-American vigilante Peni Parker (Kimiko Glenn). The Oscar-winning animated film even featured three different versions of Peter Parker: the chubby, cynical one voiced by Jake Johnson; the blonde-haired one who dies in his 20s, voiced by Chris Pine; and the monochromatic Spider-Man Noir from a 1930s universe, voiced by Nicolas Cage. It would have been quite the treat to see Holland's Peter Parker from the MCU pop up in Miles' reality — just as Gwen, Peter Porker, Peni, Peter B. Parker, and Spider-Man Noir did when Wilson Fisk's (Liev Schreiber) Super-Collider particle accelerator merged multiple universes into one. 
Funnily enough, Holland isn't the only Spidey star who was left out of Into the Spider-Verse. The film's co-director, Rodney Rothman, wanted original Spider-Man actor Tobey Maguire (who led Sam Raimi's superhero trilogy) and Andrew Garfield (who stepped into the suit for the Amazing Spider-Man duology) to cameo in the animated flick alongside Holland. However, Rothman ultimately decided not to go through with his plans for fear of confusing the audience. 
"I wrote a scene that ... had Tom Holland and Andrew Garfield and Tobey Maguire in the same scene," he explained during a past appearance on The Q&A with Jeff Goldsmith. "I don't want to get into it, but I did write that scene ... There was anxiety about confusing people."
Sony is already working on a sequel to Spider-Man: Into the Spider-Verse, so perhaps Holland (and maybe Maguire and Garfield, too) will get another chance to cameo in the Spider-Verse. Even if that never happens, fans can look forward to seeing more of Holland in the MCU — starting with the fast-approaching Spider-Man: Far From Home, which hits theaters on July 2.