What The Critics Are Saying About The Child's Play Remake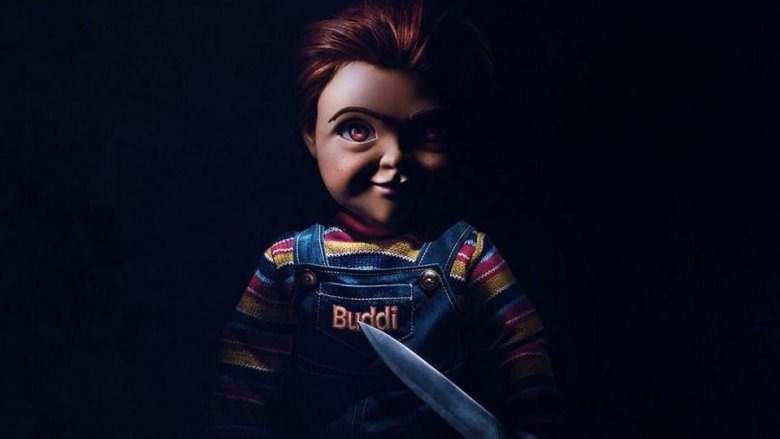 Reviews are coming in for the reboot of venerable horror series Child's Play — and fans have reason to be cautiously optimistic. 
The flick is earning mixed-to-positive reviews, with many critics citing a wickedly humorous tone and a humdinger of a third act among its strengths. It currently stands at 63% on Rotten Tomatoes.
In contrast to the original series — in which the soul of a deceased serial killer inhabited a doll gifted to a young boy by his mother — the reboot reinvents Chucky as an artificial intelligence gone murderously wrong, which many of the movie's positive notices cited as a welcome wrinkle. It also sports the formidable talents of the great Mark Hamill as the new voice of Chucky, which... well, come on. Mark Hamill as Chucky is all that really needs to be said.
Elizabeth Weitzman of The Wrap handed down a positive review on the strength of the film's dark sense of humor and throwback tone, which she found to be in keeping with the categorically bonkers vibe of the original. "The movie's biggest strength is its balance between mordant humor and psychological fear. Everyone's focus seems to be in a very old-fashioned place, and here that's an asset," she wrote. 
She also noted a welcome update in the introduction of a circle of friends committed to doing battle against the evil doll alongside young Andy (Gabriel Bateman, Lights Out), which offers a dynamic in line with such recent hits as the big-screen adaptation of Stephen King's It and the Netflix series Stranger Things. "It's an intriguing twist that Chucky genuinely wants to bond with and please Andy, and also that he's just, you know, going about it in all the wrong ways," she opined. "The movie was produced by It team Seth Grahame-Smith and David Katzenberg, and you can see the same interest in childhood fears, confusion, and emotional development. The kids in this movie are trying their best to navigate a strange and dangerous adult world from a place of poignant innocence. The fact that Chucky himself starts out as one of those kids is the movie's neatest trick."
Kyle Anderson of Nerdist was similarly impressed with the movie's strong satirical bent and focus on its young characters, but was even more impressed with the fact that it gives straight-up horror fans what they came to see: buckets of blood, delivered by way of creative set pieces. "The [Child's Play] franchise has always had a strong vein of gallows humor," he wrote, "[and] the sequels made in the late '90s and 2000s switched gears toward supremely campy humor. This Child's Play keeps the humor dark but ditches most of the camp in favor of a stripped-down, straightforward gorefest. It [also] plays up the weirdly tragic nature of Chucky as a twisted version of a child's best friend."
SciFiNow's Elena Lazic had praise for director Lars Klevberg's "great visual flair," and also agreed that the creatively executed jump scares and gore were sure to please genre fans. These sentiments were echoed among many of the flick's positive notices; Forbes' Scott Mendelson wrote that "the movie, from top to bottom, makes sure to provide in-the-moment pleasures... and comparatively 'new' ideas and set pieces within the established concept," and also praised Hamill's "unique vocal turn."
But it's perhaps the comments of IGN's Rosie Knight that have us most intrigued, as she recommended the film despite not being fully on board for the bulk of its run time. "Child's Play is a passable but plain remake that's saved by a blisteringly bonkers third act," she wrote. "[It's] easily the best part of the movie, and will likely lead to the film finding a very specific cult audience. This is mostly due to the fact that out of nowhere, it completely leans into a hitherto unseen dark humor that riffs on the best offerings of the classic franchise."
Of course, a fair number of critics simply weren't sold. Natalie Zutter of Den of Geek deadpanned, "You might want to look into the lifetime warranty on this thing," going on to take apart the film's perceived over-reliance on self-referential jokes and repetitive jump scares. (Although she, too, couldn't help but praise Hamill's performance.) Ben Kenigsberg of the New York Times was even less kind, writing, "Child's Play [is] a soulless remake in every sense... In trying to build a smarter Chucky, the filmmakers have assembled something unfathomably dumb."
But perhaps the biggest burn on the flick was leveled by Variety's Peter Debruge, who got just a little bit meta in his takedown. "Remember the disappointment you felt that Christmas when Santa brought you an off-brand Cabbage Patch Kids counterfeit instead of the real thing?" he wrote. "Well, if you grew up on the Child's Play movies, then brace yourself for more of the same."
All in all, it must be noted that the flick seemed to please critics who went in willing to take it on its own merits. Even most of the negative reviews offered up praise for the cast, which also includes Aubrey Plaza (Community), Brian Tyree Henry (Atlanta), and Tim Matheson (Jumanji: Welcome to the Jungle), and of course, nobody had a single bad thing to say about Hamill (does anybody, ever?). For those capable of checking their preconceived notions at the door, Child's Play seems to offer a well-made, smartly updated, bloody good time. If, however, you're a die-hard fan of creator Don Mancini's original series and the vocal stylings of original Chucky actor Brad Dourif, you just might find the reboot a little lacking.
Child's Play hits screens on Friday, June 21.