The CW Sets Premiere Dates For Batwoman, Riverdale, And More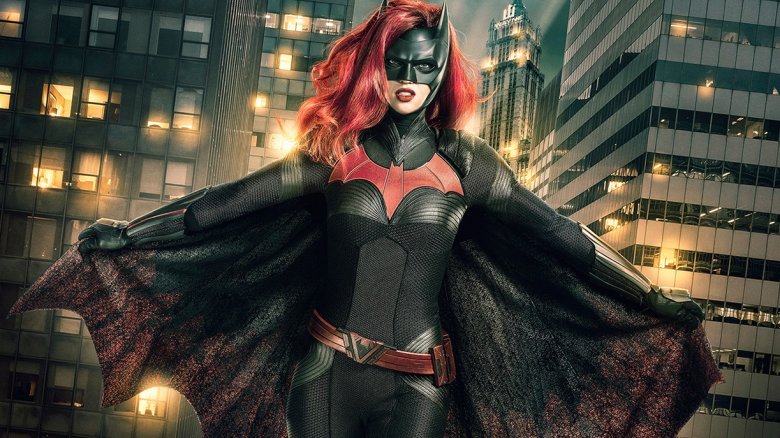 Break out those calendars, people.
The CW has announced the premiere dates for its entire fall lineup, including the debut of the Ruby Rose-led superhero series Batwoman, season four of Riverdale, and the final seasons of Arrow and Supernatural, all beginning the first week of October. (via Deadline)
Of the two series primed to roll out their freshman seasons, Batwoman looks to make the slightly bigger splash. Set within the Arrowverse, the show will focus on Kate Kane, the cousin of Bruce Wayne and an out gay woman — a first for superhero serials — who takes up the mantle of Batwoman to defend Gotham in a timeline where Cousin Bruce has mysteriously given up on the city. Rose made her debut as the character in last year's Elseworlds crossover event, and the reception to her portrayal was quite positive — although some picky folks were less than thrilled with her solo series' first trailer. 
If you ask us, though, said trailer was perfectly fine, and Rose is nothing if not committed to the role. In an August 2018 appearance on The Tonight Show with Jimmy Fallon, the actress became visibly emotional talking about her casting, expressing that she'd never had the type of visible role models growing up that she hoped to provide for young superhero fans. Also: she's a pretty freakin' good actress, and she sure does look the part of a kickass vigilante. Batwoman will also star Meagan Tandy (Charmed), Rachel Skarsten (Molly's Game), and Dougray Scott (Fear the Walking Dead); the first episode will air on Sunday, October 6, and encore presentations will be aired the following two nights.
Also new to the lineup: Nancy Drew, a modern re-imagining of the titular teen sleuth which will star relative newcomer Kennedy McMann. The series looks to be taking its cues from Riverdale (which it will air directly after) in its updated, brooding, gritty take on a classic teen property, as evidenced by the first trailer. Also among its cast are Scott Wolf (The Night Shift), Pamela Sue Martin (Supernatural), and Maddison Jaizani (Into the Badlands); the series debuts on Wednesday, October 9, with an encore presentation the following Monday.
Also of note are two venerable series which will be making their swan songs. The seemingly unstoppable Supernatural will debut its fifteenth and final season on Thursday, October 10, while the first episode of the eighth and final season of Arrow will come your way on Tuesday, October 15. Also on the schedule: the season premieres of The Flash (season 6), Black Lightning (season 3), Supergirl (season 5), All American (season 2), Charmed (season 2), Legacies (season 2), and Dynasty (season 3). 
The fall lineup kicks off with a two-night presentation of the iHeart Radio music festival, which will air on Wednesday, October 2, and Thursday, October 3. You can check out the complete schedule below; all times are Eastern/Pacific.
Wednesday, October 2
8:00-10:00 pm — 2019 iHeart Radio Music Festival, Night One
Thursday, October 3
8:00-10:00 pm — 2019 iHeart Radio Music Festival, Night Two
Sunday, October 6
8:00-9:00 pm — Batwoman (Series Premiere)
9:00-10:00 pm — Supergirl (Season Premiere)
Monday, October 7
8:00-9:00 pm — All American (Season Premiere)
9:00-10:00 pm — Batwoman (Encore of Series Premiere)
Tuesday, October 8
8:00-9:00 pm — The Flash (Season Premiere)
9:00-10:00 pm — Batwoman (2nd Encore of Series Premiere)
Wednesday, October 9
8:00-9:00 pm —  Riverdale (Season Premiere)
9:00-10:00 pm — Nancy Drew (Series Premiere)
Thursday, October 10
8:00-9:00 pm — Supernatural (Season Premiere)
9:00-10:00 pm — Legacies (Season Premiere)
Friday, October 11
8:00-9:00 pm —  Charmed (Season Premiere)
9:00-10:00 pm — Dynasty (Season Premiere)
Monday, October 14
8:00-9:00 pm — All American (Original Episode)
9:00-10:00 pm — Nancy Drew (Encore of Series Premiere)
Tuesday, October 15
8:00-9:00 pm — The Flash (Original Episode)
9:00-10:00 pm — Arrow (Season Premiere)
Monday, October 21
8:00-9:00 pm — All American (Original Episode)
9:00-10:00 pm — Black Lightning (Season Premiere)