Black Christmas: Slasher Remake On The Way From Blumhouse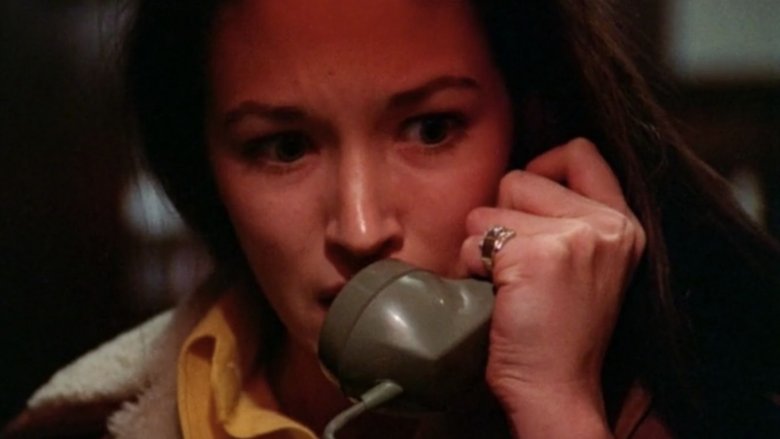 Another classic slasher flick is getting the Blumhouse treatment.
Fresh off the success of last year's sequel Halloween, the production house has announced a remake to Bob Clark's 1974 fright fest Black Christmas — one which will feature a mostly female cast with a decidedly modern attitude. (via Collider)
The original movie is among the very first modern slasher films, and it helped to establish tropes — the mysterious identity of the killer, gory setpieces, the Final Girl — which would become par for the course during the genre's boom in the late '70s and early '80s. (it also featured an early example of the all-time classic "the call is coming from inside the house" plot point.) It took place at a sorority house on a snowy Christmas night, as an unseen killer tormented its residents by phone before picking them off one by one — but in the Blumhouse version, the maniac just might end up biting off a little more than he can chew.
The remake looks to be turning the idea of a gaggle of helpless female victims being hacked to bits squarely on its head. Here's the official synopsis: "Hawthorne College is quieting down for the holidays. One by one, sorority girls on campus are being killed by an unknown stalker. But the killer is about to discover that this generation's young women aren't willing to become hapless victims as they mount a fight to the finish."
Appropriately, the flick will also have a female director — a pretty darn good one, if you ask us. Sophia Takal made waves with the well-received indie picture Always Shine, which scored lead actress Mackenzie Davis (Terminator: Dark Fate) a Best Actress award at the 2016 Tribeca Film Festival. More recently, Takal partnered with Blumhouse to helm the "New Year, New You" segment of Hulu's horror anthology Into the Dark, a killer little piece (no pun intended) that earned the attention of horror fans. 
Takal co-wrote the screenplay with first-time feature screenwriter April Wolfe. The flick is set to star Imogen Poots (Green Room), Aleyse Shannon (Charmed), Brittany O'Grady (The Messengers), Lily Donoghue (Halt and Catch Fire), and Caleb Eberhardt (Happy!). 
Genre fans will have not-so-fond memories of the last time a modern reworking of Black Christmas was attempted. The 2006 version (stylized as Black X-Mas, because why not) certainly featured an able cast, with the likes of Mary Elizabeth Winstead (Fargo), Michelle Trachtenberg (Guidance), and veteran voice actress Lacey Chabert (Young Justice) participating. But the film suffered from a clunky screenplay and even clunkier direction courtesy of Glen Morgan, who has turned in some pretty decent work on TV series such as The X-Files and Jordan Peele's Twilight Zone revival. Unsurprisingly, Morgan hasn't written or directed another feature film since.
The new version appears to be in much better hands, and with the kind of hot streak Blumhouse has been riding as of late, our hopes are high. In the last couple years alone, the production house has fielded gems like Split, Get Out, Happy Death Day and its sequel, Upgrade, Unfriended: Dark Web, Cam, Ma, and the aforementioned Halloween. Oh, and we almost forgot: Spike Lee's BlacKkKlansman, which was nominated for five Oscars and took home one for its screenplay.
Distributor Universal has pegged Black Christmas for release on — wait for it — Friday, December 13, a date which will not only get the flick in theaters just in time for the holiday, but will also serve as a little tip of the hat to one of the greatest slasher franchises of all time. We're excited for this one, and we'll be keeping an eye out for the trailer right around, oh, say, Halloween.