Onward: Images Released From Next Pixar Movie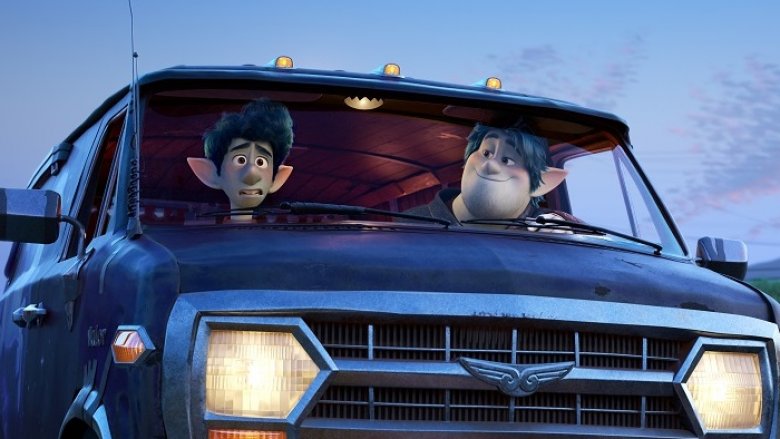 Disney/Pixar
Next year's Pixar movie will take us to a magical... er, suburb, with a little help from some familiar voices.
The venerable animation house has released the first two images from Onward, which will star Marvel alumni Chris Pratt and Tom Holland as elven brothers who venture out into the world in search of a little of that old magic. The flick also stars Julia Louis-Dreyfus as the boys' mother, and three-time Oscar nominee Octavia Spencer in an undisclosed role. (via People)
Along with the stills — which, true to Pixar's form, look amazingly detailed and show off the movie's strong character design — writer/director Dan Scanlon (Monsters University) also offered up a few details about working with Holland and Pratt, whom he says have become chummy while working together on the box office juggernauts Avengers: Infinity War and Avengers: Endgame, and related his hope that Onward will strike all of the humorous, quirky, and emotional notes we've come to expect from Pixar.
Onward gives us a fantasy world that is uncharacteristically mundane, with sleepy suburbs and the fantastical characters that populate them heading off to workday grinds, which just doesn't sit well with brothers Ian (Holland) and Barley (Pratt). The siblings head out in the family van "on an extraordinary quest to discover if there is still a little magic left out there," per the flick's synopsis — and according to Scanlon, his stars' chemistry was apparent from the word go.
"They are clearly friends," the director said, noting that — unusually for a major animated production — the pair actually got to do several recording sessions together. "They've worked together before and hung out together. It was fun to sit back and watch them make each other laugh."
In case you've been living under a rock, Pratt portrays Guardian of the Galaxy Peter Quill/Star-Lord in the Marvel Cinematic Universe, while Holland has won fans' hearts as the MCU's Peter Parker/Spider-Man. Marvel fans will have to agree that judging by Scanlon's description of their characters in Onward, the decision to cast the pair would qualify as a no-brainer.
"Tom Holland is perfect for our character of Ian, the younger brother," Scanlon said. "We were looking for someone who could have this shy quality and someone who is good at being a little awkward. And Tom is great at that! And yet [he] has a genuine sweetness to him that you really root for."
For older brother Barclay, the director said that an actor who could project a touch of cockiness — which any fan of the Guardians will tell you is key to Star-Lord's characterization — was required. "We wanted someone who was the exact opposite of [Holland's character]," he explained. "Someone who could be wild and chaotic and out of control, but in a very charming and infectious way. And Chris Pratt is perfect for that. He has this ability to be... sort of [crazy] in a really lovable, fun, infectious way."
While Louis-Dreyfus and Spencer are the only other two cast members to have been announced, their casting speaks to the production's commitment to utilizing A-list talent. Dreyfus is wrapping up her acclaimed, seven season run on the HBO comedy Veep, which has snagged her no fewer than six Emmy awards for Outstanding Lead Actress in a Comedy Series. Spencer, meanwhile, took home a slew of industry awards for her supporting performance in 2012's The Help, for which she was also nominated for an Oscar for Best Supporting Actress; she's been nominated in the same category twice since, for 2017's Hidden Figures and 2018's The Shape of Water.
All four actors are more than capable of bringing the hilarity while simultaneously tugging heartstrings, and Scanlon hopes that Onward will fit nicely within the Pixar tradition of rich, entertaining, flat-out funny offerings with layers of emotional complexity baked in.
"I absolutely hope that people are laughing their heads off and crying their eyes out," he said. "My hope is some of the questions that I'm asking in the film will be questions other people are asking about their own lives. And I think that's what, a lot of the times, gets us to connect to a movie."
One thing that we know for sure: Onward will look fantastic, as Pixar has proven itself to be absolutely incapable of fielding a movie that doesn't. Check out the new stills below, and mark your calendar: Onward hits screens on March 6, 2020.