It: Chapter Two Will Include Two Very Controversial Elements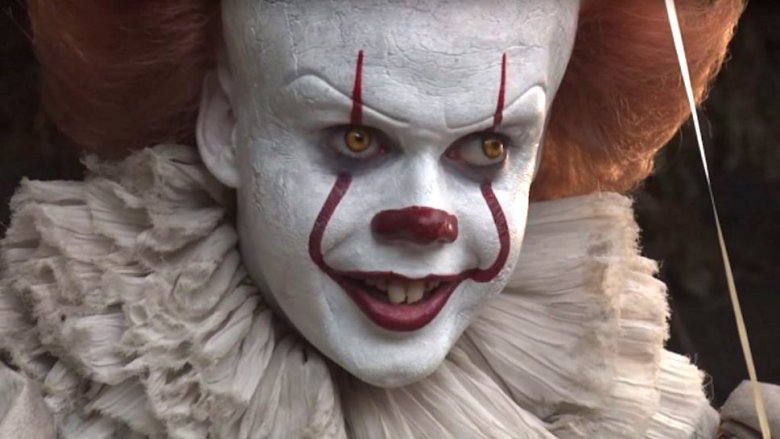 Director Andy Muschietti's 2017 It remake was 50 shades of freaky — and things are only going to get scarier, bloodier, and more haunting in the movie's fast-approaching sequel It: Chapter Two, which will include two very controversial moments from author Stephen King's famous novel. 
It: Chapter Two screenwriter Gary Dauberman recently revealed to The Hollywood Reporter that the follow-up flick will include one of the saddest and most haunting scenes in King's 1986 novel: the hate crime committed against a young gay man named Adrian Mellon, played in the movie by I Killed My Mother director and Bad Times at the El Royale actor Xavier Dolan. As it's written in the book, Adrian is – spoiler alert – the victim of a savage beating carried out as an attack on his sexuality. Continuing his reign of torment over the fictional town of Derry, Maine, Pennywise later murders Adrian. This is a scene that wasn't featured in the It television mini-series from 1990, but is one that the It: Chapter Two creative team wanted to implement in the pic for a few reasons. 
As Dauberman explained, "It is an iconic scene in the book and one we wanted to include in the movie. It is the first attack in present-day Derry and sets the stage for what Derry has become. It is the influence of Pennywise even while he is hibernating, and it's pure evil what happens to Adrian. These bullies working through Pennywise was important for us to show."
Another contentious aspect of King's novel that It: Chapter Two adapts is a key part of one character's personal arc. Dauberman affirmed that the film does see adult Beverly Marsh, portrayed by a perfectly cast Jessica Chastain, become the victim of domestic violence. Spoilers here, but in the second half of the It novel, which jumps ahead 27 years after the events of the first part, Bev is married to Tom Rogan — an intense, aggressive, and abusive man. Her domestic abuse storyline in It: Chapter Two will closely mirror the way King wrote it in the book; Dauberman noted, "We try to be true to the novel." 
The It sequel intends to outdo its predecessor on all fronts, and including these two aspects of King's chilling story is just one way the film aims to achieve that goal. Another way is, of course, to make the action scarier and more gruesome. According to Dauberman, It: Chapter Two is "definitely bloodier than the first and it is just as scary, if not scarier." Muschietti clearly agrees, having warned fans over a year ago that they should prepare to be scared silly by the sequel. "It's going to be scarier and more intense, so bring your adult diapers to the movie theater," he said. 
Just how spooky will It: Chapter Two really be? Well, the cast and crew can't dish up any specific details, but we have heard two tidbits sure to pique horror fans' interest: the film has a scene that shocked someone with how much fake blood it features, and Pennywise will be "even more vicious" this time around than he was in the original movie.
Chastain described the bloody sequence in a separate interview: "Someone said on set that it's the most blood that's ever been in a horror film — in a scene. The next day, I was pulling blood out of my eyeballs — like, fake blood." The scene may have resulted in some eye irritation for Chastain, but that pain is probably worth it for an end product that's bound to blow viewers away. 
As for the deadlier villain in the sequel, actor Bill Skarsgård told Entertainment Weekly that the 27 years Pennywise spent dormant in the sewers of Derry have only made him stronger. The fear he felt when the Losers' Club — comprised of Bev, Bill Denbrough, Richie Tozier, Ben Hanscom, Stan Uris, Mike Hanlon, and Eddie Kaspbrak — forced him into hibernation at the end of the first film has changed him, as he finally experienced the emotion that he long imposed on others. Viewers can expect to witness a shift in Pennywise in It: Chapter Two, and though he may look the same, he'll act in even more shocking and twisted ways. 
"It fuels hatred and anger towards the kids, who will be adults in this one, so I think there might be an even more vicious Pennywise. He's really going after it," Skarsgård teased. "There's a lot to explore. You can change him or make him whackier, but he's not really bound to continuity in the sense that a normal character would be. We can explore his unpredictability now that we've established the character for the audience. We can still sort of shock them."
It seems It: Chapter Two will have little trouble scaring audiences and melting their minds with petrifying new forms of Pennywise. The inclusion of the two controversial aspects of King's book from the '80s serves as yet another layer of terror to the tale, and is guaranteed to get people talking. There's at least one other divisive moment included in the It novel that will undoubtedly be a part of Chapter Two, so it will be interesting to see what kind of response that garners.
We're certainly intrigued to see how exactly Dauberman wrote the hate crime scene with Adrian Mellon, how he navigated the domestic abuse subplot, and how he tackled that other story point that shall not be spoiled here. All three elements are significant to King's story, and given that they are rooted in extremely sensitive topics, one would hope that Dauberman and Muschietti spent extra time and energy ensuring that they were handled with care. 
See how everything plays out when It: Chapter Two floats into theaters on September 6.