Invisible Man: Storm Reid Joins Cast, Plot Details Revealed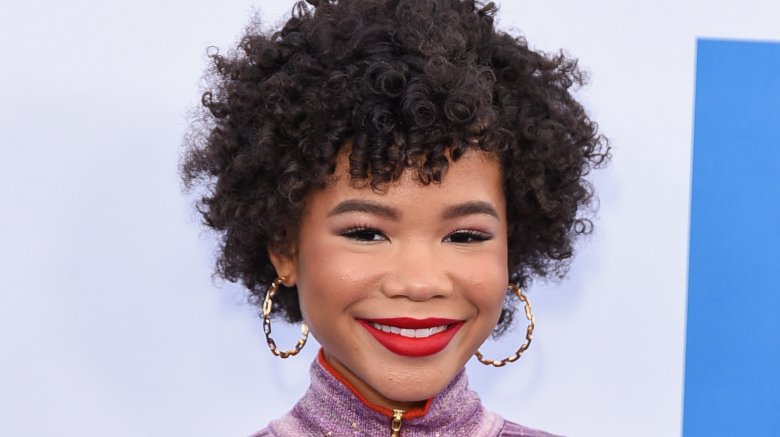 Presley Ann/Getty Images
We're starting to see The Invisible Man a little more clearly.
Rising star Storm Reid has joined the cast of the Universal/Blumhouse production opposite The Handmaid's Tale's Elisabeth Moss, and in conjunction with the announcement, a few intriguing details about the flick's plot were revealed. (via Deadline)
We reported that Moss had landed the lead role back in March, at which point we speculated that the film — which Universal tapped hitmaking studio Blumhouse to co-produce after the collapse of the former's Dark Universe — would be a gender-flipped take which would necessitate, at the very least, a change in title. Judging by today's announcement, however, this appears not to be the case.
According to Deadline's report, the film will focus on Cecilia (Moss), who is putting her life back together after being involved in an abusive relationship. She's thrown for a loop when she receives news that her ex-boyfriend has committed suicide — but even as she begins to come to terms with the past, strange and inexplicable incidents lead her to believe that her abuser may not, in fact, actually be dead.
Reid will portray a young woman named Sydney, an orphan who lives with Cecilia and looks up to her as a role model. She is also rattled by the bizarre goings-on in their shared home, and — being rather pragmatic for a teenager — grows mistrustful of Cecilia, suspicious that she may be orchestrating these weird occurrences herself as a ploy for attention.
It seems like an interesting and wholly original take on the classic movie monster, who first appeared in the 1933 film of the same name, based on H.G. Wells' novel. In the original, Dr. Jack Griffin is a scientist driven mad by his formula for invisibility; he commits a string of murders while plotting to use his power for world domination, only to eventually be trapped and killed by the police. It's a straightforward tale, befitting its era — and in updating it for modern audiences, the filmmakers have apparently chosen to go the route of building a completely new story around the core concept, rather than shooting for a true remake.
The movie is being directed by Leigh Whannell, a longtime collaborator of James Wan and his Atomic Monster production house. Whannell scripted the first three films in the Saw series and all three Insidious pictures, directing the third; most recently, he wrote and directed the killer 2018 action/horror flick Upgrade for Blumhouse, and he's also attached to the forthcoming remake of John Carpenter's 1981 classic Escape From New York, which is currently in pre-production. Thus far, no writer has been officially announced for The Invisible Man, but it would come as no surprise if Whannell — prolific scribe that he is — ended up taking on that duty himself.
As for Reid, her career has skyrocketed since appearing in 2013's Oscar-winning historical drama 12 Years a Slave. The talented teen has had no shortage of film and television work come her way since, and just last year, she held down the lead role in Disney and director Ava DuVernay's big-budget adaptation of the classic YA novel A Wrinkle in Time. It'll be interesting to see her onscreen dynamic with Moss, who has no shortage of talent herself; while Blumhouse-style horror seems like a bit of a departure from her signature role of Offred in The Handmaid's Tale, she doesn't see it as so much of a stretch.
Speaking with The Hollywood Reporter last month, the actress said, "Part of the reason why I wanted to do it is I actually felt like it was a really feminist story of female empowerment, and a victim kind of overcoming something. I don't even know what I'm allowed to say about it! I'm not The Invisible Man, but there is an Invisible Man — if that makes any sense."
Well, it makes a great deal more sense now. Universal's decision to partner with Blumhouse to create a more filmmaker-driven approach to (and reduce the budgets of) their classic monster remakes is starting to look smarter every day, and The Invisible Man — which, in an alternate universe, starred Johnny Depp, cost $80 million dollars to produce, and probably flopped miserably — has now officially piqued our interest. We'll keep an eye out for more details and casting news, and keep you filled in as it breaks.