Detective Pikachu: What The Critics Are Saying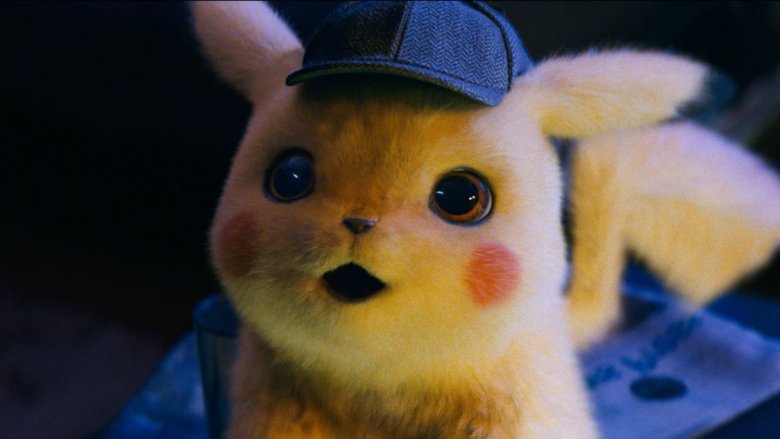 Pokémon fans, present your wallets.
The reviews are in for the live-action comedy Detective Pikachu, and critics are in general agreement that it's a fun ride bolstered by a lively voice performance from Ryan Reynolds as the title character. The flick currently stands at 74% on Rotten Tomatoes.
Detective Pikachu stars Justice Smith (Jurassic World: Fallen Kingdom) as Tim Goodman, the son of a hotshot detective who mysteriously goes missing. Tim doesn't inhabit our boring ol' normal world, however; he lives in a world where humans and Pokémon co-exist, and his Dad's partner just happens to be the fuzzy, unreasonably cute Pikachu. Somehow, Tim is able to understand the little guy (everyone else, of course, just hears "Pika Pika!"), and the two set out to get to the bottom of the mystery.
The flick's trailers promised a barrel of laughs even for those viewers uninitiated into the world of Pokémon, and it appears to have delivered. If there is one common thread in all the positive reviews, it's the one you likely expected: Ryan Reynolds, whose seemingly innate likability and playfully humorous vibe was near-universally applauded as the perfect fit for Pikachu. Empire's Olly Richards wrote, "Whoever decided that the film needed Ryan Reynolds deserves an enormous pay raise. His voice coming out of a little fluffy hamster-y thing is innately amusing, but his lines are also sharp, silly and knowing... It's impossible to overstate how much this film owes to [him]. Even if you don't understand Pikachu's world, everyone can understand a great joke superbly delivered."
Steve Rose of The Guardian was in full agreement. "Reynolds brings the same comic energy and timing to the role [of Pikachu] as he did with Deadpool," he wrote. "[He] saves the day. He takes what could have been a generic conceit by the scruff of the neck and gives it the requisite jolt of energy... he's worth every penny."
Much praise was also reserved for the film's visual effects, particularly its rendering of all the various, often bizarre-looking Pokémon that inhabit its world. Wrote Sheraz Farooqi of Comic Book Debate, "The VFX [are] impeccable — individual [strands of] fur on Pikachu [are] clearly visible, scales on Charizard are fully detailed. Every Pokémon is displayed in full with all their defining traits from the source material beautifully translated for a live action setting. Even if you are not [a] fan of the franchise, seeing the film... purely [for] the magical VFX is worth it." ScreenRant's Molly Freeman similarly gushed over the "stunning CGI," while praising the film as a whole as "wholesome, silly fun with solid world-building... a dazzling and compelling ride through the world of Pokémon."
Of course, not all of the critics were so kind. Jesse Hassenger of A.V. Club, while acknowledging that the movie "is positively cutting edge in the field of cuteness effects," panned it as "tomorrow's nostalgia junk, today... a whole lot of cute, branded nothing — watchable junk for young adults of tomorrow to look back on with inordinate fondness." Ouch. Alonso Duralde of The Wrap was even less kind, writing, "Anyone over the age of 11 will deduce the identity of the villain and the twists of the detective story, which would have been fine if Detective Pikachu offered enough delight in the visuals, the performances or the humor. Instead, we get a movie that's both overstuffed and underwritten, making it seem simultaneously ambitious and lazy, frenzied and sluggish."
Okay, so perhaps live-action Pokémon and the comedic stylings of Reynolds aren't for everyone. But it's probably safe to say that Detective Pikachu exceeded expectations, thanks to amazing production design, jokes that appeal to audiences of all ages, and Deadpool himself in the title role. (it's becoming increasingly difficult for us to separate Reynolds from his signature character at this point.) Julia Alexander of The Verge perhaps summed it up best: "Detective Pikachu's writing isn't exactly strong or thought-provoking, but honestly, it doesn't have to be. This isn't a timeless work of cinematic genius. Instead, it's a chance for [audiences] to spend two hours inside a universe many of us have invested years in. It's a hilarious, carefree, fun romp through a familiar place, and it's just different enough to add a much-needed twist to a formula that was growing tired."
Detective Pikachu was directed by Rob Letterman (Monsters vs. Aliens) from a script he co-wrote with Dan Hernandez and Benji Samit (The Tick), with an assist by Derek Connolly (Kong: Skull Island and the forthcoming Star Wars: The Rise of Skywalker). In addition to Smith and Reynolds, it stars Kathryn Newton (Supernatural), Suki Waterhouse (Hulu's Into the Dark entry "New Year, New You"), and the great Ken Watanabe (Inception). Catch it in theaters now — or, as the great detective himself would say... Pika! Pika!