Deadwood: HBO Releases First Trailer For Sequel Movie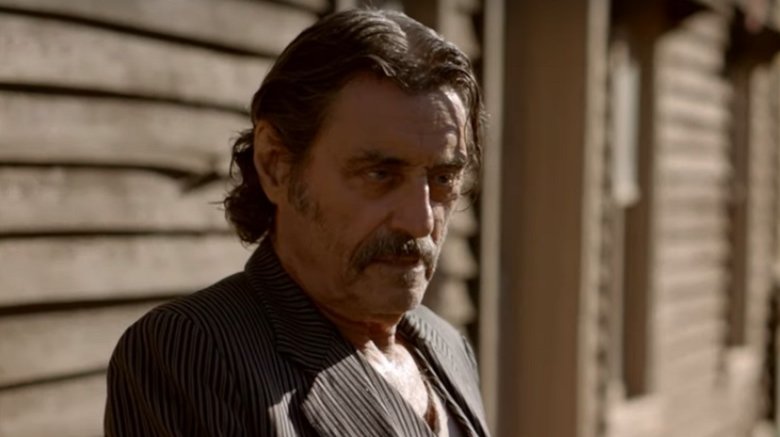 It's been over a decade, but the wait for more Deadwood is almost over.
The trailer for Deadwood: The Movie was posted today to HBO's YouTube Channel, and while it doesn't give us a lot of insight as to the flick's plot, it does promise a continuation every bit as gritty, grimy, and profane as the original series. You can check it out here, but be advised (and if you're a fan, you already know what's coming next): it's very, very NSFW.
Deadwood ran for three seasons and 36 episodes between 2004 and 2006 on HBO, and to this day it's regarded by many as one of the greatest television series of all time. Each episode represented a day in the life of the titular South Dakota mining town, days which were more often than not punctuated by shocking violence and copious amounts of extremely colorful language. The series ended not because of any declining interest on the part of fans, but because the cabler and series creator David Milch couldn't come to an agreement on how it should continue; HBO proposed a truncated six-episode fourth season, which Milch passed on. As far back as 2007, there were talks of continuing the story with a pair of movies — but as the series featured a gigantic ensemble cast, it proved mightily difficult to get the band back together, so to speak. 
Finally, the stars have aligned for a return trip to Deadwood, and not a moment too soon: Milch has recently opened up about being diagnosed with Alzheimer's disease, and the creator admitted that he struggled while composing the script for the new film. "As best I understand it, which is minimally, I have a deterioration in the organization of my brain," he said in a conversation with Vulture. "And it's progressive. And in some ways discouraging. In more than some ways — in every way I can think of." But Milch has responded well to therapy, and — according to his wife Rita — has lost none of the edge to his writing that made Deadwood an indelible piece of pop culture. "I compare it to a musician who can still play and has access to the memory of how to do that and is still able to exercise his talent," she said. "The brain is David's most exercised muscle."
It's just been one more obstacle on the path to more Deadwood, and with the new movie, Milch will finally have the opportunity to bring his epic story to a conclusion. The vast majority of the original cast has somehow managed to assemble for the production, including: Timothy Olyphant (Snowden) as Sheriff Seth Bullock, Gerald McRaney (Santa Clarita Diet) as corrupt businessman George Hearst, Molly Parker (1922) as Alma Ellsworth, Paula Malcolmson (Tombstone) as Trixie, Anna Gunn (Breaking Bad) as the Sheriff's wife Martha Bullock, Dayton Callie (Fear the Walking Dead) as Charlie Utter, Brad Dourif (the longtime voice of Chucky in the Child's Play series) as Doc Cochran, Kim Dickens (House of Cards) as Joanie Stubbs, Robin Weigert (Big Little Lies) as "Calamity" Jane Canary, William Sanderson (True Blood) as E.B. Farnum, and of course, Ian McShane as the ruthless Gem Saloon owner Al Swearingen. 
In the director's chair for the flick is TV vet Daniel Minahan, who has handled episodes of True Blood, Ray Donovan, House of Cards, American Crime Story, and Game of Thrones; we feel confident in saying that he'll acquit himself ably. The movie will take place (appropriately) ten years after the events of the series finale, but whatever machinations have taken place in that decade are open to speculation, as the flick's plot is being held tightly under wraps. We do, however, have this official synopsis: "In the Deadwood film, the indelible characters of the series are reunited after ten years to celebrate South Dakota's statehood. Former rivalries are reignited, alliances are tested and old wounds are reopened, as all are left to navigate the inevitable changes that modernity and time have wrought."
That... doesn't tell us much, but this is by design. Come on, you've waited forever for more Deadwood — you don't want the grand finale spoiled for you any more than we do. Fortunately, we don't have long to wait until we find out how Milch wraps up his epic Western tale: Deadwood: The Movie premieres on HBO on May 31.