Rush Hour 4: Chris Tucker, Jackie Chan Tease Possible Sequel In Instagram Post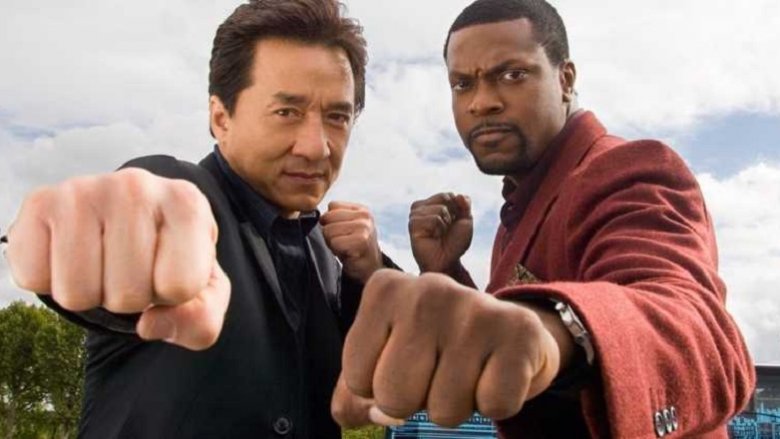 Is it almost time to get caught in Rush Hour once again?
In a development that would surely rock the world of entertainment, Chris Tucker and Jackie Chan have teased us with the possibility of a long-awaited fourth installment in the venerable franchise by way of a post to Tucker's Instagram. It's just a selfie of the two stars together, but they're both holding up four fingers, so you tell us what that's all about if not the impending announcement of a world-shattering four-quel.
In all seriousness, the Rush Hour flicks were pretty damn sweet, thanks to the effortless comedic chemistry between the co-leads, smart writing, and whip-crack direction by Brett Ratner. Although Ratner's involvement in any further installments is in no way a certainty — he's dealing with a deluge of accusations involving his alleged propensity for sexual harrassment, after all — a fourth installment in the franchise has long been rumored. Back in 2017, we reported that Chan was certain that Rush Hour 4 would shoot in 2018; that, obviously, did not happen. Then, early last year, Chris Tucker chimed in to say that, yes, the sequel was absolutely, positively happening. Later that year, Ratner was reported to have told those in his circle that he was going to direct the flick; neither hide nor hair has been seen of him since, other than the director taking to Instagram to curse a blue streak in celebration of his fiftieth birthday.
All of which is to say that these guys have been teasing us with the possibility of a new Rush Hour for a really, really long time, and so far, no dice. But if Tucker is to be believed, there's been an agreed-upon script completed for a couple years, and the 65-year old Chan — despite the fact that over the course of his career, he's sustained injuries that would kill a Terminator about five times over — is game. In a 2017 interview with Los Angeles' Power 106 radio station, the star said, "It's about [having] time to make it. Otherwise, Rush Hour 4, we're all old men. I tell Chris Tucker, 'Before we get old, please [let's] do Rush Hour 4.'"
Well, either the stars have finally aligned, or Chan and Tucker just happened to run into each other and decided that a provocative selfie would be an interesting way to screw with their fans. The first Rush Hour, released in 1998, was Ratner's second feature (behind 1997's little-seen Money Talks), and made him a hot property; the flick catapulted Tucker, at the time best-known for his role as Smokey in the 1995 comedy classic Friday, to worldwide fame. It grossed $244 million dollars worldwide against a modest budget, and the second installment — 2001's Rush Hour 2 — did even better, raking in over $347 million dollars worldwide. 2007's Rush Hour 3 only garnered receipts roughly on par with the original, but with an accumulated take of nearly $850 million dollars at the international box office, it's safe to say that Rush Hour is among the more profitable original comedy trilogies in Hollywood history — and with the nostalgia factor in play at this point, a fourth installment could positively clean up, especially if critical notices are kind.
Well, it bears reiterating that an Instagram selfie is in no way an official confirmation — but if nothing else, it sure is cool to see Chan and Tucker, together again and mugging for the camera. Perhaps this is just their way of lobbying for a new Rush Hour for the benefit of any producer that might be paying attention, or perhaps it's some kind of cruel, belated April Fools' joke — or maybe, just maybe, they know something we don't. Will detectives Lee and Carter really, finally saddle up again? Will Ratner attempt to direct his way back into Hollywood's good graces with a return to the world of the best films he's ever directed? (We said it.) Will Lee understand the words that are coming out of Carter's mouth? Only time will tell. We'll keep an eye on this story, and keep you up on any developments.