Chris Tucker Confirms Rush Hour 4 Is Happening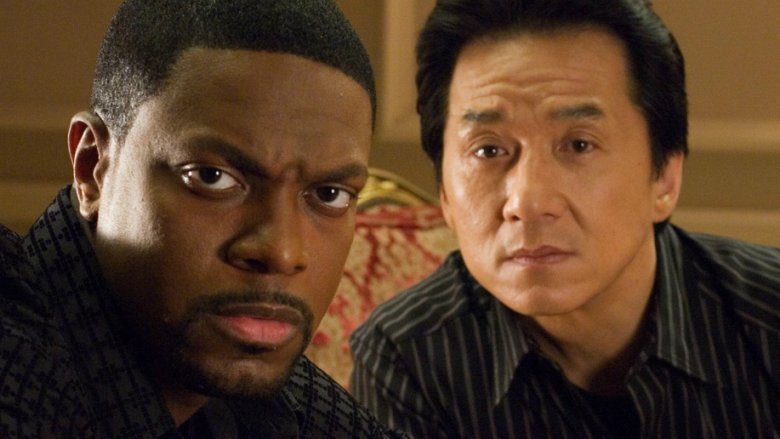 New Line Cinema
Chris Tucker made it really easy to understand the words coming out of his mouth: Rush Hour 4 is in the works.
Two decades after he and Jackie Chan teamed up for the first installment of the buddy cop action-comedy franchise, Tucker recently confirmed on ESPN's The Plug podcast (via Complex) that they'll be back together for a fourth Rush Hour flick. "It's happening," he said. "This is gonna be the rush of all rushes. Jackie is ready and we want to do this so that people don't ever forget it."
The series centers on LAPD Detective James Carter (Tucker) and Hong Kong Police Force Detective Inspector Lee (Chan), who were thrust together in 1998's Rush Hour. The movie became a hit, bringing in $244 million at the global box office and spawning two sequels: 2001's Rush Hour 2 and 2007's Rush Hour 3.
Chan first revealed that the new movie could finally happen back in October. "For the last seven years, we've been turning down the script, turning down the script," Chan said. "Yesterday, we just agreed."
At the time, he said he expected Rush Hour 4 to go into production sometime this year, but it all hinged upon Tucker agreeing to come back. Now it certainly seems like they're both on board.
There are no additional details about the plot or the rest of the cast for Rush Hour 4, and it'll be interesting to see where the movie is set. The first three films took place in Los Angeles, Hong Kong and Paris. The other big question is the involvement of Brett Ratner. He directed all three of the previous Rush Hour films, but he faces allegations of sexual harassment and assault. 
We'll keep you posted when we hear more.