Shazam! Sparkles With $53 Million Domestic Debut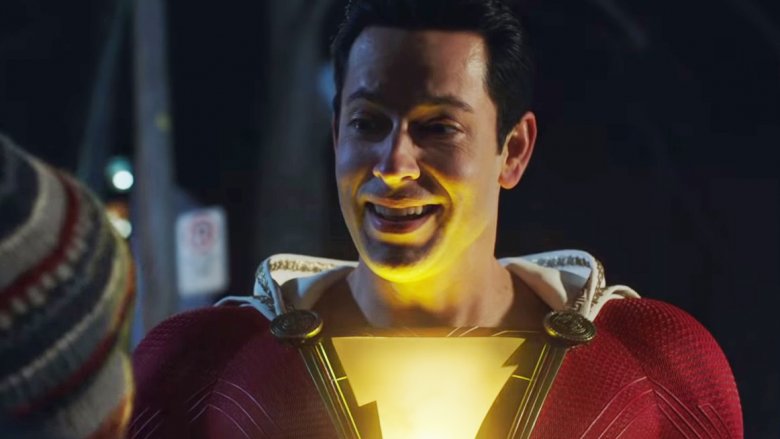 Captain Sparkle Fingers has lived up to his name. 
Shazam! bolted into theaters on Friday, April 5, and, in its first three days out at the domestic box office, pulled in a dazzling $53 million. 
Variety pinned the pic, directed by horror maestro David F. Sandberg and top-lined by Zachary Levi as the eponymous caped crusader, as taking home that much cash from 4,217 theaters across the U.S. and Canada. 
A stateside launch of $53 million far surpasses expectations, as industry analysts predicted that Shazam! would only yield between $40 million and $45 million domestically from Friday to Sunday. Accounting for the $5.9 million in domestic revenue from Thursday night previews as well as the $3.3 million it earned from Fandango-organized exclusive pre-release showings held on Saturday, March 23, Shazam! has raked in a total $62.2 million domestically — about $20 million more than what experts initially estimated it would earn.
Also starring Asher Angel as young Billy Batson and Jack Dylan Grazer as Freddy Freeman, Shazam! is faring just as well overseas. The superhero standalone zapped up $102 million throughout 79 international territories. 
Warner Bros. president of domestic distribution Jeff Goldstein attributed Shazam!'s "thrilling result" at the domestic and international box offices to its light-hearted, fun-loving feel that's much brighter than its gritty fellow DC Extended Universe films. "It was about having fun," said Goldstein. "Wonder Woman and Aquaman were very dark and dramatic and different. It shows we're making a variety of different movies that can all live in the same space."
Many have been quick to point out that while Shazam! had a glittering opening weekend, it still comes in on the low end of DC movie launches. They aren't wrong – Shazam!'s debut earnings aren't as hefty as those of Wonder Woman or Aquaman — but the important thing to note here is that Shazam! cost far less to produce than its franchise counterparts. Warner Bros. and New Line Cinema shelled out just $98 million to make Shazam!, while the studio ponied up $300 million (not including costs of marketing and distribution) for Justice League and $250 million for Batman v Superman: Dawn of Justice. Wonder Woman also cost a pretty penny at $149 million, and the billion-dollar-earning Aquaman ran up a $160 million bill at Warner Bros. and DC Films. 
So yes, Shazam! had the softest opening of all DCEU installments, but the film has already turned a huge profit and did it more quickly than its counterparts. Even if it hadn't yet debuted domestically, it's international earnings from this weekend alone would have seen the film recoup is budget and pocket a few million dollars for good measure. That's the real win here. 
What also counts is the incredible response to Shazam!, which will undoubtedly keep the flick afloat as it continues its theatrical run. Standing as the second-best-rated DCEU move in history based on its Rotten Tomatoes score, falling just one percent behind Wonder Woman in critical approval rating but beating it by two percent in audience reviews, Shazam! has blown everyone away. Kids love it, adults love it, Marvel fans love it — and so will you if you haven't seen Shazam! already. Take Salon critic Matthew Rozsa's word for it: "It's easy to appreciate Shazam! as a charming and breezy superhero flick, but its quality is more impressive given that comes out of the problematic DC Extended Universe ... The end result is that Shazam! is the funniest, sweetest and most innocent movie in the DC Extended Universe — a sign that it is at last ready to compete with Marvel."