Aquaman Passes $1 Billion At Global Box Office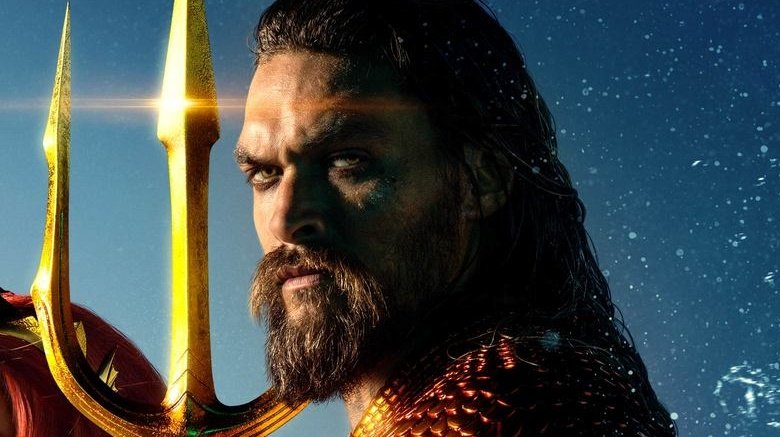 Aquaman has been riding the wave of success since it debuted in December 2018, and this past weekend, the tide carried the film onto premier shores. 
As detailed by Forbes, the Jason Momoa-starring superhero flick officially reached $1 billion at the global box office on Saturday, January 12. 
Not only did Aquaman join the elite club, but it also pushed well past the benchmark; it currently sits pretty on a stack of cash that tallies more than $1.02 billion. 
In achieving such an impressive milestone, Aquaman has surpassed the worldwide pull of Christopher Nolan's The Dark Knight, which earned $1.004 billion when it debuted in 2008. The film's accomplishment also marks the first instance in which a DC Comics-based film has yielded a billion bucks at the box office since The Dark Knight Rises took home $1.08 billion in 2012. 
Aquaman already flipped its fins past Batman v Superman: Dawn of Justice's $873.6 million global earnings to become the most profitable movie in the DC Extended Universe, also edging out Wonder Woman ($821.8 million), Suicide Squad ($746.8 million), Man of Steel ($668 million), and Justice League ($657.9 million) in the process. 
But Aquaman's accolades extend even beyond the confines of the DC Extended Universe now that it has brought in a billion. 
Its massive worldwide revenue has made the James Wan-directed pic the second-biggest DC superhero movie in history (including non-DCEU entries); the 37th film in history to ever earn $1 billion globally; the eighth-highest-earning live-action superhero film of all time, coming in behind The Avengers ($1.52 billion), Avengers: Age of Ultron ($1.41 billion), Avengers: Infinity War ($2.05 billion), Black Panther ($1.35 billion), Iron Man 3 ($1.21 billion), Captain America: Civil War ($1.15 billion), and The Dark Knight Rises; and the fourth film released in 2018 to have grossed $1 billion or more — those being Avengers: Infinity War and Black Panther from DC's "rival" Marvel as well as Jurassic World: Fallen Kingdom ($1.31 billion) and Incredibles 2 ($1.24 billion).
A billion-dollar pull means wonderful things for Wan as well, as he now sits alongside decorated filmmakers like Titanic and Avatar helmer James Cameron, Transformers franchise architect Michael Bay, and The Lord of the Rings series mastermind Peter Jackson. Aquaman is now Wan's second-best movie in terms of cold, hard cash; his Furious 7 earned $1.52 billion worldwide during its theatrical run in 2015.
The majority of Aquaman's revenue has come from international territories, whose audiences have spent $732 million combined to witness Momoa wield a trident, unite the seven kingdoms of the sea, and stop his villainous half-brother from killing innocent humans. That's left just $287 million to come from moviegoers stateside. Domestically, Aquaman is still swimming behind Wonder Woman ($412.5 million), Batman v Superman: Dawn of Justice ($330 million), and Suicide Squad ($325 million) — meaning that the film is an enormous hit when looking at the big picture but a more modest offering when focusing solely on its box office performance in the U.S. So thanks, overseas fans! We're sure Wan, Momoa, DC, and Warner Bros. are incredibly thankful for your support. 
While we have Warner Bros. on the brain, Aquaman is now the studio's second-best-earning international title in history and its top-performing movie from 2018, doing even better than Fantastic Beasts: The Crimes of Grindelwald ($644.6 million), Ready Player One ($582.8 million), The Meg ($530 million), Detective Chinatown 2 ($544 million), Rampage ($428 million), A Star Is Born ($400 million), The Nun ($365.5 million), Ocean's 8 ($297.7 million), and Crazy Rich Asians ($238.5 million), as Forbes pointed out. 
Now that there's absolutely no denying Aquaman is a smash, a sequel seems all but guaranteed. According to a recent piece by The Hollywood Reporter, the movie's box office success instilled in Warner Bros. chairman Toby Emmerich "enough confidence to begin talks on a sequel." Subsequent from various outlets have claimed that a follow-up film may already be in the very early stages of development by now.
For Momoa's part, he has long had ideas for an Aquaman sequel brewing in that brain of his. He revealed to TotalFilm (via SYFY Wire) in October 2018 that he pitched his concept for a second Aquaman movie to Emmerich and producer Peter Safran, stating, "I definitely have an opinion [about a possible sequel]. Even when we were shooting Aquaman, I have the opening of Aquaman 2 ready. I went in and pitched it to Safran, and I pitched it to Toby Emmerich. They loved it. It's awesome... But yeah, I have plans for Aquaman 2."
Wan added in the same interview, "There's definitely stories, even within the world we've created, that you can actually see other storylines [spinning off from] as well. There's the Aquaman story, but then there's the stories of the seven different kingdoms as well. I think those would be very fun to explore."
Before Warner Bros. gives the go-ahead to a second Aquaman, the first film still needs to complete its run. Industry analysts predict that Aquaman will reach $300 million or more domestically and $1.03 billion-plus globally over the Martin Luther King Jr. Day holiday weekend, Friday, January 18 to Monday, January 21.