Shazam! Flies To $5.9 Million In Thursday Previews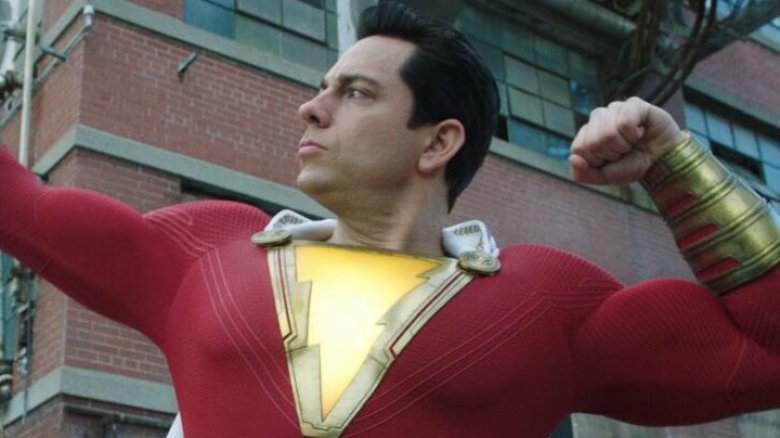 When Shazam! touched down in cinemas, it brought thunderbolts and lightning and fans out in droves. 
New Line Cinema and DC Films' latest superhero venture, directed by David F. Sandberg and starring Zachary Levi as the titular dude in tights and a cape, Shazam! earned an impressive $5.9 million at the domestic box office during Thursday night previews on April 4. 
TheWrap reported that nearly $6 million figure on the morning of Friday, April 5, the day Shazam! opens wide and begins its standard theatrical run. 
Deadline noted that Shazam! was expected to yield between $4 million and $4.4 million from theaters across the U.S. and Canada on Thursday evening, meaning that the film well exceeded industry analysts' predictions. A $5.9 million domestic pull on preview night also means that Shazam! sits in an even higher tier than fellow superhero films Captain America: The First Avenger and Spider-Man: Into the Spider-Verse, which earned $4 million and $3.5 million respectively during their Thursday night screenings. 
As of this writing, Shazam! has earned a total $9.2 million domestically — $5.9 million from Thursday previews and $3.3 million from exclusive advance screenings organized in partnership with Fandango. The ticket retailer gave those with Fandango VIP+ memberships the opportunity to purchase tickets for Shazam! showings at 1,200 locations in North America on Saturday, March 23, two weeks before the film's launch on April 5. 
This is a solid start for Shazam!, currently tracking for a total domestic weekend of around $45 million. However, while stateside viewers may be psyched to see Billy Batson become Shazam in the superhero pic, those in international territories might not be as keen. Sources close to Deadline claim that Shazam! won't have as big an impact aboard as other films in the same genre, like last April's Avengers: Infinity War or this year's Captain Marvel, given the lack of name recognition. Thus, Shazam! is expected to pull in from foreign markets just over double what it's predicted to yield domestically: $100 million. Overall, analysts are tracking Shazam! for a $145 million to $170 million opening debut, accounting for cash raked in from theaters across the world. 
Despite not eyeing down a billion-dollar run at the box office like its fellow DC Extended Universe entry Aquaman experienced, Shazam! is still shaping up to be a salve for the oft-struggling cinematic franchise and a smack-bang of fun for moviegoers. Critics and fans alike have already showered the film in praise, with many putting their hands together and making some serious noise over Levi's performance as Shazam. Some even argue that Shazam! is the best DC movie of all time. We know that money talks and that cash is king, but there's no denying positive reviews are just as satisfying. 
Shazam! is in theaters now. Check back with Looper for an update on how the film, also starring Asher Angel and Jack Dylan Grazer, fares in its first three days at the box office when weekend numbers roll in.