First Morbius Promo Shared By Jared Leto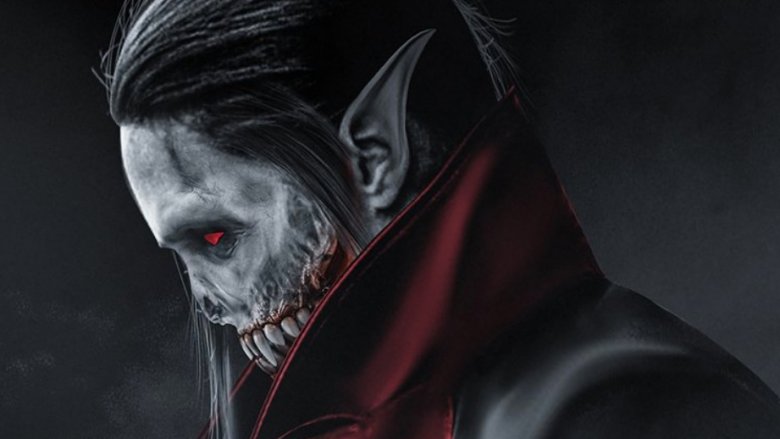 The Living Vampire walks among us.
Star Jared Leto has shared the first promo for Morbius, the second entry in Sony's Universe of Marvel Characters, to his Instagram account. The short, GIF-style video features Dr. Michael Morbius standing on a city street as pedestrians passing by him all seem to blur together.
The post is the second look we've gotten at Leto in character. Shortly after the flick commenced production in February, the star took to Twitter to post a shot of himself as Morbius, his face partially hidden behind a clapperboard.
1 week down...11 to go...🧛‍♀️🧛‍♀️

Get Ready 💪#MORBIUS @MorbiusMovie pic.twitter.com/3Tm9CGGKFz

— JARED LETO (@JaredLeto) March 5, 2019
Leto is obviously excited to be taking another crack at the comic book tentpole world, and honestly, his excitement has us pretty excited. While there's no denying his skill as an actor — the man has a Best Supporting Actor Oscar for Dallas Buyers' Club on his shelf, after all — his turn as the Joker in 2016's Suicide Squad was, how shall we put this, not among the most well-received cinematic iterations of the character. With that property getting a complete revamp courtesy of Guardians of the Galaxy's James Gunn and plans for a Leto-led Joker solo vehicle dead in the water, the timing was right for the actor to step into a role just as dark as the Clown Prince of Crime, if nowhere near as well-known.
Dr. Michael Morbius was first introduced in the pages of Marvel comics in Amazing Spider-Man #101 in October 1971, and has served as a frequent antagonist for the wall-crawler over the years. A brilliant, Nobel Prize-winning biochemist, Morbius was stricken with a potentially fatal blood disorder which prompted him to develop a highly experimental treatment involving the blood of vampire bats. Things didn't go quite as he had planned; while his disease was cured, the treatment had the side effect of turning him into a living vampire who must consume blood in order to survive. He also developed most of the other characteristics typical of the undead: sensitivity to light, super-strength, heightened senses, the power of flight, and the ability to inflict his condition upon others with his bite.
At times, the character has taken on an anti-hero role — much like Venom, his immediate predecessor in the SUMC, who has a similarly dark and violent background in the comics. While Morbius has been in development since late 2017, and Leto has been attached since the following summer, it was doubtless the surprise success of last October's inaugural SUMC effort Venom that emboldened Sony to fast-track the Living Vampire's starring vehicle. Just in case you need a quick refresher: Sony shares the film rights to Spider-Man with Marvel Studios, which integrated the wall-crawler into its Marvel Cinematic Universe beginning with 2016's Captain America: Civil War. As part of this deal, Sony produces Spidey's MCU-set solo flicks, and also retained the rights to develop other properties based on ancillary Spider-Man characters.
While fans were understandably dubious about the prospect of a shared, Spider-Man-centric film universe featuring a distinct lack of Spider-Man, Venom proved that at the very least, the idea isn't a complete airball. Anchored by a gonzo performance from a totally committed Tom Hardy in the title role, the flick raked in a ridiculous $855 million dollars at the worldwide box office — and while critics were less than impressed, fans generally seemed satisfied that the character had finally been done a measure of justice onscreen (and the less said about Topher Grace's ill-fated turn as Venom in Sam Raimi's Spider-Man 3, the better).
Of course, Venom is an immensely popular character in his own right, and the same certainly can't be said for the Living Vampire. But the moviegoing public's appetite for comic book fare is apparently bottomless, and given the right creative team, there's no reason why Morbius couldn't stake out some cinematic space for himself amidst the tidal wave of comic adaptations heading our way in the near future. (After all, it's not like fans were clamoring for a Guardians of the Galaxy adaptation before 2014, and we all know how that turned out.) So far, so good: Morbius is being directed by Daniel Espinosa, who helmed the underrated 2017 sci-fi/thriller Life. He'll be working from a script by Matt Sazama and Burk Sharpless, who co-created the Netflix series Lost in Space; in addition to Leto, the cast includes Adria Arjona (Triple Frontier), Matt Smith (Doctor Who), and Jared Harris (The Terror).
Given Leto's eagerness to share, it's likely we'll be seeing more from the set of Morbius — which should wrap principal photography in just over a month — before the flick is in the can. We'll keep an eye out for more news, as we have a funny feeling that the buzz around this one is only going to get louder as it gets closer to release. Morbius hits the big screen on July 31, 2020.