The Umbrella Academy Renewed For Season 2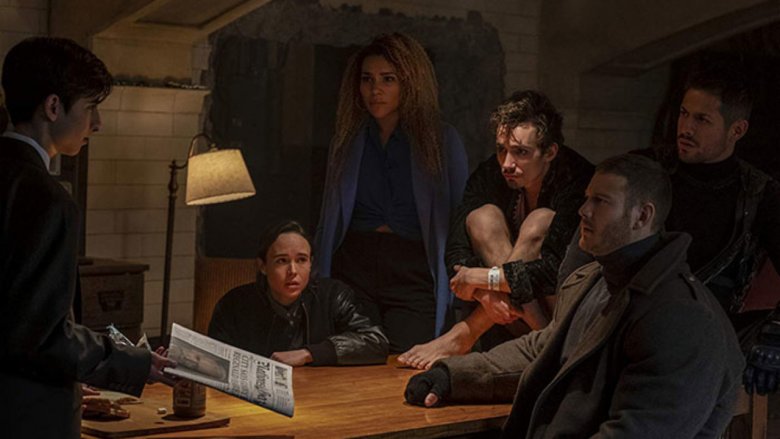 Get ready to enroll for another year at The Umbrella Academy.
Netflix has renewed the hit superhero series, based on the Dark Horse comics title of the same name, for a second season. The entire main cast will be returning, according to Deadline.
The news, while welcome, doesn't come as much of a surprise. The Umbrella Academy has been a hit with viewers and critics alike, bolstered by an intriguingly enigmatic premise and a strong cast that includes Ellen Page (The Cured), Tom Hopper (Game of Thrones), Emmy Raver-Lampman (A Million Little Things), Robert Sheehan (Mortal Engines), Justin H. Min (Pure Genius), David Castañeda (Sicario: Day of the Soldado), Aidan Gallagher (Nicky, Ricky, Dicky & Dawn), Cameron Britton (Mindhunter), Mary J. Blige (Empire), Colm Feore (The Prodigy), and Jordan Claire Robbins (Supernatural).
Key to the plot is Reginald Hargreeves (Feore), a billionaire who intervenes when a mysterious birth anomaly occurs in 1989. 43 women suddenly go into labor simultaneously, none of whom had actually displayed signs of being pregnant; Hargreeves adopts seven of these children, all but one of whom display superhuman abilities. With the help of an android nanny named Grace (Robbins), he raises the kids as a superhero team; as the first season begins, Hargreeves' surviving brood (one has died in the interim, though he too has a part to play) are drawn back together as adults when he dies under suspicious circumstances. Their reunion is decidedly less than happy, as they are threatened by a legion of assassins, consumed with the mystery of their benefactor's death, and just a bit sidetracked by the looming possibility of the apocalypse.
While critics largely found the show to suffer from the tonal and pacing issues typical of just about any freshman season of television, the performances of the cast drew near-universal praise, as did the distinctive and inventive cinematography. Fortunately, Netflix knows a thing or two about series taking a season or so to find their footing before blossoming into something special (we're looking at you, Bojack Horseman), and that's exactly what we expect of The Umbrella Academy.
Created by My Chemical Romance frontman Gerard Way and artist Gabriel Bá, the Dark Horse series has published three volumes between 2007 and 2018. The pair found the ideal creative partner to bring their property to the small screen in showrunner Steve Blackman, who cut his teeth as a writer on such well-regarded series as NYPD Blue and Bones before moving into a co-showrunner role on the Grey's Anatomy spin-off Private Practice. He's also written episodes of Fargo and Altered Carbon, and served as a producer on the WGN drama Outsiders and Fox TV's Legion; The Umbrella Academy is 100% his rodeo, however, and he has the full support of the comic series' creators. 
In a conversation with Vulture, Blackman and Way discussed their synergistic working relationship on the show, up to and including the fact that Blackman is privy to narrative arcs and plot details that haven't yet seen the light of day in print. "Steve brought me in to meet the writers room. They just sat and asked me questions for a day," Way explained. "And then I created this 18-page document that spelled everything out for The Umbrella Academy from graphic novel one to eight. So, they all have that... [I] got to weigh in on stuff, and it was ultimately Steve's call whether he wanted to go with the notes or not. But I feel like he was always trying to be respectful of the source." Blackman was quick to concur. "We agonize over these things because I want Gerard to be happy. I want him to respect it because this is the thing he and Gabriel birthed years ago."
So far, so awesome — and with Netflix being ever-hungry for quality content, it seems likely that The Umbrella Academy could pull a Game of Thrones in getting ahead of the comics' plot well before those five remaining volumes are even written, let alone published. Of course, there is as of yet no time frame for the second season's release, but it's reasonable to expect the second set of ten episodes to show up on the streamer early next year. We'll keep our ear to the ground for details, and fill you in as they become available.