Original Child's Play Director Responds To Mark Hamill's Casting As Chucky In Remake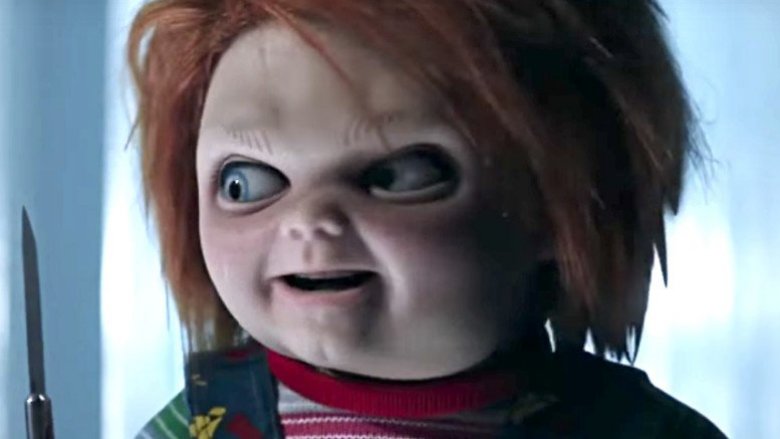 When Mark Hamill announced that he would be the voice of Chucky in MGM's Child's Play remake, countless people across the globe — from Canada to South Africa to Poland and back — let their opinions on the casting be known. Most gave Hamill their stamp of approval (a huge push in the right direction for the remake) in the form of a tweet, but one very important person who initially remained quiet on the subject was none other than the director of the original Child's Play from 1988. 
That changed recently. 
Tom Holland — no, not that Tom Holland — took to Twitter on Sunday, March 31 to offer his thoughts on Hamill stepping up to lend his pipes to the demonic doll and taking over from original voice actor Brad Dourif in doing so. His response was, in three words, simple and sweet. 
"Smart move," Holland wrote when quote-tweeting Hamill's post revealing his voice-acting gig as the new Chucky. For added emphasis to show just how much he digs Hamill voicing the famous character in the forthcoming remake, Holland tacked on a thumbs-up emoji to the end of his tweet. 
As many have noted on social media, the fact that the OG Child's Play director gave Hamill his stamp of approval is a big win for the new movie, which hasn't had the greatest buzz surrounding it. The production stirred up negative response when it was revealed that Child's Play franchise creator Don Mancini and beloved voice actor Dourif wouldn't be involved in the remake, and then things got worse when MGM unveiled the first look at the new design for Chucky– a shiny, lacquered, almost too-perfect-looking take on the infamous doll we know and fear — that unsettled plenty of folks. 
While Holland is seemingly all for the new film, Mancini is staunchly opposed it, having once used the Mariah Carey "I don't know her" meme to sum up his feelings about the remake and gone on the record to state that he will never approve of the film. So don't expect him to offer any endorsement like Holland did here. 
"MGM retained the rights to the first movie, so they're rebooting that. They asked [Child's Play franchise producer] David Kirschner and I if we wanted to be executive producers. We said no thank you, because we have our ongoing thriving business with Chucky," said Mancini on an episode of the Post Mortem with Mick Garris podcast, referring to the Chucky television series he's working on. "Obviously my feelings were hurt. You know, I had just done two movies... forgive me if I sound defensive, [they] were both at 83 percent on Rotten Tomatoes. Even though they didn't get theatrical releases, they were well regarded. And I did create the character and nurture the franchise for three f******* decades. It was hard not to feel like I was being patronized. They just wanted our approval, which I strenuously denied them."
He added, "I hesitate to say too much about it because I don't want to sound like I'm belly-aching too much. But the producers of that movie are the producers of 'It.' How would they feel if there was some legal loophole that allowed David Kirschner and I to swoop in and make our own It movie with our own version of Pennywise and say, 'Hey guys, we would love to put your names on it?' I imagine they wouldn't like it ... That's how I feel. The people who are making that movie, they don't know how that's going to affect my livelihood. It's not just a paycheck. It's very personal. MGM's screwing with that — potentially."
Holland giving a positive response to Hamill's casting might steer the Child's Play remake into good (or better, at least) graces with franchise fans, but knowing that Mancini will never give the film his blessing may still sit wrong with others. 
The upshot here is that Holland thinks remake director Lars Klevberg made a wise choice in selecting Hamill to succeed Dourif as Chucky, that Klevberg poured his soul into the new movie, and that he genuinely respects Mancini's original vision. As Klevberg previously told Entertainment Weekly, "Child's Play was, and is, one of my all-time horror movies and it was one of my introductions to horror. I got the script [for the remake] and it was really really good, and I knew it was from the producers from It, and I jumped in immediately ... Everyone is a huge fan of Don Mancini. [If] he was making this movie with us it would be really amazing, but we understand he has his reasons. We are extremely grateful to him and will always be. He's someone I look up to."
Starring Aubrey Plaza as Karen Barclay, Gabriel Bateman as her son Andy who is gifted the Buddi doll that turns out to be Chucky, and Brian Tyree Henry as Detective Mike Norris, who investigates the string of murders committed by Chucky, Child's Play is scheduled to debut in theaters on June 21.