Child's Play: Mark Hamill To Voice Chucky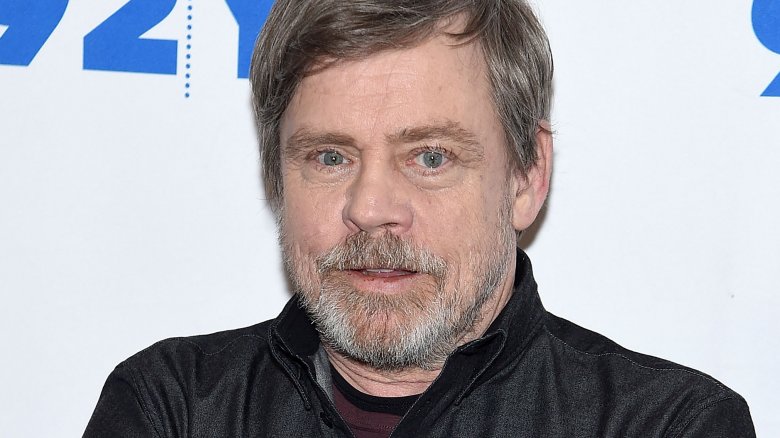 Getty Images
Say hello to your new best friend.
Over the weekend, Star Wars legend Mark Hamill dropped a major bombshell: he is the voice of Chucky in MGM's Child's Play remake. 
The actor made the announcement on social media, as one does, while WonderCon was raging on at the Anaheim Convention Center in Anaheim, California. 
"Hello, WonderCon! Mark Hamill here. And if you're wondering who's going to voice Chucky in the new Child's Play, you're looking at him," Hamill said in a video posted to his Twitter page. "I can't wait to bring such an iconic character to life, and present him in a way you've never seen him before. Child's Play, this summer. We're gonna have some fun. And remember: he's more than just a toy, he's your best friend." 
Hamill added in the caption of the announcement clip, "'People let me tell you 'bout my best friend...' The wicked fun begins when @ChildsPlayMovie is unleashed in theaters: Friday, June 21st 2019. #SoLuckyImChucky." 
In stepping up to the plate to lend his pipes to the demonic doll, Hamill replaces longtime Chucky voice actor Brad Dourif, who voiced the character in the original Child's Play from 1988 and the six films that came after it — 1990's Child's Play 2, 1991's Child's Play 3, 1998's Bride of Chucky, 2004's Seed of Chucky, 2013's Curse of Chucky, and 2017's Cult of Chucky. 
When it was first confirmed that Dourif wouldn't be a part of the MGM-backed remake — and neither would franchise creator Don Mancini — the internet all but erupted with upset. Fans were none too happy about a Child's Play sans Dourif and Mancini, who has openly criticized the upcoming film and refused to give MGM and director Lars Klevberg his approval or that of Child's Play franchise producer David Kirschner. 
"Obviously my feelings were hurt... And I did create the character and nurture the franchise for three [...] decades. So when someone says, Oh yeah, we would love to have your name on the film... it was hard not to feel like I was being patronized," said Mancini during an appearance on the Post Mortem with Mick Garris podcast. "They just wanted our approval, which I strenuously denied them."
The thought of someone else voicing Chucky in a film that didn't have Dourif, Mancini, or Kirschner on board was enough to make some sweat — and others reject the new Child's Play without even seeing a single trailer. However, after Hamill confirmed he is the new Chucky, opinions have changed. Many are warming up to the idea, considering how big a star Hamill is and how iconic his past voice-acting gigs have been. (Though he's best known for playing the saber-swinging master Jedi Luke Skywalker in the Star Wars franchise, Hamill has provided the voice for many a character on beloved animated series and in films — most notably the Joker.)
In response to Hamill's casting announcement, one fan wrote, "I might not think that this movie is terribly necessary, but I am HERE for this casting move. Mark Hamill is a great voice actor (Joker being a great example), so this just makes sense." Another tweeted, "Not gonna lie, I'm a little disappointed that Brad Dourif won't be Chucky in the upcoming #ChildsPlay, but also super excited that the massive yet tiny shoes will be filled by @HamillHimself. Here's to a great reboot." And one even said that there's no better choice than Hamill to take over the role of Chucky from Dourif: "Ok. Wow. The original Child's Play is actually an excellent horror movie. Brad Douriff is just amazing as Charles Lee Ray/voice of Chucky and I think @HamillHimself being the voice could not have been a better pick—perfect choice. Genuinely excited now."
As it turns out, Hamill was actually the first (and only, it seems) choice for the role. Seth Grahame-Smith, the producer of the new Child's Play film, revealed as much during the Child's Play panel at WonderCon. 
"We asked, thinking there was no way it would ever happen, and he said, 'Yes.' He was the first choice, a big swing, and it just happened," he explained (via Entertainment Weekly). "I mean, first of all, to have an icon reimagining an iconic character is an incredible gift, and to have an actor and a voice performer who is a celebrated as mark Hamill, and as gifted as he is, I mean it's incredible. He's taking on this challenge with a huge amount of energy and really come at it in a very serious way. And it's really something to watch him create a character, and sort of embody it, and I get to sit there and watch Mark Hamill record. It's just incredible."
Child's Play screenwriter Tyler Burton Smith also shared that he didn't have a specific actor in mind to voice Chucky while he was writing the film's script, but when he found out that Hamill had been selected, he knew he was the perfect choice. 
"I never obviously thought Mark Hamill would ever be in this movie when writing it," Smith said. "Not because it's a [bad] movie, it's amazing, but it's just like, It's Mark Hamill! When I was writing it, I hadn't thought who the voice would be. As soon as they told me, it was perfect. It fits this version of Chucky perfectly. It has a distinct feel that's different from the original but still feels very much Chucky. It's really exciting."
It seems that more people are excited for the Child's Play remake now that Hamill is on board, and hopefully hype for the flick continues to build. It has a lot to live up to, but having someone like Hamill — a talented voice-actor and a household name — in the mix should work in the film's favor. 
Hamill joins a live-action cast that includes Aubrey Plaza as Karen Barclay and Gabriel Bateman as her son Andy, whom she gives the famous doll for his birthday, unaware that the doll has dark motives and a sinister nature. Child's Play also stars Brian Tyree Henry as Detective Mike Norris and Tim Matheson as Henry Kaslan, the founder and CEO of the company that makes the Buddi doll, of which Chucky is one. 
Child's Play opens in theaters on June 21.