Chucky TV Series In The Works At Syfy, Original Creator Attached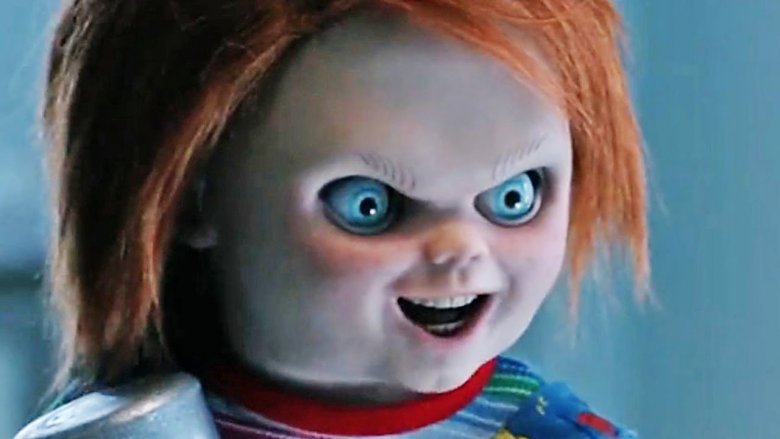 What previously moved in with the Barclay family has now shacked up with Syfy. 
As detailed by The Hollywood Reporter, Syfy is developing a Chucky television series with Child's Play franchise creator Don Mancini attached as its writer. 
The cabler, owned by NBCUniversal, has ordered a pilot for Chucky, which is said to be "purely in development." Syfy won the project after what was apparently an intense bidding war between several big-name networks. Should the project expand its pilot into a full-blown series order (which, let's be real, it probably will), Chucky will mark the very first instance in which the red-headed demon doll has appeared on a television adaptation.  
"I've long wanted to bring Chucky to television and Syfy is the perfect network for us," said Mancini. "The show will be a fresh take on the franchise, allowing us to explore Chucky's character with a depth that is uniquely afforded by the television series format, while staying true to the original vision that has terrorized audiences for over three decades now."
Mancini will also executive produce the project alongside Child's Play film series producer David Kirschner and Nick Antosca of Hulu's The Act. Hailing from Antosca's Eat the Cat production banner, the Chucky series is set up at Universal Cable Productions, which will produce it in-house. Both Mancini and Antosca have worked with Syfy in the past, though their working relationship with the network didn't end on the best of notes. Syfy cancelled the pair's anthology series Channel Zero in early January after four seasons on air. Chucky brings Mancini and Antosca back to Syfy for a great reason.
Bill McGoldrick, the acting president of scripted at NBCUniversal Cable Entertainment, added, "It's very rare that you get the opportunity to bring such an iconic character to your network, let alone with the original creator attached. We look forward to working with Don, David, and Nick on putting their blood, sweat, and more blood into bringing the Chucky story to television."
Antosca had equally wonderful things to say about the new Chucky project and about Syfy being the network to develop it: "I worked with Don on Hannibal and on Channel Zero for Syfy, so developing Chucky with UCP really feels like coming home. Syfy is the perfect place to tell the next chapter in the Chucky saga and having the original creative team lead the project will help elevate the story we are excited to tell."
This literally killer news comes roughly seven months after Mancini teased that a Child's Play television series was happening. To his Twitter page in June of 2018, Mancini posted a cryptic GIF of a static-filled screen flashing to display Chucky's face and text that read, "Child's Play The TV Series DO NOT ADJUST YOUR SET."
Prior to that wink at this project truly happening, Bloody Disgusting reported that Mancini and Kirschner had partnered up for a show centered on the murderous marionette — and Mancini himself dished up details on the series. 
"We plan to use Child's Play in the title. We want to definitely signal that we are going dark, darker than ever before. It's going to be very creepy," said Mancini, also revealing that the television series is "deliberately set up at end of the last movie" and that the tone of the show is "dark and disturbing." 
Even better than that, Mancini also confirmed at that time that original Chucky voice actor Brad Dourif would return to lend his pipes to the lead character.
Added Kirschner in the discussion with Bloody Disgusting, "I'm incredibly excited about the series and to explore a world in which we've never done before. Don has taken the franchise in a wonderfully frightening direction. He seems to outdo himself every time."
It's been nearly a year since that information came out, so things could have changed since then. For starters, THR's report seems to suggest that the title of the potential series is Chucky rather than Child's Play as Mancini intended. Will Dourif truly reprise the voice role he originated back in 1988 for the Syfy series? One can only hope until the network confirms or denies his attachment. 
Syfy snagging the Chucky project also follows after MGM announced it was remaking Child's Play into a new feature film — without Mancini involved. MGM hired Lars Klevberg (Polaroid) to direct and Tyler Burton Smith (Kung Fury) to write the script, then selected Gabriel Bateman to play Andy Barclay, Aubrey Plaza for the role of Karen Barclay, and Brian Tyree Henry to portray Detective Mike Norris. Collider noted soon after that Dourif wouldn't be part of the Child's Play remake either, and that MGM would tap another voice actor to fill the role. 
Many people have recoiled at the reality of a Child's Play remake moving forward (and releasing in cinemas on June 21), including actress Christine Elise, who played Kyle Simpson in several franchise entries. Elise once called MGM's decision to reimagine the property without Mancini's creative input "an unbelievably huge d*** move." She told Horror Geek Life in August of 2018, "To make a competing franchise with an existing, and like you said healthy, robust franchise, is super d****ey. And nobody from the original franchise is involved; they're not gonna have Brad Dourif, they're not gonna have Don, and they're not gonna have any of us ... to so insensitively threaten the Don Mancini empire I think, is f***ed up."
That Mancini and Kirschner are actually getting to refresh the franchise themselves should put at ease those strictly opposed to MGM's Child's Play remake. 
Given the project is only in the early stages of development and only has a pilot order, and since the feature film is due out this summer, the Chucky series will most definitely arrive after the Child's Play remake — if Syfy greenlights a full show, that is.