Bill & Ted Face The Music: William Sadler To Reprise Role As Death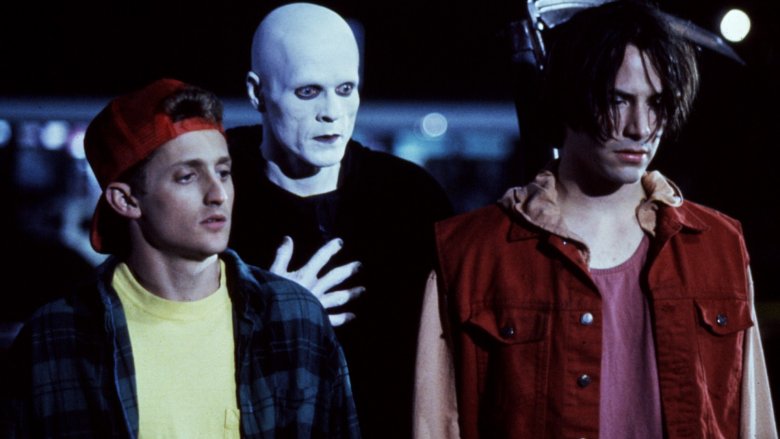 The excellent news keeps coming for Bill & Ted fans.
William Sadler, the veteran character actor who portrayed Death in 1991's Bill & Ted's Bogus Journey, will reprise the role in next year's long-awaited threequel Bill & Ted Face the Music. The flick's official Twitter account confirmed the casting this morning.
For those who have been asking, @Wm_Sadler will totally be reprising his role! pic.twitter.com/jPDZyseotu

— Bill & Ted 3 (@BillandTed3) March 25, 2019
Sadler may not exactly be a household name, but if you've watched television or gone to the movies anytime in the last several decades, chances are you're familiar with his work. He broke into the business in the late '70s with a string of minor TV appearances, picking up increasingly higher-profile roles thorughout the '80s; he turned up on such fondly remembered series as The Equalizer, St. Elsewhere, and Roseanne, beginning to segue into features as the decade neared its close. In 1990 alone, he scored parts in three minor classics: the Steven Seagal vehicle Hard to Kill, ace action director Renny Harlin's Die Hard 2, and the underrated Dennis Hopper-directed crime thriller The Hot Spot. Little did Sadler know that the role which would make him legendary (at least in the hearts of a specific subset of comedy fans) was just around the corner — as the pale-faced, deadpan personification of Death in the sequel to 1989's beloved time travel comedy Bill & Ted's Excellent Adventure.
While Bogus Journey didn't make quite as big a splash as its predecessor, it's become increasingly well-regarded over the years, thanks in no small part to one brilliant setpiece involving Sadler's Death. When Bill and Ted are murdered by evil robot duplicates sent back in time to thwart their band Wyld Stallyns' creation of a utopian society, the duo find themselves in hell, confronted by the looming specter of the Grim Reaper. In a riff on Ingmar Bergman's 1957 classic The Seventh Seal (in which the protagonist finds himself engaged in a literal chess match with Death), the Reaper challenges the pair to either defeat him in a game of their choosing, or remain in hell forever. Of course, being Bill and Ted, they don't pick chess.
After an appropriately dramatic editing flourish, we see the trio engaged in an intense game of Battleship, which Death ends up losing badly. Frustrated, he insists on a rematch — "Best two out of three!" — leaving Bill and Ted no choice but to agree. Next, they take on the unholy specter at a game of Clue, which they win when Death incorrectly guesses that Colonel Mustard did it in the study with the candlestick (it was Professor Plum). Still refusing to relent, Death makes it best five out of seven, only to get schooled at a tabletop football game; finally, he's forced to admit defeat and agree to transport the duo back to the land of the living after losing badly at Twister. The specter eventually warms to Bill and Ted, helping them to get to a pivotal Battle of the Bands in which their evil doubles are attempting to take their places, and even sitting in with Wyld Stallyns on bass during their most triumphant winning performance of "God Gave Rock and Roll To You." A movie-closing montage of newspaper headlines revealed that Death went on to win the Indy 500, although it's not clear exactly how (he's quoted as saying, "I didn't know I could run that fast"). 
It's a bit surprising and, well, totally excellent that Sadler agreed to return to the role of Death after nearly 30 years, as he certainly has had no shortage of work. In case you're having trouble placing his face when not plastered with that ghoulish makeup, he's appeared in several recent genre works that you may be familiar with. He portrayed President Ellis in 2013's Iron Man 3, a role he would later reprise in three episodes of Marvel's Agents of S.H.I.E.L.D.; he also popped up as Sheriff Doakes in Robert Rodriguez' sequel Machete Kills, and as Simon Stagg in the second episode of the first season of The Flash.
Outside of co-leads Alex Winter and Keanu Reeves, it's the first bit of casting news we've gotten since Bill & Ted Face the Music was officially confirmed to be happening last week. We'll have to wait to see if Death is friend, foe, or a little bit of both to the bodacious duo — and whether that Indy 500 victory was just a one-off thing — until the new flick hits theaters on August 21, 2020. We'll keep an eye out for additional details, and fill you in as they're reported.