The Talisman: Stephen King Adaptation Scores Handmaid's Tale Director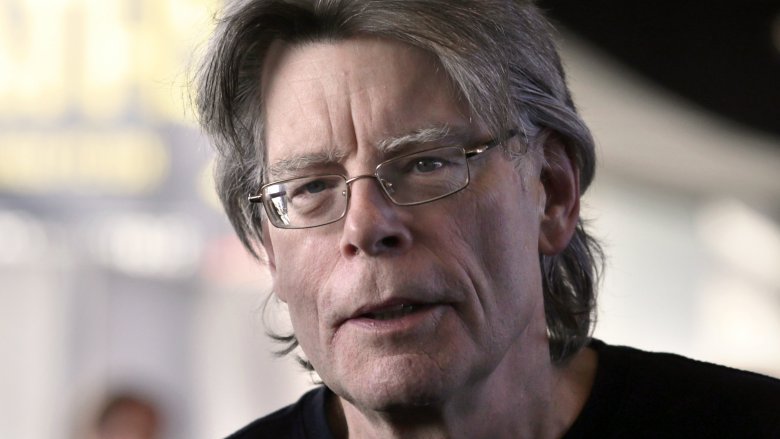 Getty Images
Hollywood's mining of the Master of Horror's works continues at a steady pace.
The Handmaid's Tale's Mike Barker is on board to direct The Talisman, an adaptation of the 1984 dark fantasy novel co-authored by Stephen King. Steven Spielberg's Amblin Partners will co-produce the film. (via Collider)
The idea of adapting The Talisman has been a bee in the bonnet of Spielberg for literally decades. In an Entertainment Weekly profile last year, the director — who, strange as it may seem, has never worked on a King adaptation — revealed that he has owned the film rights to the novel since two years before it was even published. "I feel that in the very near future, [The Talisman will] be our richest collaboration. Universal bought the book for me, so it wasn't optioned. It was an outright sale of the book," he said. "I've owned the book since '82, and I'm hoping to get this movie made in the next couple of years. I'm not committing to the project as a director, I'm just saying that it's something that I've wanted to see come to theaters for the last 35 years."
Interestingly, Spielberg also dropped a tidbit about the one project over which he and King nearly crossed paths: the 1982 Tobe Hooper classic Poltergeist, which Spielberg produced (and, as long-standing rumor has it, may have ghost-directed, no pun intended). "Yeah, I wanted him to help me out with the script and sort of write it with me," said the director, "but he was unavailable." Bummer.
In addition to helming a handful of features such as the 2007 Pierce Brosnan thriller Shattered, Barker is a veteran of prestige TV projects. He's handled multiple episodes of critically acclaimed series Broadchurch, Outlander, and Fargo, and has so far been in the director's chair for seven episodes of The Handmaid's Tale, Hulu's Emmy-winning original series; he's confirmed to be directing at least the premiere episode of the upcoming third season, as well. 
He'll bring a sure hand and keen eye for composition to The Talisman, which will adapt an interesting outlier in King's bibliography. It was co-authored with esteemed horror author Peter Straub, who shared somewhat of a friendly rivalry with King in the '70s and is responsible for a plethora of Bram Stoker Award-winning novels including 1999's Mr. X, 2003's Lost Boy, Lost Girl, and 2004's In the Night Room. His works have been adapted for the screen twice before: the 1977 Mia Farrow-starrer The Haunting of Julia was based on his 1975 novel Julia, and the 1981 flick Ghost Story — which sported an all-star cast including Fred Astaire, Douglas Fairbanks, Jr., and John Houseman — was based on his 1979 novel of the same name.
The Talisman follows twelve year-old Jack Sawyer in his attempt to retrieve the titular artifact, a crystal which may have the power to save his mother from a painful death by cancer. His journey takes him through a parallel universe populated by "twinners," which are analogues to the denizens of his home universe, as well as mysterious entities capable of "flipping" between realities and bent on thwarting his efforts. It is the rare King novel to receive a direct sequel: 2001's Black House, which was also co-authored by Straub and (like its predecessor) featured thematic and narrative ties to King's Dark Tower series. The only other true sequel in King's oevure: Doctor Sleep, which picks up the story of The Shining's Danny Torrance as a troubled adult and is set for its own movie adaptation later this year.
The screenplay will be handled by Chris Sparling, who is slowly making a name for himself as a reliable scribe of interesting, if low-key, horror features. His previous works include the 2012 Alice Eve-starrer ATM, the 2016 Netflix original film Mercy, and last year's Down a Dark Hall, which starred Uma Thurman as the headmistress of an exclusive boarding school where nefarious supernatural forces are at play. 
While it's unclear what (other than his involvement with roughly a zillion modern-day cinematic classics) caused Spielberg to sit on those movie rights for so long, this is a case in which the cliché "better late than never" solidly applies. The Talisman was crafted by a pair of towering horror talents at the top of their respective games, and it spent a whopping 12 weeks atop the New York Times bestseller list by virtue of being a challenging, rewarding read bearing the distinctive fingerprints of both its authors. You could do a whole heck of a lot worse than the producer/director/writer trio the production currently has lined up, making this project one which we're inclined to keep an extra-close eye on. We'll keep you filled in on casting and production details as they become available.