Ghostbusters: Finn Wolfhard, Carrie Coon In Talks To Star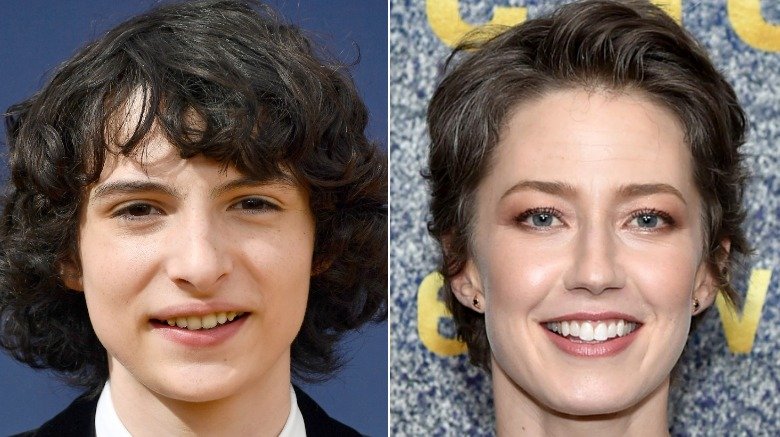 Getty Images
Who ya gonna call?
The Leftovers actress Carrie Coon and Stranger Things star Finn Wolfhard are reportedly in talks to play a mother/son pair in director Jason Reitman's upcoming Ghostbusters movie, according to a report by Variety. Sony Pictures is still seeking to cast additional family members.
Reitman is the son of Ivan Reitman, the director of the first two Ghostbusters films, and his involvement can be seen as a bit of a double-edged sword. While he certainly has familiarity with the material, the emergence of a new Ghostbusters coming so soon on the heels of 2016's female-led reboot has been seen by some of that film's more obnoxious detractors as a sort of rebuke to its very existence, a notion firmly disputed by Reitman. After first sticking his foot in his mouth by promising that his movie will "go back to original technique and hand the movie back to the fans" in an interview on Bill Burr's podcast, the director hastily qualified his statement with a follow-up tweet professing his admiration for the 2016 film and its cast.
Wo, that came out wrong! I have nothing but admiration for Paul and Leslie and Kate and Melissa and Kristen and the bravery with which they made Ghostbusters 2016. They expanded the universe and made an amazing movie!

— Jason Reitman (@JasonReitman) February 21, 2019
He later clarified that the new film would actually lean on some of the more old-school techniques used in the production of the originals, all the better to give this new edition an appropriately retro feel. "We went back and found the original physical vinyl letters that they used to create the Ghostbusters poster in 1984, [and] rescanned them, then our titles guys reprinted them and we filmed the titles," he said. "We shot physical titles with a light-and-smoke effect 'cause that's how they would have done it back in the day." He also said that the production crew had scrounged up the original sound files used for the Ghostbusters' proton packs, among other fan service-y touches.
Aside from any controversy real or imagined, the project's announcement (by way of a nifty little teaser trailer depicting the original ECTO-1 car, stored under a tarp in a decrepit old barn, apparently being caught up in some kind of otherworldly disturbance) was greeted warmly by devotees of the classic 1984 film (and, to a lesser extent, the much-maligned-yet-actually-pretty-decent 1989 sequel). Aside from a promised release in the summer of next year, Sony Pictures has offered up exactly zero details on the new movie, so in light of today's news, we can begin to speculate on what the plot might entail; we now know that it will involve a family. Not much to go on, but there it is.
The casting of Wolfhard should come as little surprise, since the young actor seems to be popping up in just about every hot genre project under the sun. He's just finished up work on season 3 of Stranger Things (which drops on Netflix in July), and he'll be reprising his role as young Richie Tozier in the highly-anticipated It: Chapter 2, which is due out in September. He's also on board Amblin's horror flick The Turning opposite Mackenzie Davis (Tully) and Brooklynn Prince (The Lego Movie 2: The Second Part), and will appear in the drama The Goldfinch alongside Nicole Kidman, Luke Wilson, and Sarah Paulson.
Coon has recently appeared on the small screen in the third season of the FX crime anthology Fargo, and on the big one in the heist thriller Widows. She also delivered an outstanding villainous supporting turn (though you would have been hard pressed to recognize her) as Thanos henchwoman Proxima Midnight in Avengers: Infinity War.
The pair are undeniably talented as all get-out, and hopefully today's announcement is an indication that we'll soon get more casting news which will help to further fill in the details of the plot that Sony is so zealously guarding. This much we do know: production is bound to start ramping up in earnest very soon, as the latest iteration of Ghostbusters hits theaters on July 10, 2020. Will any of the original cast be involved? How the heck did ECTO-1 end up in a barn in the middle of nowhere for 30 years? Is there any chance, however small, that someone will get slimed? We'll be on top of any new details, and make sure to keep you up to date.