Star Trek: Discovery Scores Season 3 Renewal, Another New Showrunner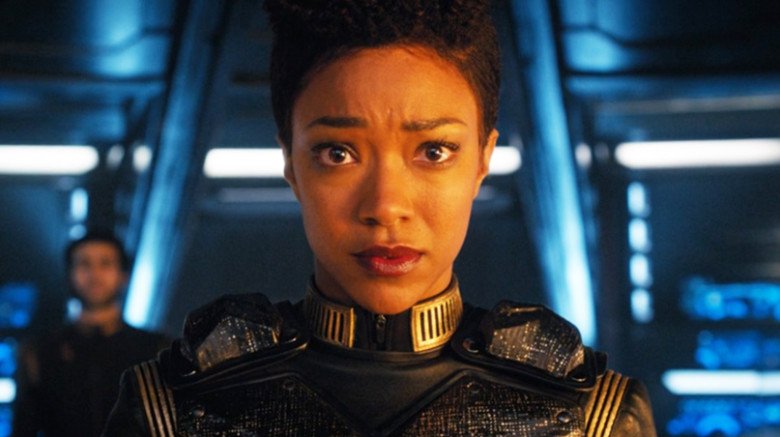 Another new season, another new showrunner. 
CBS All Access has officially renewed Star Trek: Discovery for a third season on the direct-to-consumer subscription streaming platform, tapping series writer Michelle Paradise to serve as the co-showrunner of the new season. 
The Hollywood Reporter confirmed the news, and shared that Paradise, who boarded Discovery as a scribe during season two, will work closely with the property's main man Alex Kurtzman in her new position. 
Kurtzman, the co-creator of Star Trek: Discovery, struck a five-year, $25 million deal with CBS All Access and CBS Television Studios in June of 2018 that saw him bump up from showrunner of the sci-fi series to the overseer of the current Trek television property. While he dreams up new shows, mini-series, animated projects, and plenty of spin-offs (like Star Trek: Short Treks, the collection of 10-to-15-minute-long stories, and the project centered around Michelle Yeoh's Captain Philippa Georgiou), Kurtzman remains an integral part of Discovery. Now, it just so happens that he'll have Paradise at his side to steer season 3 into satisfying territory.
"Michelle joined us midway through season two and energized the room with her ferocious knowledge of Trek," Kurtzman said in a statement accompanying the renewal announcement. "Her grasp of character and story detail, her drive, and her focus have already become essential in ensuring the Trek legacy, and her fresh perspective always keeps us looking forward. I'm proud to say Michelle and I are officially running Star Trek: Discovery together."
Added CBS All Access executive vice president of originals Julie McNamara, "The massive success of Star Trek: Discovery's second-season launch exceeded our expectations in both driving subscriber growth and generating a phenomenal response from Star Trek fans. With Alex Kurtzman and Michelle Paradise at the helm, we look forward to continuing Star Trek: Discovery's journey, growing the Star Trek franchise on CBS All Access and bringing fans new Star Trek stories for many years to come."
Paradise replaces previous Star Trek: Discovery showrunners Aaron Harberts and Gretchen Berg, who were booted from the series early on during the production of the series' second season. According to sources close to The Hollywood Reporter, CBS fired Harberts and Berg due to "leadership and operational issues." The pair reportedly went significantly over budget for the season 2 premiere; to make up for the overages, money was expected to be pulled from all subsequent episodes of the second season. 
Additionally, those with knowledge of the situation indicated that Harberts and Berg "became increasingly abusive" on set, particularly towards the writing staff. Harberts allegedly "leaned across the writers room table" and yelled "an expletive" at one staff member. Reportedly "uncomfortable working on the series," several writers notified human resources of Harberts and Berg's behavior, or left Star Trek: Discovery completely. Kurtzman is said to have eventually been made aware of the alleged abuse, with Harberts reported to have "made imposing remarks to the staff to keep concerns with the production an internal matter." 
Upon their firing, Kurtzman took over for Harberts and Berg. They themselves were the replacements for original Star Trek: Discovery showrunner and co-creator Bryan Fuller, who departed from the series prior to its debut in late September 2017. "Due to Bryan's other projects, he is no longer able to oversee the day-to-day of Star Trek, but he remains an executive producer, and will continue to map out the story arc for the entire season," CBS Television Studios explained in a statement given to Deadline at the time of Fuller's exit. 
Thereafter, Fuller revealed to Newsweek, "Ultimately, with my responsibilities [elsewhere], I could not do what CBS needed to have done in the time they needed it done for Star Trek. It felt like it was best for me to focus on landing the plane with American Gods and making sure that was delivered in as elegant and sophisticated a fashion as I could possibly do. It is bittersweet. But it was just a situation that couldn't be resolved otherwise... so I had to step away."
Some time later, Fuller shared more details on his Discovery drop-out, telling Entertainment Weekly that there were some creative differences that pushed CBS to ask him to leave the show. "The original pitch was to do for science-fiction what American Horror Story had done for horror," he said. "It would platform a universe of Star Trek shows."
Differences of opinion combined with frustration of Fuller dedicating much of his time to his other series, American Gods (which he is also no longer the showrunner of), created "months of backstage tension." CBS ultimately requested Fuller to exit, allowing him to focus on American Gods and another project of his, Amazing Stories. As insider explained to EW, "It wasn't just a little teeny side job he had over there. It was a massive undertaking."
Fans of Star Trek: Discovery will be thrilled that the sci-fi drama has nabbed a new season order. Likewise, the brass at CBS TV Studios and CBS All Access are probably sighing with relief that they found the perfect person to step up and serve as the series' new co-showrunner alongside Kurtzman. Star Trek: Discovery has had a rough go from the start with all its showrunner switch-ups, so we surely aren't alone in hoping that the third one is the charm and that Paradise sticks to her post for the remainder of Discovery's run. 
CBS All Access didn't announce when Star Trek: Discovery will return for season 3. We'll update you with the premiere date as soon as that news drops.