Stargirl: Amy Smart, Three Others Join Cast Of DC Universe Series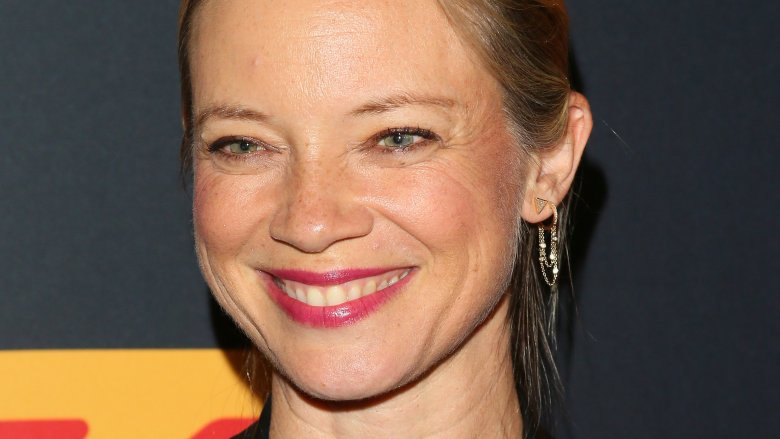 Getty Images
The stellar cast of Stargirl is finally complete.
The Geoff Johns-produced DC Universe series has finished up casting with the addition of Neil Jackson, Hunter Sansone, Trae Romano, and veteran actress Amy Smart, according to Deadline.
Stargirl is the alter-ego of Courtney Whitmore, a high schooler who discovers that her stepfather Pat Dugan was once the sidekick to a superhero who went by the moniker of the Star-Spangled Kid before using a cosmically-powered staff to take on the identity of Starman. When Courtney discovers Pat's secret, she "borrows" the staff to become the superpowered Stargirl, inspiring her peers with her exploits while Pat (at the controls of a 15-foot mech called Stripe) is relegated to sidekick status. Courtney is being portrayed by Nickelodeon star Brec Bassinger (Bella and the Bulldogs); the role of Pat is being filled by Luke Wilson, whose put-upon hangdog schtick frankly seems perfect for such a part. Also among the previously announced cast are Meg DeLacy (The Fosters), Jake Austin Walker (Rectify), and Nelson Lee (Lethal Weapon).
Smart has been a steady presence in TV and film for over two decades, spinning a breakout role in 1999's Varsity Blues into standout appearances in such flicks as Todd Phillips' 2000 comedy Road Trip, the 2004 Ashton Kutcher-starring mindscrew The Butterfly Effect, and the 2006 Jason Statham vehicle Crank. On the small screen, she's shown up in featured roles in series like Scrubs and Justified, and she appeared just last year in a pair of episodes of the MacGyver reboot series. She'll be portraying Courtney's mother Barbara, newly married to Pat, who is diving back into the workforce after an extended hiatus while also juggling the demands of family life.
Young actor Romano appeared in the Vimeo miniseries 555 and is currently at work on the pilot for the series Robbie, starring screen legend Beau Bridges, for Comedy Central. He'll be playing Mike Dugan, the son of Pat and step-brother to Courtney, a precocious youngster who helps to keep levity high in the household.
Jackson has recently appeared on the big screen in Nocturnal Animals and Welcome to Marwen, and also popped up in an episode of HBO's Westworld and in a featured role in Amazon Prime's thriller series Absentia . He's having a busy year; he's currently shooting the prequel flick Kingsman: The Great Game on location in London while prepping for Absentia's second season. Relative newcomer Sansone has appeared in the miniseries S is for Revenge and the horror flick Unfollowed; their respective roles are being kept under wraps for the time being.
Johns served as an executive producer on DC Universe's well-received Titans, but Stargirl is a project that is near and dear to his heart. He created the character in the late '90s as a tribute to his sister, who was tragically killed in a 1996 car accident. The comics legend said in an interview with ComicBook.com late last year that tonally, he hopes for his series to hit a specific type of coming-of-age sweet spot. "It's Spider-Man: Homecoming and Buffy the Vampire Slayer along with the [comics]. We're bringing a lot of the legacy stuff into it," he said. "It takes place in high school... I'm not sure there is another superhero show that takes place in high school; I love that, you know? There's going to be good guys and bad guys. It's going to be a lot of fun."
good guys and bad guys are all perfectly fine, but if you ask us, seeing Luke Wilson piloting a hulking mech, spouting Luke Wilson-isms while playing sidekick to a savvy 15 year-old girl, is worth the price of admission alone. The show's official synopsis is as follows: "Stargirl follows high school sophomore Courtney Whitmore as she inspires an unlikely group of young heroes to stop the villains of the past. This new drama reimagines Stargirl and the very first superhero team, the Justice Society of America, in an unpredictable series."
No release date has yet been announced, but since casting is now completed, we can expect the series to head before the cameras sooner rather than later. In addition to Titans, DC Universe recently debuted Doom Patrol, featuring a team of superpowered misfits brought together by a mysterious benefactor; next on tap for the streamer is Swamp Thing, a horror-tinged take on the classic character from producer James Wan (Aquaman) and writer Gary Dauberman (Annabelle: Creation, It: Chapter One), which is expected to debut in May. Stargirl should be following later in the year; we'll keep an eye out for the official announcement.