The Devil All The Time: Sebastian Stan To Replace Chris Evans In Netflix Movie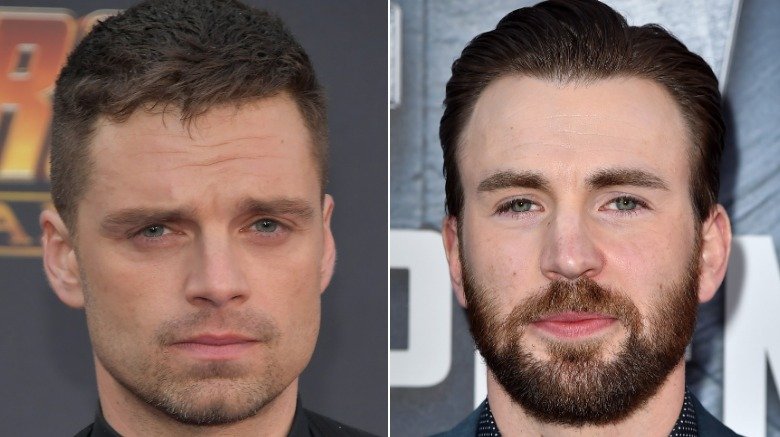 Getty Images
Perhaps it's a sign of things to come.
Sebastian Stan will be stepping in to replace Chris Evans in the Netflix original film The Devil All The Time, an adaptation of a Donald Ray Pollock novel which also stars Marvel alum Tom Holland. (via Deadline)
It's an odd development for one simple reason. Evans and Stan have portrayed Steve Rogers/Captain America and Bucky Barnes/Winter Soldier, respectively, in the Captain America and Avengers franchises since 2011. Evans is expected to be hanging up the shield after the forthcoming Avengers: Endgame, while Stan will still have multiple films left on his contract. In comics canon, Bucky takes over as Captain America after the death of Rogers; all this adds up to the fact that fans have been expecting Stan to replace Evans for quite some time, just not in a completely non-MCU-related Netflix movie.
The move makes sense for the simple fact that Evans is pretty busy. Earlier this week, he climbed aboard director Antoine Fuqua's Infinite, which centers on a group of people with complete recall of their past lives who must recruit a troubled man into their fold in order to stop an evil despot bent on destroying the world. He'll also soon be starting work on Defending Jacob, an Apple series he'll star in and produce. The eight-episode limited series tells the story of an assistant D.A. whose investigation into the murder of a 14 year-old boy begins to take him in uncomfortable directions involving his own teenage son.
Stan has recently wrapped production on a number of projects, with the drama feature The Chain from writer/director Tim Sutton (Dark Night) still in the pipeline. He's also been extremely busy in the last few years, squeezing in roles in flicks like Logan Lucky, I, Tonya, Destroyer, and We Have Always Lived in the Castle in between increasingly frequent appearances in the Marvel Cinematic Universe.
He'll be joining Holland (the MCU's Peter Parker/ Spider-Man) along with Mia Wasakowska (Alice Through the Looking Glass), Robert Pattinson (of the Twilight series), and Bill Skarsgard (It: Chapter One) in The Devil All The Time, which is being directed and co-written by Antonio Campos (Marvel's The Punisher, Christine). The "midwestern gothic" flick's official synopsis is as follows: "In the forgotten backwoods of a place called Knockemstiff, Ohio, a storm of faith, violence and redemption brews. Out of desperation to save his dying wife, Willard Russell turns to prayer which succumbs to sacrifice. This sets our protagonist Arvin, Willard's son, on his path from bullied kid to a man who knows when to take action. He interacts with a nefarious cast of characters: a serial killer couple, a faith-testing preacher, and a corrupt local sheriff in a story that is told across two decades."
Well, that certainly sounds interesting, and we won't even comment on the film being set in a town called Knockemstiff, except we just kind of did. Also of note is the fact that the film is coming from Jake Gyllenhaal's Nine Stories Productions, which is ramping up its slate after serving up the solid recent offerings Stronger (2017) and WIldlife (2018). 
As to whether Stan might be replacing Evans in a future, slightly more high-profile project, that's still anybody's guess. While Stan is contracted for at least four more MCU films after this summer's Avengers: Endgame, he's played extremely coy about the possibility of taking up the shield, insisting as recently as November that he's had no Cap-related discussions with the Marvel brass. Appearing on Jimmy Kimmel Live!, he had this to say when asked directly if Bucky's assuming the mantle was in the cards: "No. Not really, no... [taking over is] like the dream, you know, just sort of people might mention something, but [discussions with Marvel] never go that way."
Not really, huh? Okay, Winter Soldier, we all know you're probably just wary of Marvel's goons showing up at your door if you should happen to spill the beans (unlike Holland, who just doesn't seem to care). Marvel's marketing for Endgame has been quite restrained, with the studio thus far managing to keep pretty much any significant plot details under wraps. It would surprise us not at all to actually see Bucky don the red, white, and blue before the film's end, followed by a summer talk show circuit tour during which Stan will admit he was full of it. Place your bets now.
At any rate, The Devil All The Time will be heading before the cameras soon, which means a late 2019 or early 2020 release is likely. We'll keep an eye out for additional details, and report them as they become available.