Ben Affleck Says He's 'Contemplating' Doing The Batman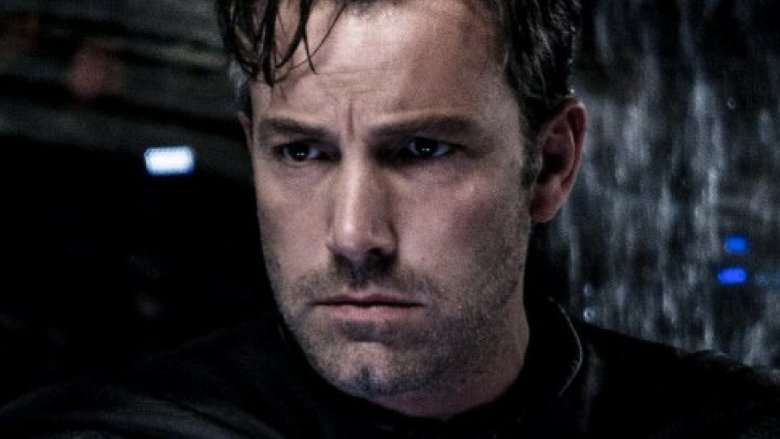 Ben Affleck is once again throwing doubt on the claim that he's going to star in the standalone Bruce Wayne film The Batman. The Justice League star said in a recent interview with USA Today that he is "contemplating" doing the Matt Reeves directed film, which is said to be the start of a trilogy surrounding the character. 
Rumors that Affleck would not star in The Batman have abounded for months, beginning when he stepped out of the director's chair for the film. Back in July, The Hollywood Reporter wrote that the studio was reportedly looking into plans to "gracefully" transition Affleck out of the role of Batman ahead of a planned trilogy about the character. Their source listed a number of ways in which Affleck could leave the part, including a few inspired by the comics.
Affleck refuted those rumors at San Diego Comic-Con, saying, "Let me be very clear. I am the luckiest guy in the world. Batman is the coolest f***ing part in any universe." The actor later elaborated, saying that, with Reeves' involvement, it would be crazy for him to quit the film. "With Matt Reeves doing it, I would be a f***ing ape on the ground for Matt Reeves," he said.
Still, though, Affleck's connection to the character continues to be a subject of discussion. His brother Casey ignited rumors once again earlier this fall by saying "he's not going to do that movie." Although Casey's reps walked back his comments by saying Casey was just "having fun" during the interview where he made the big reveal, that also still raised questions about if Ben has been discussing the potential of stepping down with his family. 
Affleck's comments to USA Today are sure to throw even more fuel on the fire. In the interview, the actor also dropped this very revealing quote: "You don't do it forever, so I want to find a graceful and cool way to segue out of it." This suggests that something like the upcoming Flashpoint film could be used to take his Batman out of the equation.
Although he was noncommittal on his future in the DCEU, Affleck did say that he thinks the world is in need of heroes today. "There's a lot of stuff going on in the world, from natural to man-made disasters, and it's really scary," he said. "Part of the appeal of this genre is wish fulfillment: Wouldn't it be nice if there was somebody who can save us from all this, save us from ourselves, save us from the consequences of our actions and save us from people who are evil?"
While Affleck's future as the caped crusader is still very much in doubt, we do know for sure that he will take on the character again in Justice League, which hits theaters on Nov. 17.