John Wick 3 Gets Poster, Official Title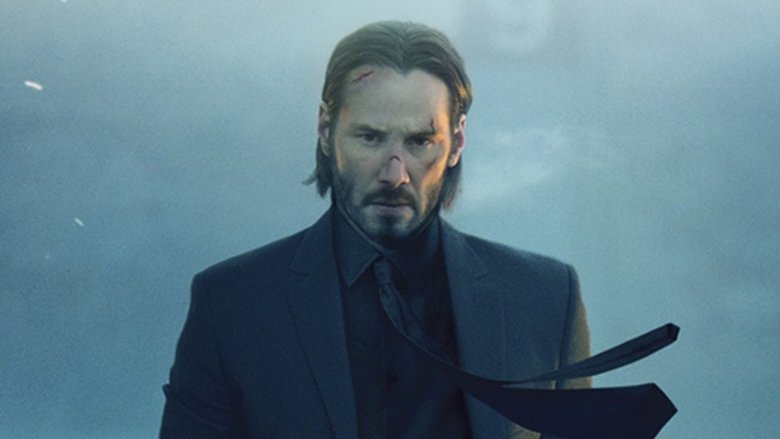 The whimsical, blood-soaked saga of a man and his dog continues.
A sharp new poster has been released for the third entry in the John Wick series, depicting Keanu Reeves' master assassin as a man stuck on the outside, looking in. The official title, while not featured on the poster, was also confirmed: John Wick Chapter 3: Parabellum. (via Collider)
The poster is a reference to the fact that the last time we saw Mr. Wick, he was (spoilers) pronounced "excommunicado" from New York's Continental Hotel, that gathering place of assorted killers and lowlifes which permits no "business" (i.e. killing) on its premises. Wick earned the status after blowing away Santino D'Antonio, the Big Bad of John Wick: Chapter 2, in the hotel's lobby. In Wick's defense, the guy totally earned his ire by blowing up his house, forcing him to assassinate a woman whose brother was none too happy about it, and putting a gigantic bounty on his head which garnered the attention of every merciless killer in New York (although Wick's new puppy managed to avoid the same grim fate as his first).
At the conclusion of Chapter 2, the Continental's proprietor Winston generously gave Wick an hour's head start before his excommunication would be announced and trigger a worldwide bounty. That hour has now lapsed, and the new film's succinct subtitle promises that truckloads of bullets are sure to be exchanged between Wick and the entirety of the criminal underworld. (Perhaps the filmmakers thought John Wick Chapter 3: John Wick Just Straight-Up Murders Everyone was too much of a mouthful.) In other words, Parabellum will almost certainly continue its predecessors' legacy of being perhaps the purest distillation of violent, slam-bang, tough-guy action this decade has seen. 
Director Chad Stahelski and screenwriter Derek Kolstad both return for this installment, as does Ian McShane (Deadwood) as Winston, Ruby Rose as mute henchwoman Ares, Common as fellow professional killer Cassian, and the great Lawrence Fishburne as the Bowery King, the ruthless crime lord from Chapter 2. Joining the action this time around are Anjelica Huston, Halle Berry, Jason Mantzoukas (Brooklyn Nine Nine), and Tiger Hu Chen, a stuntman turned actor whose stunt work graced such flicks as Crouching Tiger, Hidden Dragon and the final two films in the Matrix series.
Reeves had teased the film's title in an interview with ComingSoon.net in July of last year, but today marks its official confirmation. In that interview, the star offered up a few details about the as-yet undisclosed role being played by one of his more famous co-stars. "John Wick is fighting for his life, and thinks that Halle Berry's character has some information for him," he said. "They have a past, and they get involved with The High Table, this kind of overlording entity."
With Stahelski having confirmed that Parabellum will likely feature the highest kill count (which is really saying something) in the franchise so far, John Wick fans can expect nothing less than a veritable smorgasbord of blood-spattered mayhem. The film's official synopsis is as follows: "John Wick (Keanu Reeves) is on the run for two reasons... he's being hunted for a global $14 million dollar open contract on his life, and for breaking a central rule: taking a life on Continental Hotel grounds. The victim was a member of the High Table who ordered the open contract. John should have already been executed, except the Continental's manager, Winston, has given him a one-hour grace period before he's 'Excommunicado' — membership revoked, banned from all services and cut off from other members. John uses the service industry to stay alive as he fights and kills his way out of New York City."
Well, it's safe to say that if there's anybody capable of fighting and killing his way out of such a mess, it's Wick. John Wick Chapter 3: Parabellum hits the big screen on May 17, 2019; in the meantime, feast your eyes on that sweet new poster below.