Whatever Happened To Rebecca De Mornay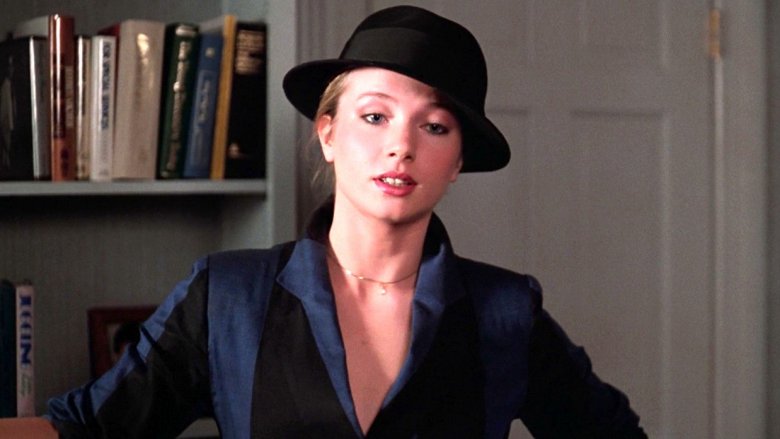 In the pantheon of actors who came of age during the 1980s, few seemed as destined for superstardom of Rebecca De Mornay. Then again, few '80s actors could lay claim the same blend of wit, humanity, and raw (not to mention refreshingly unapologetic) sexuality that seemed to put De Mornay a cut above most of her contemporaries. Indeed, it was those very qualities that helped get her a foot in Hollywood's coveted door and land a minor role in Francis Ford Coppola's largely forgotten 1981 musical romantic drama One from the Heart.
While One from the Heart failed to make much of an impact at the box office, it did earn an Oscar nomination for Tom Waits' brilliant original music. Coppola's film also earned praise for its impressive cast, all of whom gambled big that the director could find magic in a music venture that was a patently risky proposition circa early '80s. It didn't come together as the cast and crew may have hoped, but De Mornay made the most of the moment, delivering a memorable performance that put her leading lady chops on full display. 
She'd earn earn her first starring role in her very next film, and while that film seemed destined to make a star of the young actor, the stardom never quite materialized. Still, Rebecca De Mornay has done her best to hang around Hollywood for the past few decades, and we're betting you've seen her more than you realize. Here's where.
The Risky Business of being an it girl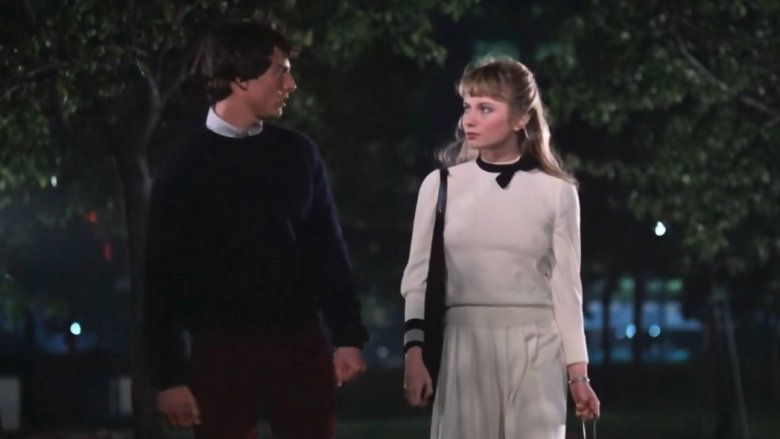 If you're at all familiar with Rebecca De Mornay's career, then you know her One from the Heart follow-up would prove to be a breakout for the young actor — a legit '80s classic by the name of Risky Business. If not, well, we'd urge you to watch the the film, because it's one of the few beloved flicks from the 1980s that actually earns its reputation. It's also the film that basically made an icon of a then-up-and-coming actor by the name of Tom Cruise.
For the uninitiated, Risky Business is a rather classic coming-of-age tale of boy meets girl... except the girl is a kind yet mysterious sex worker with a thing for trains and a psychotic "business manager," and the boy an inexperienced suburbanite whose questionable decision making lands him in serious financial straits — the sort that force him to find a unique way to make a lot of money in a very short time. In short, Risky Business is every bit the sexy comedic romp it sounds. Upon release, it made an overnight superstar of Cruise and an instant "it girl" of De Mornay. But while Cruise's star power continued on an upward trajectory, De Mornay would find her new status a bit harder to hold on to.
She boarded a Runaway Train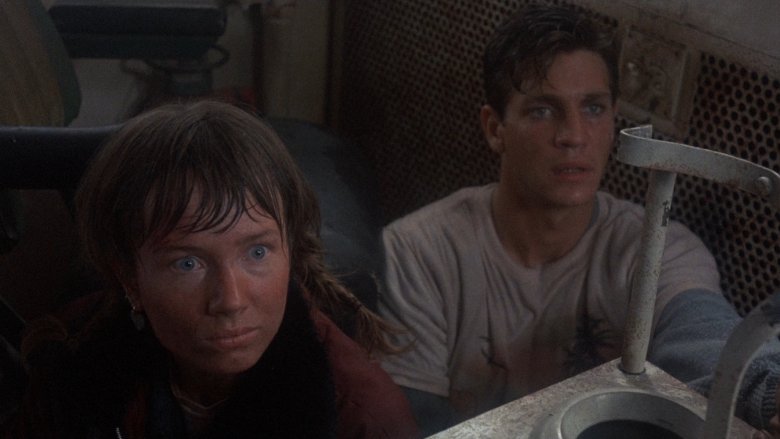 With the success of Risky Business, De Mornay's career took off like a freight train. She followed that breakout film with a supporting turn in 1983's Testament, but saw her stardom take a serious hit with the release of 1985's oh-so-rotten romantic baseball comedy The Slugger's Wife, though one could hardly blame the young actor for jumping aboard a film written by Neil Simon and directed by the legendary Hal Ashby.  
Luckily, De Mornay found her footing again with a pair of solid supporting turns in two of 1985's more memorable films. The first — a heartfelt little drama called The Trip to Bountiful — found her trading scenes with screen legend Geraldine Page in what would become Page's only Academy Award-winning performance. The second found De Mornay again boarding a train, though this one came with no brakes, no driver, and outfitted with two escaped convicts in Jon Voight and Eric Roberts. Gritty, claustrophobic, and thrilling in all the best ways, Runaway Train is the very definition of "pulse-pounding thriller." It stands as one of the most oft-overlooked films of the '80s, rarely remembered despite earning three Oscar nominations, and seemingly righting the ship amidst the choppy waters of Rebecca De Mornay's early career.
She hit #1 with Starship (sort of)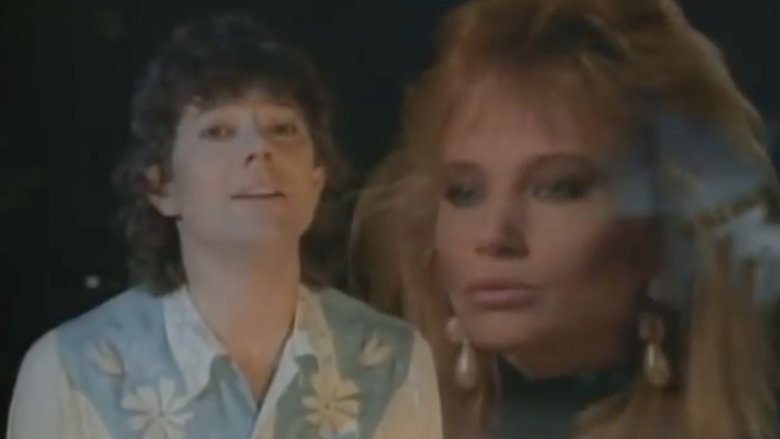 While 1985 saw De Mornay take a stumble and regain her footing with her big screen ventures, 1986 found her hitting number one on the Billboard Hot 100... well, sort of. In truth, it was '80s soft-rock gods Starship who actually claimed that number one spot. They did so with the second hit single — after 1985's anthem "We Built This City" — off their debut album Knee Deep in the Hoopla.
The song is called simply "Sara," and details the end of a once-loving relationship. If you're wondering what Rebecca De Mornay has to do with the shamelessly schmaltzy song, she co-starred in the music video opposite Starship singer Mickey Thomas. She played the one-time object of affection in a video that presents the end of said relationship while frequently (and bafflingly) flashing back to the tragic events of the man's own childhood. With its big hair and egregious crossfades, the video is every bit as '80s as it sounds. So is the song — if you don't believe us, you can check it out for yourself right here.    
She played Beauty to the Beast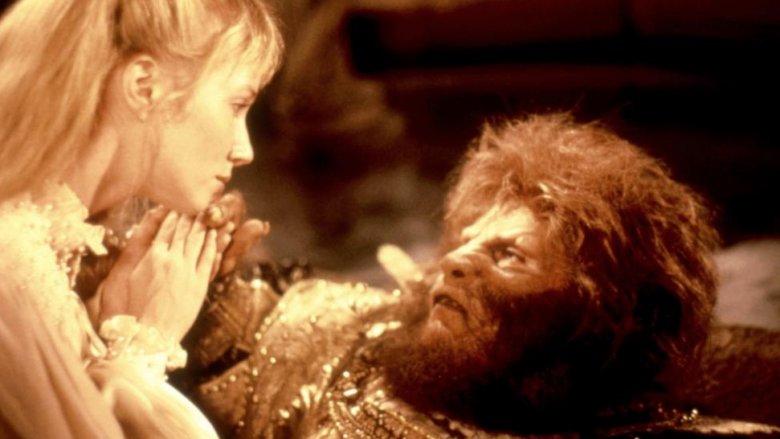 It would be a few years before De Mornay would be able to claim number one status of any sort again, as she spent the second half of the '80s starring in a string of projects that ranged from questionable to down right abominable, including And God Created Woman, Feds, and Dealers. Just FYI — those are the questionable projects. The "abominable" project in question came via 1987's mind-bogglingly bad version of Beauty and the Beast.
Now, on paper that adaptation could've been something special — it was just the second English-language film of the fairy tale, and the first to make the bold choice to turn the work into a musical (a full five years before Disney made Beauty and the Beast into one of their most iconic animated features), and producers had cast an intriguing actor in John Savage to play beast to De Mornay's beauty. That intrigue did not translate to the finished product, and the film plays as a half-hearted, rose-colored sort of cut-and-paste version of the original fairy tale; one with less than stellar make-up effects and poorly constructed songs, though De Mornay and Savage should be commended for performing those substandard ballads themselves.
She hit a Backdraft and then rocked the cradle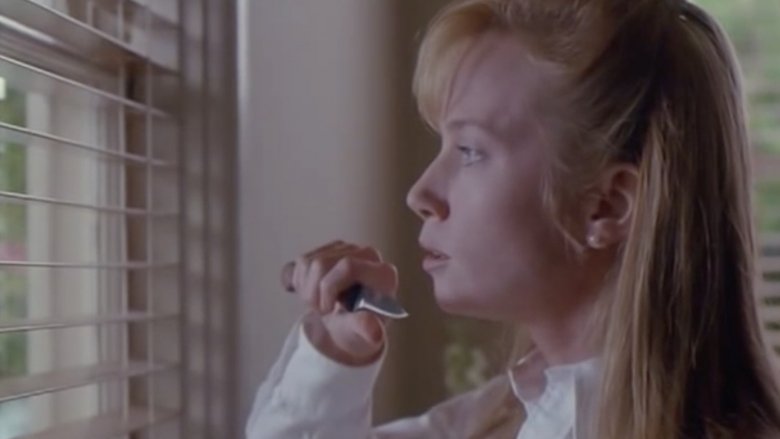 After a string of cinematic misfires, the '80s couldn't end fast enough for Rebecca De Mornay. For her part, the actor seemed eager to hit the reset button on her career, kicking the new decade off on the small screen as a bomber pilot in 1990's Emmy-winning, Cold War-tinged HBO original film By Dawn's Early Light. The very next year, De Mornay found herself at the top of the box office when Ron Howard cast her in his smash hit firefighter drama Backdraft.
While De Mornay's role is very much of the supporting nature, it still showed that the actor had wit, humanity, and sex appeal to burn on the big screen. It's not hard to imagine some of Hollywood's biggest decision makers took note of that performance, particularly director Curtis Hanson, who cast De Mornay as a villainous would-be nanny in his 1992 thriller The Hand That Rocks the Cradle. De Mornay more than delivered the goods as the psychologically-damaged baddie, and this time found herself the lead in a blockbuster hit that held the number one spot at the box office for four straight weeks.   
She played producer with Leonard Cohen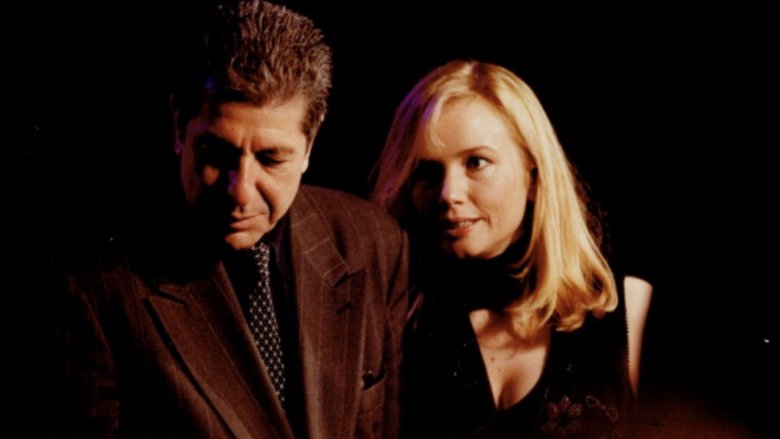 Getty Images
As De Mornay continued to cement movie star status in her professional life, she also found a welcome bit of stability in her personal life when she began a years-long partnership with legendary singer/songwriter Leonard Cohen. After meeting sometime in the '80s, the pair went public with their relationship in the early '90s and remained together for a few years. At one point, they were even engaged to be married. Over that period, the pair were all but inseparable, with De Mornay becoming quite involved with the inner workings of both Cohen's personal and professional lives. She even claimed co-producer credit on a song from Cohen's 1992 album The Future, which is also dedicated to her.
Though the pair eventually went their separate ways, they apparently remained close over the years. De Mornay even offered a few supremely kind words about Cohen after his passing in November 2016, claiming that she "really cannot fathom what life will be like without him in it."
She also played director on The Outer Limits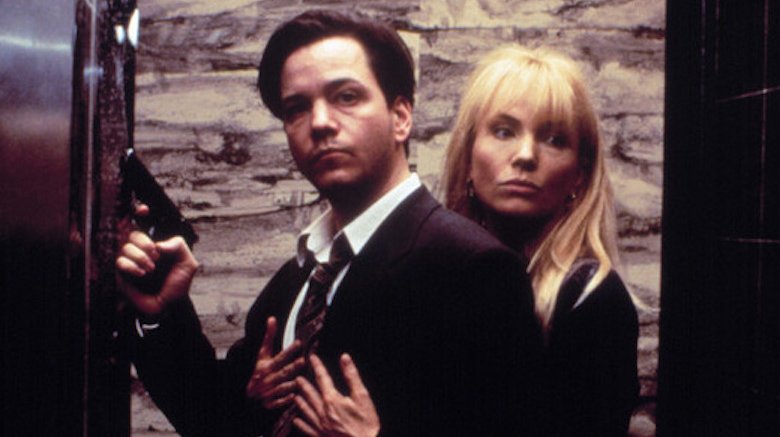 De Mornay's collaboration with Leonard Cohen wasn't the only project on which she claimed a producer's credit. In fact, she earned that same title on three of her own acting projects over the years, including 1995's Never Talk To Strangers, 1996's The Winner, and 1999's A Table For One. De Mornay's appearance on the popular sci-fi/fantasy anthology series The Outer Limits found the actor donning a different title — that of actor/director. De Mornay claimed that director's chair in the 12th episode of the series' mid-'90s revival. The episode in question, titled "The Conversion," was a complex, violent story to tackle.
"The Conversion" follows a man fresh out of prison and harboring a serious grudge against his former employers — the sort of grudge that drives him to walk into his former place of employment and open fire on the office's Christmas party. As one might expect with The Outer Limits, there are twists and turns to be had throughout the narrative. De Mornay plays a key role in those twists as a mysterious woman who may or may not be pulling the strings. Behind the camera, she also handled the challenging material with style and grit, delivering a violent, clever, character-focused tale of mistakes and second chances. She also got to direct her old Beauty and the Beast co-star John Savage in the process.
She checked in to the Overlook Hotel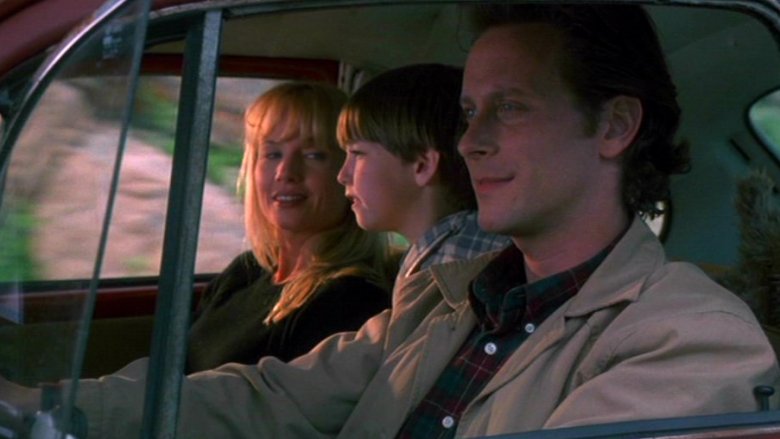 Rebecca De Mornay's career continued to flourish throughout the '90s, but 1997 saw the actor take one of her biggest risks yet when she landed the role of Wendy Torrance in the high profile made-for-television adaptation of Stephen King's The Shining. Yes, the same story that had already inspired Stanley Kubrick's legendary big-screen scare fest almost two decades prior, with its iconic performances from Jack Nicholson and Shelley Duvall.
Obviously, the stakes were high in bringing the three-part miniseries to fruition, particularly as King — himself no particular fan of Kubrick's bone-chilling adaptation — was scripting all three episodes of the adaptation himself. Clocking in at four-and-a-half hours long, those three parts are as faithful — for better or worse — to King's original novel as cinematically possible. As for De Mornay and her on-screen husband/menace Steven Weber, the pair don't quite chew the scenery as emphatically as Duvall and Nicholson, but each finds a way to make the characters their own, and helped make their version of The Shining the only adaptation to meet with the horror master's approval.
She spent some time in the E.R.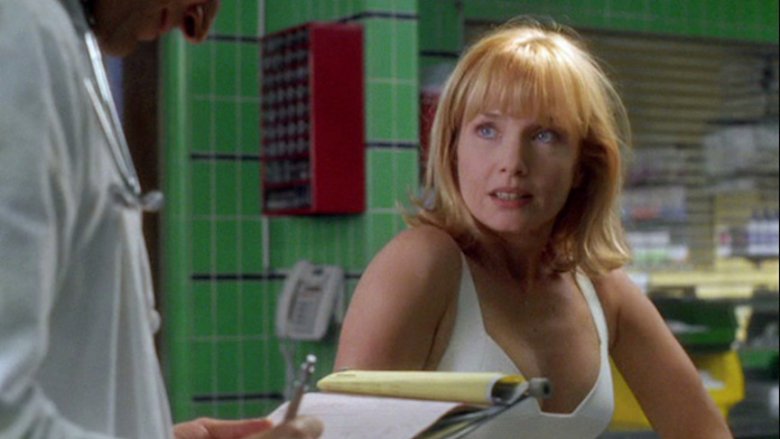 Having found some genuine small screen success with the Emmy-nominated adaptation of The Shining, De Mornay wasted little time booking her next gig on television. As it happens, that gig came via one of the greatest TV series ever produced: ER. De Mornay made her premiere in the first episode of the series' sixth season, playing Elaine Nichols, a wealthy seductress to Noah Wyle's beloved character Dr. Carter, the twist being that the character was also the ex-wife of Carter's cousin.  
Throughout De Mornay's arc, the pair faced numerous challenges, including the obvious family turmoil, their dramatic age difference, and eventually a breast cancer storyline that sees Carter trying to be supportive as Elaine endures a mastectomy. Eventually, the pair end things with Elaine running off to Europe to start anew, and Carter staying in Chicago to continue saving lives. Though De Mornay's role lasted just five episodes, it remains one of the more memorable season 6 guest appearances that also included turns from Emile Hirsch, David Krumholz, Shia LaBeouf, Anton Yelchin, Martha Plimpton, Gabrielle Union, and Vincent Kartheiser.  
She found a new Identity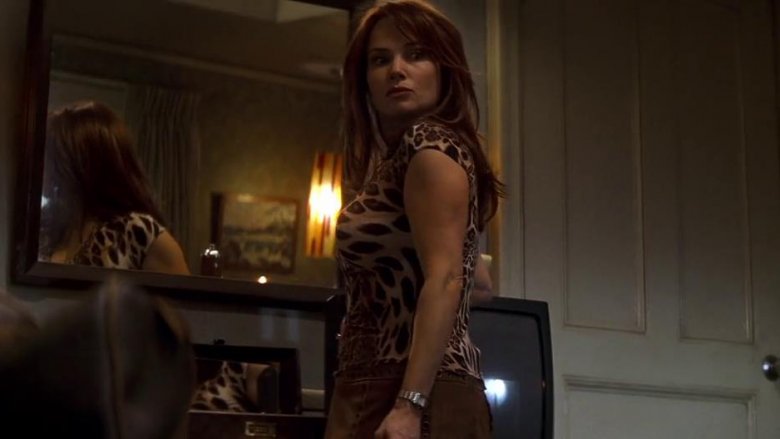 Though she's had serious successes on the small screen, Rebecca De Mornay has always oozed big screen charisma. A shrewd bit of casting gave De Mornay a chance to showcase both when she played the role of an aging TV star with a nasty streak in James Mangold's psychological thriller Identity. Conceived as an Agatha Christie-style whodunnit, the film is an ensemble piece (featuring the talents of John Cusack, Ray Liotta, Amanda Peet, Clea Duvall, John Hawkes, and Alfred Molina) that simultaneously follows a group of strangers being stalked by a murderer in a seedy, isolated motel. Testimony of a potentially schizophrenic death row inmate may hold the key to the gruesome mystery at hand.
Needless to say, there's a lot to unpack with Identity as the film twists and turns with the unpredictability of a tornado. With some crackerjack scripting from Michael Cooney and an unwavering vision from Mangold, Identity manages to add serious intrigue to an essentially formulaic setup. Over 15 years after it's release, Identity remains a genuinely satisfying mindbender of a film, and one of the great — if often overlooked — psychological thrillers of the 21st century. It also happens to feature one of the best performances of Rebecca De Mornay's career.
She partied with the Wedding Crashers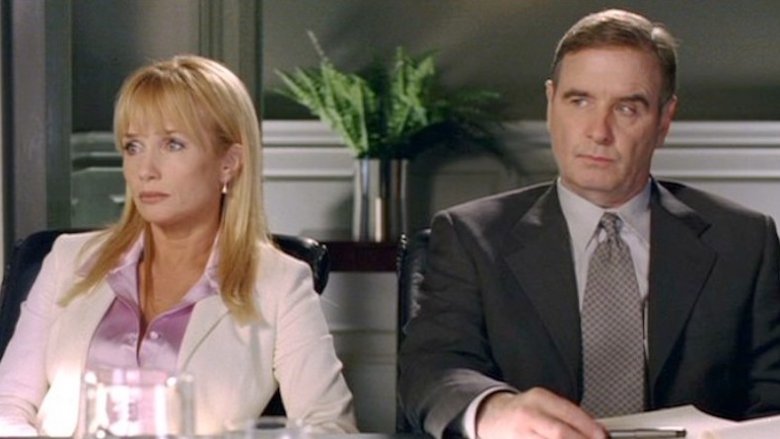 Though she was blessed with leading lady looks and acting chops to match, De Mornay has generally gravitated towards roles that play to her strengths. That means she's never been one to shy away from playing compelling supporting characters in bigger movies. More often than not, she's made the most of these minor roles, bringing a wealth of richness to even the most marginal of characters.
Of her supporting turns, few were more memorable — or more brief — than her role as a vindictive divorcee in the opening moments of 2005's outlandish Vince Vaughn/Owen Wilson comedy Wedding Crashers. For those of you who didn't recognize De Mornay in the film, she traded barbs with Dwight Yoakam as one half of the soon-to-be-divorced Kroegers, who are forced to remember the good times by Vaughn and Wilson's do-gooding divorce attorneys/mediators. Though the scene clocks in at just about three and a half minutes, it more than proves a droll tone-setter for the raucous action that follows.  
She played Mom to many, including Jessica Jones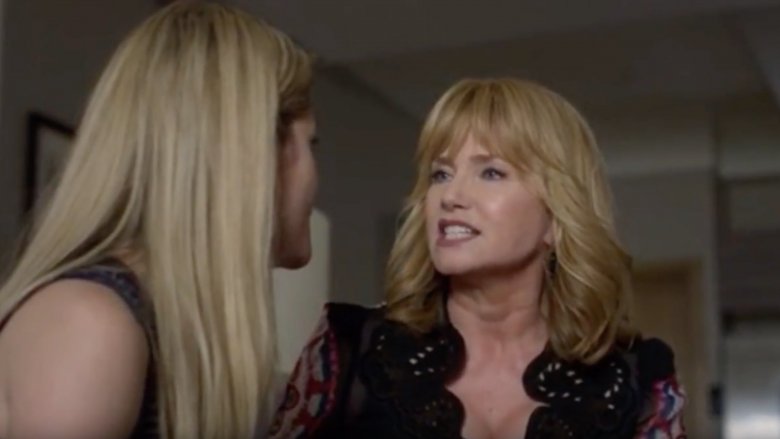 Now over four decades into her career, Rebecca De Mornay's professional life has continued to flourish. Still, like so many former starlets before her, choice roles have become a little harder to come by. Nevertheless, De Mornay has made a second career of sorts out of playing a matriarch on screen. In the last 15 years alone, she's played materfamilias in over a dozen projects on big screens and small, including memorable roles in HBO's John From Cincinnati, American Reunion, Mother's Day, American Venus, and Hatfields & McCoys; and all that while playing mom to two daughters of her own.
Of course, De Mornay's most memorable turn as a fictitious mother has been as Dorothy Walker. Yes, that's De Mornay as the venomous, fame-hungry woman who spawned Trish "Patsy" Walker, and played guardian to the one and only Jessica Jones — not that the tough-as-nails detective ever really needed it — on the hit Marvel/Netflix series. Like many of her supporting turns over the years, De Mornay brings a stark bit of duality to the role, helping make a complex human being out of what might otherwise have been a shrill, patently unlikable character.  
She Ball and beyond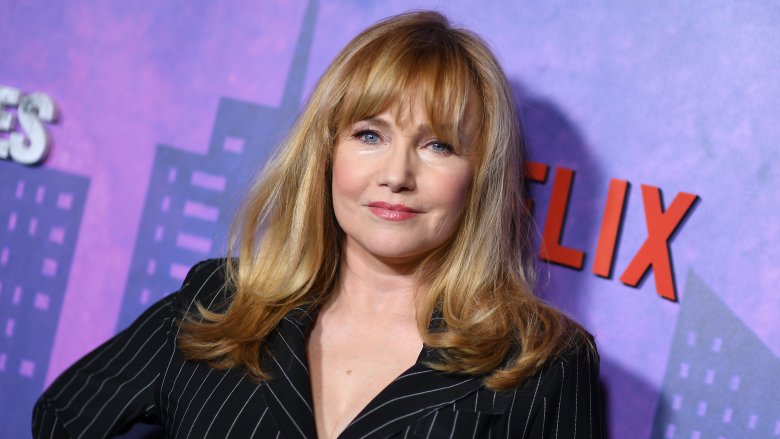 Getty Images
As Rebecca De Mornay nears her 60th birthday, it's clear that the acclaimed actor has no intention of slowing down, having recently completed a two-episode arc on Fox's Lucifer and appearing in 2018's family drama Periphery. As for what lies ahead, we'd certainly expect to see De Mornay reprise her role — and probably earn herself another slap — as Dorothy Walker on the upcoming season of Jessica Jones. After that, De Mornay is slated to play a key role in the Nick Cannon-directed women's basketball drama She Ball. 
From there, the sky seems to be the limit for the gifted performer. One thing we know for sure is that Rebecca De Mornay is primed to continue playing strong, intelligent, beautifully flawed women on screens big and small for years to come. If certain quotes are to be taken at face value, she might have a few intriguing ideas about taking on the patriarchy as well. Here's hoping she has a little success in that noble endeavor.