Aquaman Officially Passes Justice League At The Global Box Office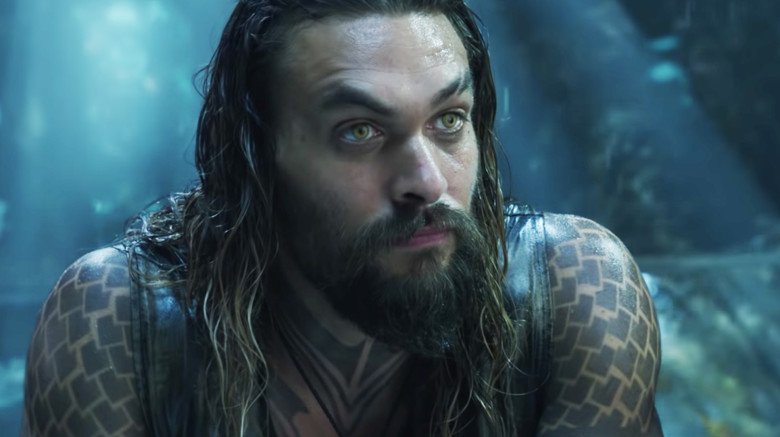 Aquaman is making huge waves at the box office, having already drowned fellow DC Extended Universe film Justice League as far as international profits are concerned. 
As of December 30, the Jason Momoa-led superhero pic has pulled in $748.8 million worldwide (via Variety) — meaning Aquaman has made more in its first few weeks out than Justice League did in its entire run, during which it yielded a sad-in-comparison $657.9 million overall. 
Aquaman's near-$750 million pull accounts for the $51.5 million it took home in North America and $85.4 million it earned across 78 international markets this weekend. Viewing earnings only from overseas territories, Aquaman has raked in $560 million — of which a massive $250 million has come from China. Domestically, moviegoers have shelled out $188.8 million to see Momoa do his thing as Arthur Curry in the days since the James Wan-directed movie swam ashore on December 21. 
Industry analysts predicted this would happen – Aquaman ruling the box office high seas and swimming to success with ease — but now it has officially come true. Let's hear it for fishboy from the TV! 
Not only has Aquaman bested Justice League, but it has also surpassed Suicide Squad, which earned $746.8 million internationally throughout its theatrical run, and Man of Steel, which grossed $668 million. If the film continues along this money-plucking path, it will likely flip its fins past Wonder Woman and potentially even Batman v Superman: Dawn of Justice. The Gal Gadot-starrer is currently the second highest-grossing DCEU entry, having earned $821.8 million worldwide, and the dark and divisive Zack Snyder effort sits at the top of the franchise with its $873.6 million global pull. 
There's plenty of time for Aquaman to ride the waves and beat out the two movies that stand above it, and if it does, the film could represent the start of a new era of the DCEU. The franchise has struggled for a while now, with the tides only just turning into lighter, brighter, profitable territory last year when Wonder Woman soared into cinemas and shattered a ton of records. Though it will take more than a single stellar superhero movie to revitalize the DCEU and undo the damage other writers and directors have done, it's a wonderful, warming sign that when Aquaman came in with his trident a-twirling, people responded incredibly well to him and his movie that features Dolph Lundgren with patchy red hair and a Pitbull-sung remix of "Africa" by Toto. 
2018 has been strange all around, but the fact that Aquaman is performing this well is possibly the most bonkers thing to have happened all year — and we're not complaining. We don't suspect Warner Bros. and DC Films are either.