Netflix Announces Adult-Themed Animated Anthology Series From Tim Miller, David Fincher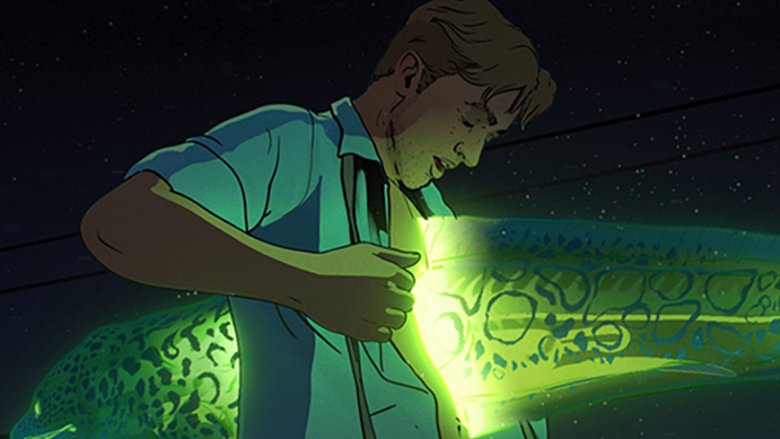 Netflix
Netflix is continuing to push the envelope with its invigorating original content, announcing on Monday that an adult-oriented animated anthology series from Deadpool director Tim Miller and Academy Award-nominated filmmaker David Fincher is in development. 
The Hollywood Reporter had the scoop for us, detailing that the series is entitled Love, Death & Robots and will consist of 18 short stories. Viewers can expect to embark on a journey through all sorts of genres — from sci-fi to horror to comedy to fantasy — and witness wild tales told in a variety of animation styles — including the traditional 2D style seen in old Disney classics to "photoreal" CGI presumably similar to that of the upcoming "live-action" Lion King remake. 
"Painstakingly crafted, charged with a mix of energy, action, and unapologetic dark humor," each short will run no longer than 15 minutes and no shorter than five. Though a different team of animation experts from across the globe will create the each of the 18 total entries in the Love, Death & Robots collection, it's assumed that with Miller's involvement on the project, his short-form animation company Blur Studio will oversee production in some way or another. 
In all, Netflix subscribers can anticipate roughly 185 minutes of Love, Death & Robots goodness — which includes characters like "werewolf soldiers, robots gone wild, sentient dairy, alien spiders, and blood-thirsty demons from hell," plus "garbage monsters [and] cyborg bounty hunters," that come together "in an orgy of NSFM (not suitable for mainstream) shorts." 
According to Netflix's sci-fi-centric social media account @NXOnNetflix, no two Love, Death & Robots installments will be alike, but all will be terrifyingly twisted: "Some are comedies. Some are tragedies. All of them are incredibly demented and definitely unlike most animation out there." 
At the time of the announcement, Miller could hardly contain his excitement, gushing about how eager he is to get started on the series. 
"Love, Death & Robots is my dream project," said Miller, whose subversive superhero flick Deadpool raked in $738 million in 2016 and established him as a filmmaker to watch. "It combines my love of animation and amazing stories. Midnight movies, comics, books, and magazines of fantastic fiction have inspired me for decades, but they were relegated to the fringe culture of geeks and nerds of which I was a part. I'm so f***ing excited that the creative landscape has finally changed enough for adult-themed animation to become part of a larger cultural conversation."
Fincher didn't offer his own statement regarding Love, Death & Robots, but we're certain he's every bit as thrilled about things as Miller is. In fact, we have half a mind to say he's probably clacking his heels together in unbridled joy right now, grinning from ear to ear at the fact that he's A) partnering up with one of the coolest directors in Hollywood and B) re-teaming with Netflix for another collaboration. 
Known to the folks at home as the guy who directed Fight Club, Panic Room, Zodiac, The Curious Case of Benjamin Button, The Social Network, The Girl with the Dragon Tattoo, and Gone Girl, Fincher played a huge part in developing Netflix's original series House of Cards and Mindhunter, executive-producing and directing a number of episodes of both series. Even after its shocking twist at the top of season 2 and the unfortunate real-life events that impacted how the series is wrapping up, House of Cards remains a television phenomenon. And Mindhunter is blazing a similar trail, standing apart from the rest of the pickings in the crime drama genre with its gorgeous visuals, incredible lead cast (that includes Jonathan Groff, Holt McCallany as Bill Tench, Hannah Gross, Cotter Smith, and Anna Torv), and story that weaves intimate, character-driven moments with truly chilling stuff — like those interviews with those serial killers, you know the ones. Both shows wouldn't be the same without Fincher's magic touch. 
Together, Miller and Fincher have no doubt birthed something captivating and kooky with Love, Death & Robots. That the two have also opened the door for dozens of creatives to work on such a bold project makes things even sweeter. What we've learned of the anthology series so far has us convinced that, with its various animation styles and cast of crazy characters, Love, Death & Robots may end up being one of the most daring offerings of 2019 — and possibly the most audacious thing Netflix will do this year too. 
Netflix hasn't announced a release date for Love, Death & Robots. Check back with Looper for more updates as information becomes available. Until then, check out a few photos from the series — the ones that are safe-for-work enough to show here, that is.