Captain Marvel: New Photo Shows Carol Danvers Rocking A Kree Suit And A Mohawk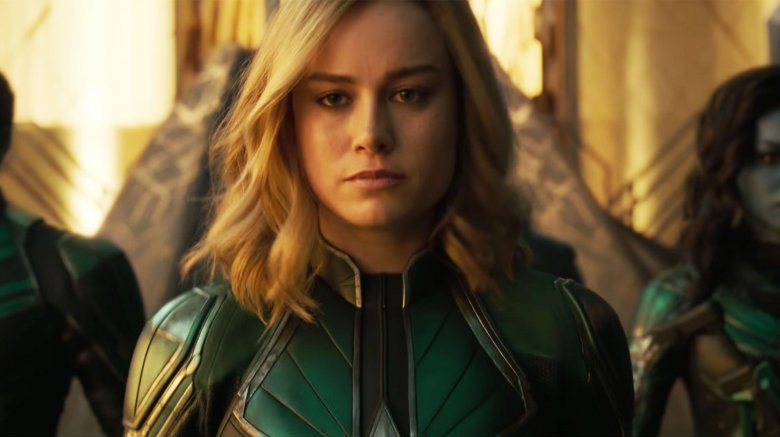 As if Captain Marvel couldn't get any cooler. 
A new Captain Marvel photo, which comes to us courtesy of USA Today, depicts Brie Larson suited up as Carol Danvers for the upcoming Marvel Cinematic Universe entry. 
In it, the part-extraterrestrial, part-human superhero sports green Kree armor and her signature mohawk — a hairdo created by her shiny headgear, which pushes her blonde tresses up in one direction and out through a narrow opening. 
The outlet didn't provide context for the snap, so it's anyone's guess when in the movie Carol slips into her Kree suit. From our vantage point, it looks as if she's readying herself for a smackdown with a baddie, given that she has a battle-ready face on and appears to have both fists clenched. 
Additionally, unless this still was taken from a flashback sequence, this moment probably happens early on in Captain Marvel, as she's not yet wearing her iconic red, blue, and gold uniform and still appears associated with Starforce. In the Marvel comics, Starforce is a supervillain group, a squad of Kree united by the race's artificial intelligence leader the Supreme Intelligence. The Captain Marvel film, on the other hand, will position Starforce as "an elite Kree military team" that Carol joins after leaving "her earthly life behind" (via Entertainment Weekly). Carol eventually returns to Earth, her home planet where she was once a highly skilled military pilot before she got mixed up in an accident that imbued her with Kree DNA and heroic abilities, and discovers that the good-for-nothing, shape-shifting Skrulls are causing all sorts of trouble.
During her mission to save the innocent humans from becoming Skrull snacks, Carol will don her more recognizable suit, which fans have seen in various trailers, promo posters, and TV spots before. Now, it's nice to see the superhero rocking something different. 
And speaking of fashion choices, actress Larson explained to USA Today just how influential style is in Carol's life. "It's so cool to play a superhero wearing a Nine Inch Nails T-shirt, ripped jeans, and Doc Martens," she said, adding that Carol isn't "this perfect ideal of a woman," and that's part of what makes her so special. 
"She's my perfect ideal because she's flawed and she owns those and learns to work with them, and is making mistakes over the course of this movie finding herself — figuring out her past, but also discovering her own strength and power," shared the actress.  
Larson has spoken at length about what Carol means to her — "seeing a character who says how she feels and says what's on her mind and doesn't let people stand in her way is incredibly empowering," she once gushed — but she isn't the only one convinced that the pilot-turned-space-warrior will move audiences like no other Marvel hero has before. 
Captain Marvel co-director Anna Boden previously detailed that Captain Marvel's humanity will really resonate with viewers: "This is not a superhero who's perfect or otherworldly or has some godlike connection. But what makes her special is just how human she is. She's funny, but doesn't always tell good jokes. And she can be headstrong and reckless and doesn't always make the perfect decisions for herself. But at her core, she has so much heart and so much humanity — and all of its messiness."
Along with her vulnerability, Captain Marvel's physical strength will send her skyrocketing to the top of the MCU's list of most powerful characters. As Marvel Studios head Kevin Feige once promised, "All of the Marvel characters have flaws to them [and] all of them have a deep humanity to them. With Captain Marvel, she is as powerful a character as we've ever put in a movie. Her powers are off the charts, and when she's introduced, she will be by far the strongest character we've ever had. It's important, then, to counterbalance that with someone who feels real. She needs to have a humanity to tap into, and Brie [Larson] can do that."
See Larson's Carol Danvers in all her glory — and her many costumes — when Captain Marvel takes to the skies and soars into cinemas on March 8.