Holmes & Watson: Sony Reportedly Tried And Failed To Sell The Film To Netflix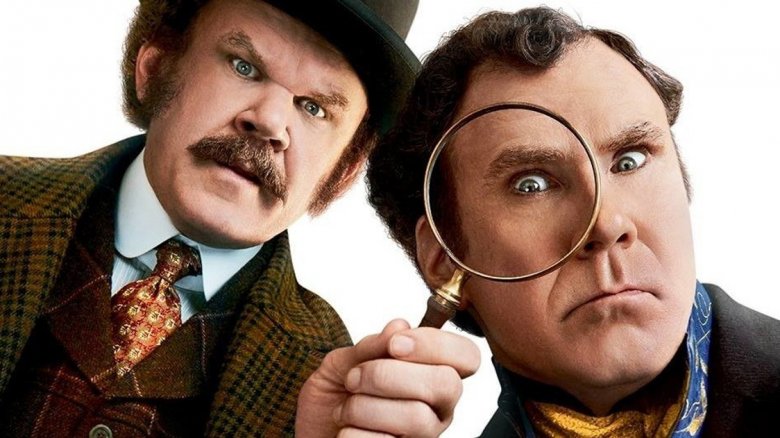 Netflix is home to many types of content. From true-crime docu-series to beloved comedies to thrillers that make viewers' blood run cold and their brains dream up monsters hiding around every corner, the streamer's catalogue is vast and varied. No movie is too small, no series too niche — Netflix is a relatively safe place for all projects, even the unsavory ones. For every Making A Murderer, Stranger Things, and Queer Eye, there's an Insatiable, The Cloverfield Paradox, and The Kissing Booth. This is to say that good and bad content is welcome on Netflix – but one film was apparently so awful that the company turned down an offer to buy it from a major film studio. 
According to a recent story published by Deadline, Sony reportedly attempted to sell the Will Ferrell and John C. Reilly comedy Holmes & Watson to Netflix after the studio learned that test scores for the film were — how do we put this nicely? — less than great. 
Probably panicked at knowing they had a real stinker sitting in their docket, Sony executives figured they could offload Holmes & Watson onto the streaming platform. Unfortunately, Netflix "wouldn't buy it." The streamer apparently didn't want anything to do with the film, of which Sony ended up selling down its share and Mimran Schur Pictures wound up entering into with a minority stake.
The Wrap film critic Alonso Duralde corroborated Deadline's report, tweeting on Thursday, "Netflix, which bought The Cloverfield Paradox from Paramount, reportedly turned down the opportunity to purchase the poorly-testing #HolmesAndWatson from Sony."
It's possible that Netflix's decision not to pick up Holmes & Watson was financially motivated, since the Etan Cohen-directed parody pic cost a reported $42 million to make, but that's pretty unlikely in the grand scheme of things. The streamer hasn't had a problem buying projects with big price tags in the past, having purchased distribution rights to Paramount's The Cloverfield Paradox and Warner Bros.' Mowgli: Legend of the Jungle. Ironically, both movies ended up flopping when they hit Netflix. It says a lot that the company, which already scooped up two big-ticket failures from film studios this year, passed on Holmes & Watson. 
But it's not difficult to understand why. 
Holmes & Watson, a spoof movie that features Ferrell as detective Sherlock Holmes and Reilly as his assistant Dr. John Watson, has sparked walk-outs and spurred lacerating reviews from critics. Moviegoers have asked for refunds for the cost of their tickets and reviewers have slammed the film as "so painfully unfunny we're not sure it can legally be called a comedy." Heck, the film even ended up on our own list of the worst movies of 2018 after we caught wind of the mid-screening slip-aways and harsh critical and audience response. 
By and large, it sounds like Holmes & Watson is a big ol' mess. We can't classify it as a trainwreck or a car crash, though, as viewers didn't have a problem looking away from it. And, evidently, Netflix didn't either.