Holmes & Watson: Why People Are Walking Out Of The Will Ferrell And John C. Reilly Comedy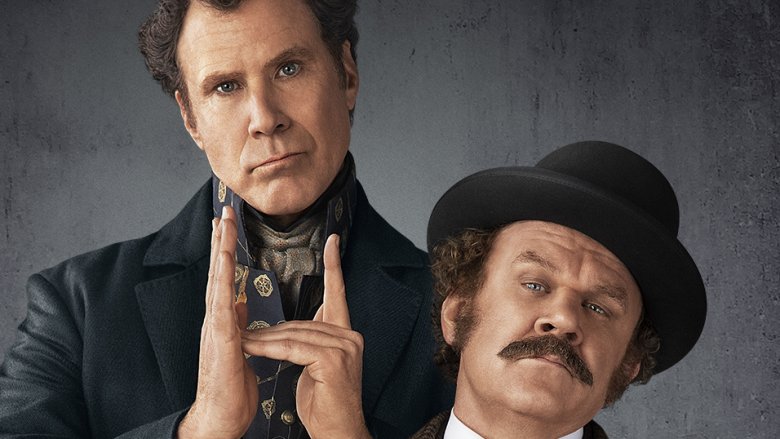 Having previously split everyone's sides sharing the screen in Talladega Nights: The Ballad of Ricky Bobby and Step Brothers, Will Ferrell and John C. Reilly proved themselves a dynamic, hysterical, nearly unstoppable duo. Like a super-raunchy Chris Farley and David Spade or the American answer to the British pair Simon Pegg and Nick Frost, the duo managed to spur a worldwide craving for Shake-N-Bake, an influx of new subscriptions to Good Housekeeping magazine, riotous laughter, and standing ovations with their screwball comedic stylings. 
Sadly, Ferrell and Reilly's latest venture, the Sherlock Holmes spoof film Holmes & Watson, had people jumping out of their seats for all the wrong reasons. 
The film is apparently so bad that it's prompting audiences to leave the theater in the middle of the movie, with some even requesting refunds for the cost of their tickets. 
Directed by Tropic Thunder scribe Etan Cohen, Holmes & Watson opened on Christmas Day, but wasn't screened to members of the media ahead of its wide launch. Once critics and fans actually feasted their eyes upon what they thought would be another hilarious Ferrell-Reilly two-hander, things went sour fast. Currently, Holmes & Watson sits at a bleak six percent critical approval rating and 25 percent fan score on Rotten Tomatoes, which is actually an improvement from its commencing posting of zero percent — a mark that doesn't come around very often on the review aggregator. 
So, why the big, fat goose egg of an initial score? Why the mass walkouts? Why the refund requests? 
Holmes & Watson is evidently just that terrible of a film. 
"Holmes and Watson was the worst f***ing movie of all time. First movie I've ever walked out on," one viewer wrote on Twitter. 
Similarly, a woman shared that she and her boyfriend "walked out of Holmes and Watson 15 minutes in." She then joked, "Boyfriend's movie choosing privileges are cancelled." 
Another tweeted, "@HolmesAndWatson is an absolute disaster. Had to wake up 3 other family members 40 minutes in just to walk out. Possibly overtakes Ishtar as worse movie of all time! Don't waste your $ or time!"
One audience member was so turned off by Holmes & Watson that she reached out to Regal Entertainment Group on social media to potentially get her money back. "When a movie is so horrible you and half the theater walk out," she wrote. "Hey @RegalMovies, can I get a refund?" She then added that she "put the critic reviews aside and still opted to watch," but the whole viewing experience turned out to be an "epic fail."
"#HolmesAndWatson was the farthest slide from comedy I've had the unpleasant opportunity to view," user @RyanWithAnO tweeted after catching the film in theaters. "Tragic end to a comedic era."
Another disappointed moviegoer shared on Twitter, "Holmes and Watson is horrible ...this is almost the worst movie I have ever seen, it just keeps getting worse, not even stupid funny (why not do the typical Ferrell movie?) we are dying and not even watching it ... I never saw a trailer and just saw them [Ferrell and Reilly] and it fit into the time slot we had available today, omg should have stayed home and watched Netflix."
Other harsh reactions to Holmes & Watson include, "Out of countless movies these past 20 years – I have never walked out of a movie theater until today. Holmes and Watson is by far the biggest disappointment of 2018" and "I can't even put into words how bad Holmes and Watson is. Literally worst movie I've ever seen."
On paper, Holmes & Watson has everything going for it: Ferrell and Reilly in the lead roles, playing goofy versions of the Sir Arthur Conan Doyle-created characters Sherlock Holmes and Dr. John Watson; a silly story that sees the sleuth and his assistant attempting to stop the criminal mastermind Professor Moriarty from murdering Queen Victoria; a talented screenwriter who's well-versed in comedies sitting in the director's seat; and a first-rate cast that includes Rebecca Hall as Dr. Grace Hart, Ralph Fiennes as Moriarty, Rob Brydon as Inspector Lestrade, Kelly Macdonald as Rose Hudson, Lauren Lapkus as Millie, Hugh Laurie as Mycroft Holmes, and Pam Ferris as the Queen. 
In practice, however, nothing really worked. 
Critics have set aflame just about every aspect of Holmes & Watson, denouncing the lazy and out-of-control direction, the unfunny script that fails to get parody right, the cast members who often appear "befuddled about what they're supposed to be doing" and who aren't isn't given the opportunity to shine, and all the heavy-handed references and jokes that completely miss the mark. 
In his review, Newsday's Rafer Guzmán described Holmes & Watson as "one of those movies that goes beyond unfunny and into a comedy-cubist zone, where jokes are no longer recognizable and laughter is philosophically impossible." Noel Murray of the Los Angeles Times wrote that the film is "more of a well-meaning misfire than a total train wreck," "frustrating mainly because all of these folks can do much better." Peter Sobczynski was far more brutal with his take, aligning with what most moviegoers have felt about the film: "Holmes & Watson is so excruciatingly awful that you have to wonder what it was, other than their paychecks, that could have possessed the cast and crew to keep coming back each day, when it must have been obvious from the first day of shooting that the project was the most hopeless of cases imaginable."
While the cases Sherlock Holmes takes on are often complex, what happened with Holmes & Watson was a simple: the film wasn't what anyone anticipated it to be, and crashed and burned upon landing. Cinemagoers couldn't handle that heat, so they got out of the proverbial kitchen as quickly as possible. And with so many slamming Holmes & Watson as one of the worst movies of 2018, it's tough to blame them.