Chilling Adventures Of Sabrina Scores Two More Seasons On Netflix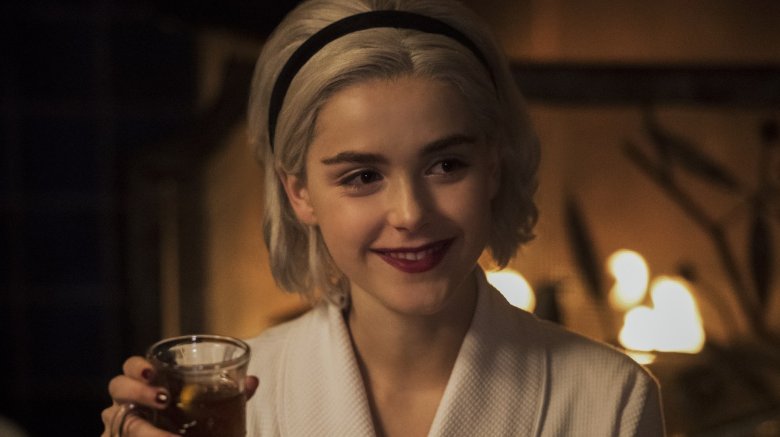 Bright solstice, indeed. 
Days after Netflix aired the surprise Chilling Adventures of Sabrina Christmas special, "Chapter Eleven: A Midwinter's Tale," the streamer has ordered two more seasons of the wickedly charming witch-filled series (via The Hollywood Reporter). 
Top-lined by Mad Men alum Kiernan Shipka as Sabrina Spellman, Chilling Adventures of Sabrina originally landed on Netflix with a two-season order that accounted for 20 episodes. The new order includes fewer episodes — 16 total — to be divvied up between "parts three and four." Production for the upcoming seasons will begin in 2019, likely ahead of Chilling Adventures of Sabrina's second season premiere on April 5. 
"Praise Satan! I'm so grateful to my partners at Warner Bros., Netflix, Berlanti Televisio,  and Archie Productions for supporting this darker vision of the world's most famous teen witch," Chilling Adventures of Sabrina creator Roberto Aguirre-Sacasa gushed in a statement accompanying the pickup news. "And I'm thrilled to be continuing to tell Sabrina's chilling adventures with our incredible cast and crew, led by the unstoppable Kiernan Shipka."
Seasons 3 and 4 of Chilling Adventures of Sabrina will, of course, star Miranda Otto and Lucy Davis as Sabrina's aunts Zelda and Hilda, Ross Lynch as her mortal (ex)boyfriend Harvey Kinkle, Jaz Sinclair as her best friend Roz Walker, Lachlan Watson as her other close pal Susie Walker, Michelle Gomez as Mary Wardwell (who's really Madam Satan), Richard Coyle as Father Faustus Blackwood, Gavin Leatherwood as Nicholas Scratch, and Tati Gabrielle, Adeline Rudolph, and Abigail Cowen as the Weird Sisters Prudence, Agatha, and Dorcas.
The new episodes will also feature two new faces: Descendants star Jedidiah Goodacre and How I Met Your Mother actor Alexis Denisof. Per Deadline, Goodacre is set to play Dorian Gray, the character created in 1890 by Oscar Wilde, who is presented on Chilling Adventures as an "enigmatic gentleman of an indeterminate age" who "is very good at keeping secrets, especially his own — a cursed portrait he hides from prying eyes." Denisof will play Adam Masters, Mary Wardwell's betrothed. "Handsome and charming, Adam returns to Greendale after a stint overseas working with Physicians Without Frontiers — unaware that his fiancé has been taken over by the demoness Madam Satan," his character description reads. 
With this two-season renewal, the series now has the chance to build its universe and incorporate more Archie Comics and Chilling Adventures of Sabrina comic characters and storylines into its narrative — and it sounds like that's exactly what the creative team plans to do.
Speaking of expanding Chilling Adventures' horizons, fans have been itching for the series to crossover with the other Archie Comics show, Riverdale, from the moment Aguirre-Sacasa teased that it might happen. "I would hate if there was no way possible for there ever to be a crossover," he told Entertainment Weekly back in October. "I think there'd be a great episode where the Riverdale kids hear about a haunted house in Greendale and try to break in and it's Sabrina's house. There's totally a universe where that happens."
We don't know what the next season of Chilling Adventures holds, or what Aguirre-Sacasa, who also showruns Riverdale, has planned for the future. But if the spooky Shipka-starrer and the delightfully over-the-top teen drama don't crossover during their second and fourth seasons, respectively, maybe they will during third or fourth season of Chilling Adventures. 
Netflix hasn't yet announced when fans will get to stream the new seasons of Chilling Adventures of Sabrina. We'll update you as soon as the streamer reveals those debut dates.