Fantastic Beasts: The Crimes Of Grindelwald Scores $9.1 Million In Thursday Previews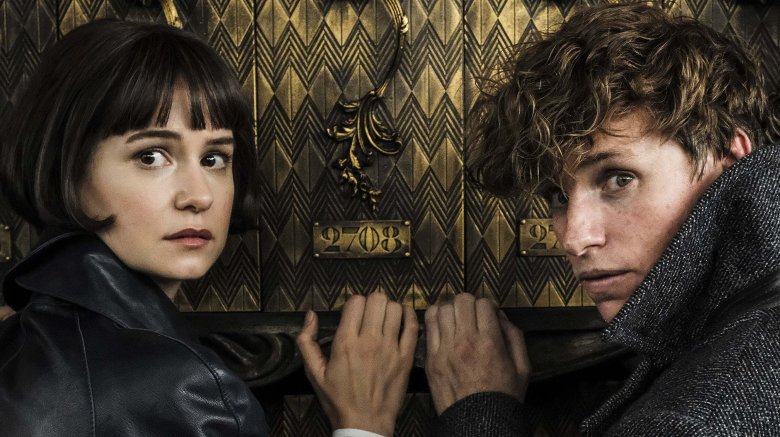 Fantastic Beasts: The Crimes of Grindelwald has placed an enchantment spell on the domestic box office. 
The sequel pic earned a fittingly fantastic $9.1 million in Thursday previews, The Hollywood Reporter relayed on Friday. 
Written by J.K. Rowling and starring Johnny Depp as the titular dark wizard Gellert Grindelwald, Fantastic Beasts: The Crimes of Grindelwald is tracking for a total weekend pull of between $65 million and $75 million, according to industry analysts. 
The film saw an early opening on Wednesday, November 14 in a select number of territories, where it earned $18.4 million to bring its two-day revenue up to $31 million. Friday, November 16 marks the domestic release of the Fantastic Beasts sequel, as well as the launch of the film in several key markets overseas, namely the U.K., the home of the Harry Potter franchise off which Fantastic Beasts series spins.
A preview night take-home of $9.1 million and an estimated $65 million to $75 million domestic weekend yield is on par for the Fantastic Beasts franchise, as the first film pulled in $8.8 million on its Thursday debut in 2016, then closed out its stateside opening weekend run with $74.4 million. 
That said, however, Fantastic Beasts: The Crimes of Grindelwald will more likely than not earn most of its revenue from international territories. Such was the case for its predecessor, Fantastic Beasts and Where to Find Them, which earned $234 million domestically during its theatrical run, accounting for just 28.8 percent of its overall earnings. Internationally, Fantastic Beasts raked in a staggering $580 million, representing 71.2 percent of its total gross. 
Considering both this track record and the fact that The Crimes of Grindelwald has already earned double overseas what it made in the U.S. in ahead-of-time sneaks, it's looking like Fantastic Beasts fans from around the globe will be the ones to make the sequel a success — just as they had done with the first film. 
It's both interesting and oddly relieving to hear that Fantastic Beasts: The Crimes of Grindelwald is performing well, as there's been much controversy surrounding the film — primarily regarding its title star, Depp. Fans of the Harry Potter books and films and the Fantastic Beasts movies were outraged when they learned that Depp, whose ex-wife Amber Heard previously accused him of assault, had been confirmed for the sequel. Though Depp and his character did appear in the first film, it was only briefly, in the shocking moment when Collin Farrell's Percival Graves reveals that he isn't an Auror or the Director of Magical Security for MACUSA, but that he's actually the powerful and dangerous dark wizard Gellert Grindelwald.
Many hoped, after hearing the allegations made against Depp, that The Crimes of Grindelwald director David Yates would find a replacement for Depp. Alas, he didn't — and he and screenwriter Rowling went on to defend Depp and stand by the decision to keep him not just on the cast roster but at the very top as the film's lead villain. 
The controversy didn't end there, unfortunately, as The Crimes of Grindelwald yet again came under fire when Yates stated that the film wouldn't "explicitly" reference Albus Dumbledore's sexuality and identity as a gay man, which Rowling made canon in 2007 after the release of the final Harry Potter book. Clouds of contention brewed a final time when it was revealed that South Korean actress Claudia Kim was cast as the human version of Nagini, Lord Voldemort's fiercely loyal pet snake who is ultimately beheaded in the Harry Potter film series.
After all this dissension, Fantastic Beasts franchise star Ezra Miller, known for his role as Credence Barebone, spoke out against critics and asked everyone to withhold judgement on The Crimes of Grindelwald until they actually see the film themselves. 
"Why don't you wait until you see the film before you start talking s*** on Twitter? Or wait to make up your own mind about something for once in your life. Do your own research. Make up your own mind. Follow your heart, and really, really investigate situations before you identify yourself and pick a side, and start throwing things at the opposition," Miller told Total Film in late October. "Because that's what's totally screwing everything up right now. And it polarizes us. We're all human, and there's a lot of things we can agree on."
Sounds like a great deal of people may have listened to Miller's wise words. 
In all, Fantastic Beasts: The Crimes of Grindelwald seems to be on the right track to make some magic and some serious bucks at the box office. Catch the film in theaters now.