Avengers 4: Sebastian Stan Doesn't Know If He's In The Movie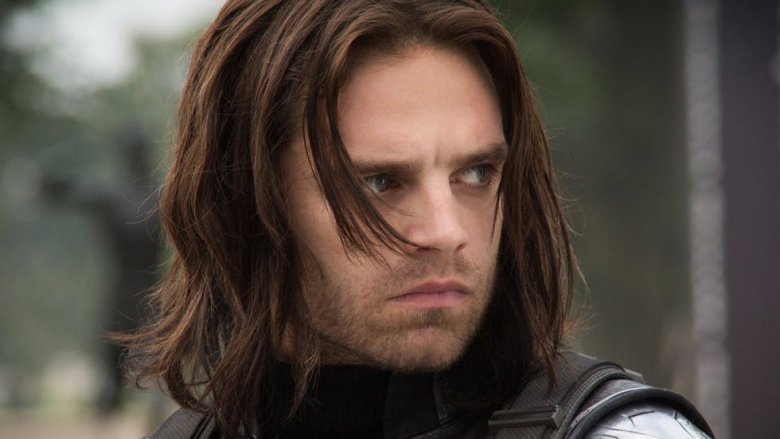 Has Marvel Studios taken its pact of secrecy one step too far?
While his fellow Marvel Cinematic Universe stars have been spilling spoilers like they're going out of style (yeah, we're calling you out, Mark Ruffalo and Tom Holland), Sebastian Stan recently admitted that he's been left completely out of the loop. 
Speaking with Collider to discuss his role in the Karyn Kusama film Destroyer as well as his ties to the planned Winter Soldier-Falcon team-up series, Stan revealed that he doesn't know if he's even in Avengers 4. 
Stan explained to Collider's Steve Weintraub that directors Joe and Anthony Russo didn't tell him whether he was filming sequences for Infinity War or Avengers 4 when production took place. The Russo brothers originally intended to shoot the two films concurrently, blurring the line between the events of Infinity War and what happens in movie four, but wound up abandoning those plans in favor of filming them back-to-back, with a month break in between. 
However, it seems as though that didn't do much to help reduce confusion for the film's stars — especially not Stan. According to the Bucky Barnes actor, no one involved in the production clarified which scenes would end up in which film. And judging by the way Stan described the experience, it sounds like he may have been shooting sequences out of chronological order, perhaps even at random. More than year after Infinity War completed filming in July 2017 and Avengers 4 started shooting in August 2017, Stan still can't make sense of it all, resulting in him questioning his role in Avengers 4. 
"When I was shooting anything, nobody ever told me what was part one or part two. The truth is, I don't even know if I'm in [Avengers 4]. What I shot was in part one. And anything that I shot may or may not have been in part one or part two and I still don't know," explained Stan. "There were things that we shot that were never gonna make it because it was easier to just convolute the whole thing. So in a way, you go 'Alright, that's cool, but...' But you know it's going to deliver on a level that we probably haven't even digested yet. Because that's what they do best."
Stan's comments here throw into question one very important Avengers 4-related remark he made in the past: the apparent confirmation that he will be in the upcoming film. In September 2017, when Avengers 4 was in the midst of production, Stan told CinemaBlend that he was scheduled to head to the film's Atlanta, Georgia set in October of that year. 
"I still haven't read a script for this next one. For this fourth one. All I know is I'm going down there in October, and that's all I know," he said, adding that he was "kept on a very 'need to know' basis" for Infinity War and Avengers 4. "Maybe that's the norm. But it's a family system. There's a trust, and there's a sense of knowledge between the writers and the directors, with Kevin [Feige]... that shows up," stated Stan. 
The actor's admission of uncertainty here also goes against what the Joe Russo once teased about Avengers 4. The filmmaker told Spin 1038 (via ComicBook.com) that Avengers 4 will complete the narrative he and his brother began in 2014's Captain America: The Winter Solider — the sequel pic that saw Stan's Bucky Barnes become the titular assassin. 
"For us, this was the challenge of telling the story but also completing the personal journey that we started as storytellers in Winter Soldier. So the story that began in Winter Soldier and that ends in Avengers 4 ... there's a very personal arc there for us," said Russo. "I think you'll understand our point of view as filmmakers and who we are as people when you watch all four of those movies together."
While we could speculate all day long about what Russo meant, the important takeaway from his comments is the insinuation that Bucky Barnes will be an integral part of the Avengers 4 story in one way or another, which has led many to assume Stan's hero is confirmed for the film. 
The likelihood of Bucky being in Avengers 4 is even greater when remembering that the flick will apparently include a super-sized ensemble scene that Stan himself once said features "everyone."
"There was one scene, I think, we had where everybody was there. I can't really talk about that scene, but I knew it took them three months in planning this scene to have everyone there," Stan told ComicBook.com in April of this year. "You look around and you just saw everyone from Samuel L. Jackson to Michael Douglas to Michelle Pfeiffer. Everybody was there."
Those who have seen Infinity War know that there wasn't a scene that included Jackson's Nick Fury, Douglas' Hank Pym, and Pfeiffer's Janet van Dyne, so the sequence Stan spoke of must have been shot for Avengers 4. And, circling back to Stan and his character, it more than likely features Bucky as well. After all, it would be pretty weird of Stan to exclude himself from the group when stating that every major Marvel actor came together for this one epic scene, right?
Whether Stan genuinely doesn't know if he's part of Avengers 4, or if he's simply playing coy to keep Marvel fans on their toes, it's probably a safe bet to assume that fans will see Bucky back in action in some capacity come May 3, 2019.