Deadpool 2: PG-13 Version Gets Official Title, New Release Date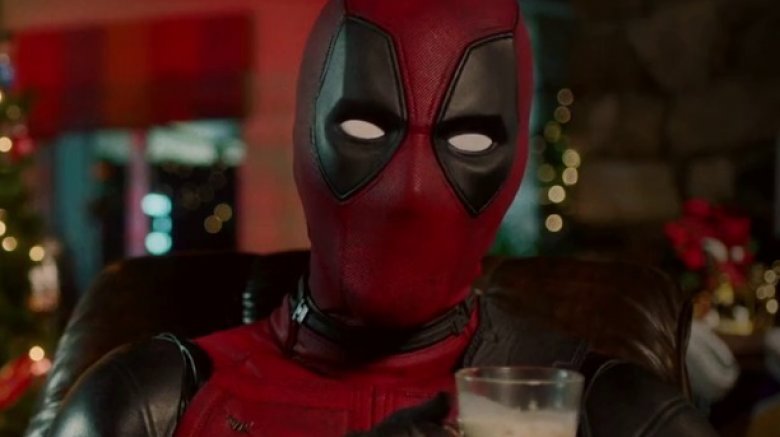 On the first day of Christmas, my true love gave to me... a special cut of Deadpool 2, rated PG-13!
Following the announcement that 20th Century Fox had plans to rework the raunchy Deadpool sequel into a more family-friendly, appropriate-for-most-ages movie to be released this holiday season, the studio has revealed the title of and release date for the PG-13 cut of Deadpool 2. 
Per Deadline, the revamp is called Once Upon a Deadpool, and will roll out theaters on December 12. 
Fox will release the film, which was reportedly originally intended to be titled The Deadpool Before Christmas, in a limited engagement that ends on December 24, meaning that moviegoers have but 12 days to catch the new version of the film before it fades away from the silver screen and into the snowy December air. 
The studio initially set Once Upon a Deadpool for release on December 21, taking the spot Alita: Battle Angel sat in before the Robert Rodriguez-directed cyberpunk actioner jumped to a February 14, 2019 debut. According to Deadline, Fox pulled up Once Upon a Deadpool and capped its time in cinemas in order to A) make the movie seem even more like a special event, and B) better appeal to its target demographic of "young teens on holiday break from school." Knowing that they have less than two weeks to see Once Upon a Deadpool will surely light a fire under the feet of Deadpool franchise fans, and starting the limited-time-only release in the middle of December rather than the end ensures that the under-17 teens who couldn't watch the original, hard-R-rated Deadpool 2 in theaters now have enough time to experience it before they had back to classes at the start of 2019. 
The PG-13 cut of Deadpool 2 is also meant to satisfy parents of young teens, who haven't exactly been all that happy about some of the more explicit elements seen in the Deadpool film series. "We've driven a wedge between parents and their tweens and we hear about it all the time," said screenwriter Rhett Reese. "This [PG-13 revamp] is a way to try to appease those parents."
It's easy to assume that director David Leitch simply sliced up Deadpool 2, spread all the pieces out on the editing room floor, and left behind the bits that earned the sequel pic its R-rating in order to create the upcoming PG-13 version. However, that isn't the case. While it's been noted that the majority of Once Upon a Deadpool genuinely is edited footage from the Ryan Reynolds-starring sequel that Leitch and company edited in order to "meet PG-13 thresholds of violence and language," the new version of film isn't bland or boring or sanitized of everything that makes movies featuring the Merc with a Mouth so awesome. 
Once Upon a Deadpool includes a whole new a framing story, one dreamt up by Reynolds himself and put on the page by screenwriters Reese and Paul Wernick, that involves Fred Savage and takes inspiration from the 1987 comedy-fantasy classic The Princess Bride, in which Savage starred as a young boy whose grandfather told him an adventure-filled bedtime story but skipped over all the violence in doing so. 
Reynolds put the pedal to the metal in making his Once Upon a Deadpool vision a reality, gathering a tiny film crew and shooting all eight framing scenes "in a single hectic day of guerrilla-style filmmaking." That's one dedicated Deadpool.
Thanks to the new scenes, which will be sprinkled throughout the standing footage of Deadpool 2, Once Upon a Deadpool clocks in at roughly three minutes shorter in length than the original sequel, which ran for 119 minutes, or just under two hours. Currently, it's unclear how much of Deadpool 2 was removed or how long the interstitial additions run for. 
As Reynolds puts it, Fox has been gunning for a PG-13 film for over a decade now, and year after year, the actor has denied the studio its great desire. But when Reynolds propositioned Fox with the two conditions — one that could easily be seen through, one that was considerably trickier to execute — that it must be met in order for him to agree to a tamer take on Deadpool, the studio agreed. 
"Fox has been asking for a PG-13 [movie] basically since the start in 2006. I've said no since 2006. Now, this one time, I said 'Yes' on two conditions," Reynolds shared with Deadline. "First, a portion of the proceeds had to go to charity. Second, I wanted to kidnap Fred Savage. The second condition took some explaining."
Chatting with the outlet in a separate conversation that took place last week, Savage kept his tongue firmly placed against his cheek in joking that Once Upon a Deadpool is a "shameless cash grab" and that his "participation in this film was anything but voluntary" — a wink at Reynolds' wish to kidnap him. Savage added that he's "happy to learn that Fudge Cancer will be the beneficiary" of a portion of the revenue Once Upon a Deadpool makes upon its mid-December debut.
Some may argue that Deadpool just isn't Deadpool without an R-rating, but the fact of the matter is this: Fox releasing a PG-13 cut of Deadpool 2 is a necessary experiment, as the vulgar, violent anti-hero is on the cusp of moving studios. Deadpool (and a whole host of other characters) will leave Fox and head to Disney after the House of Mouse absorbs the home of the X-Men and the Fantastic Four in a multi-billion-dollar merger deal that's expected to be finalized before the end of the year. Not only does Disney create and unleash squeaky-clean animated films and features that please the whole family, but the studio also owns Marvel Studios, which houses all the Marvel Comics characters (and their standalones, respective trilogies, and crossover movies) that Fox doesn't have rights to. That said, Fox rolling out a PG-13 version of Deadpool 2 just before the Disney-Fox merger is completed is wise, as it gives both companies a chance to determine whether audiences can get down with a version of Deadpool that's a little more polite so that he can sit with the other superheroes when the studios soon collide. Here's to hoping the Merc with a Mouth will be just as entertaining with fewer sex-based jokes and a toned-down take on violence. 
Once Upon a Deadpool will open wide on December 12.