Fast And Furious Producer Neal Moritz Sues Over Franchise Spin-Off Hobbs & Shaw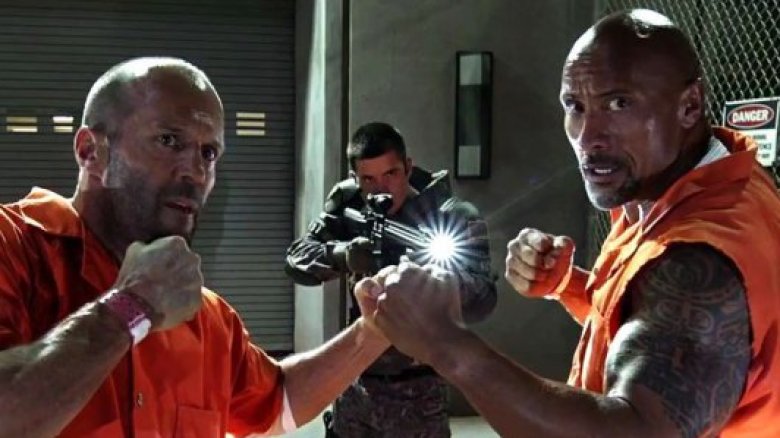 The Fast family is growing dysfunctional. 
Longtime Fast and Furious film series producer Neal Moritz has filed a lawsuit against Universal Pictures over the studio's forthcoming franchise spin-off Hobbs & Shaw, which stars Dwayne "The Rock" Johnson and Jason Statham. 
Deadline confirmed that Moritz is suing for "breach of oral contract and promissory fraud over being tossed out the door" of Hobbs & Shaw. 
With attorney Dale Kinsella backing him, Moritz — who produced 2001's The Fast and the Furious, 2003's 2 Fast 2 Furious, 2006's The Fast and the Furious: Tokyo Drift, 2009's Fast & Furious, 2011's Fast Five, 2013's Fast & Furious 6, 2015's Furious 7, and 2017's The Fate of the Furious — made the filing on Wednesday, October 17 in the Los Angeles Superior Court. 
The suit alleges that Universal stripped Moritz of his supposed producer credit on Hobbs & Shaw and subsequently booted him from the film. Now, Moritz hopes to either be renamed lead producer of Hobbs & Shaw, or be paid "tens of millions dollars in damages in lost compensation."
"In an extraordinary show of bad faith, and just a few days before filming was set to begin on Hobbs and Shaw, Universal took the position that Moritz either had to amend his oral producer deal to accept substantially inferior financial terms, or be cut out of the Picture altogether," the filing reads. "Remarkably, despite Moritz having complete Pay-or-Play protection on all of his last several deals on the FF Franchise and having relied on Universal's oral promises, Universal also took the extraordinary position that it was free to exploit Moritz's ideas for Hobbs and Shaw, and his work product over an approximately year-and-a-half period, without honoring its oral producer agreement."
According to the claim, Universal dropped Moritz from the film on September 7, 2018 after Moritz didn't agree "to the significant reduction in his overall compensation," and that the studio has now contended that "it can move forward with Hobbs and Shaw without providing Moritz with any credit or compensation." The suit continues, "If Universal believes that it can treat one of its most successful producers with such extraordinary bad faith, one can only imagine how Universal treats its lesser established producers."
Moritz's camp asserts that Moritz, Fast & Furious franchise writer Chris Morgan, Universal Pictures president Jimmy Horowitz, and Universal Pictures chair Donna Langley engaged in "frequent communications" that first started with the initial pitch for Hobbs & Shaw in the spring of 2017. The pitch session reportedly ended in a "verbal deal" that promised Moritz "$2 million in fixed compensation applicable against a 6 percent first dollar gross participation," which would "be reducible with all other first dollar gross proceeds participation on a pro rata basis, along with a defined Over Budget Adjustment provision, which was the first dollar gross compensation option in the FF8-10 Agreement."
Once the budget for Hobbs & Shaw increased, the terms of this alleged deal were altered "to a post-breakeven pool." However, according to Moritz's team, "the budget for Hobbs and Shaw was actually fifteen million less at the time of this call than it had been when Universal had first sent the draft producer agreement to Moritz's counsel in May 2018, which contained the first dollar gross deal to which the parties had orally agreed."
The short and long of it is that Moritz is suing to get his credit back, and if he can't achieve that, he at least wants to be compensated with the money he was allegedly promised when he was still the producer of Hobbs & Shaw. What makes this situation especially complicated is that there doesn't seem to be a written agreement detailing the terms of the deal Moritz speaks of, or any physical documents that can corroborate Moritz and his team's claims. 
This isn't the first time members of the Fast family have found fault with Hobbs & Shaw. Tyrese Gibson, who plays Roman in the film series, previously slammed Johnson for his commitment to the spin-off film, going so far as to blame him for delaying Universal's planned Fast and Furious 9 movie. 
"If you move forward with that Hobbs movie, you will have purposely ignored the heart-to-heart moment we had in my sprinter. I don't wanna hear from you until you remember what we talked about. I'm on your timeline cause you're not responding to my text messages. Fast family is just that, a family. We don't fly solo," Gibson wrote on Instagram. He later added, "Congratulations to The Rock and your brother-in-law aka 7 bucks producing partner [Hiram Garcia] for making the Fast and the Furious franchise about YOU. And like you, DJ, even if they call, I will not be deleting this post. Gn, folks. See you in 2020 April. Fast family, right? Nah. It's about Team Dwayne. Three years. Will it be worth the wait? No Shaw, just Hobbs. Will this be another Baywatch? Guys, guys, just relax. I'm just a passionate film critic." 
Universal hasn't issued a statement regarding Moritz's lawsuit. It's unclear whether the filing and the ensuing legal struggle will in any way compromise Hobbs & Shaw, which is currently filming and is set for release on August 11, 2019.