Guardians Of The Galaxy Vol. 3 Delay Could Impact Avengers 4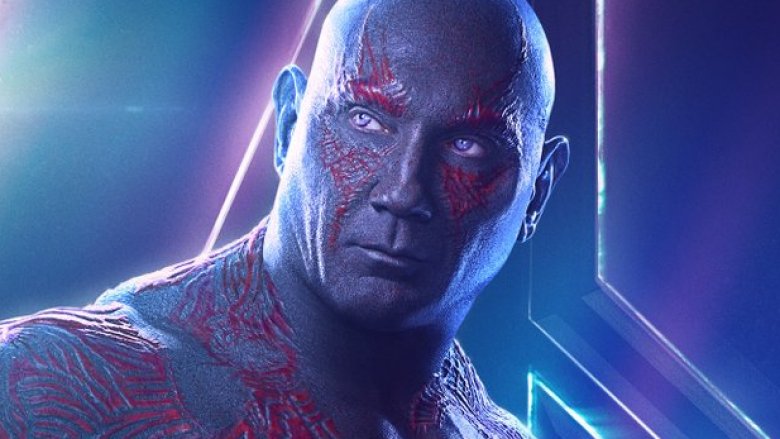 Marvel Studios
The Guardians of the Galaxy franchise has been in a rough spot recently, and things are apparently only getting worse, with fallout potentially affecting other corners of the sprawling Marvel Cinematic Universe. 
Following Disney's decision to fire director James Gunn from Guardians of the Galaxy Vol. 3, the House of Mouse and its subsidiary Marvel Studios placed the film on hold so the studios could "regroup" while selecting another filmmaker to take his place. Now, Dave Bautista, the actor behind the brutish, blue-skinned former criminal Drax the Destroyer, has revealed that the Guardians Vol. 3 production halt might impact the events of Avengers 4, particularly how the Guardians are portrayed. 
"It's kind of a strange situation to be in now where we've lost our director for Guardians. Guardians 3 is really up in the air and I don't know what they're going to do with it. It's on permanent hold for now, and that may make a difference in what they do with our characters in Avengers 4," Bautista told DigitalSpy. "To be honest with you, right now I really don't know."
The actor confirmed that he is part of Avengers 4 and that he's "shot most of it already," but he will return to set for "two days of reshoots." 
Bautista then mentioned that he has "some really great scenes" that he hopes Disney, Marvel, and Avengers 4 co-directors Joe and Anthony decide to use in the film. However, he isn't certain that all the footage featuring his Drax, Chris Pratt's Star-Lord, Zoe Saldana's Gamora, Vin Diesel's Groot, Bradley Cooper's Rocket Raccoon, or Pom Klemetieff's Mantis will be included in the final cut of Avengers 4. 
"I guess that it remains to be seen what they'll do with the characters," said Bautista.
It makes sense that the Guardians' fate in Avengers 4 is now uncertain, considering the flick was apparently meant to set up the backstory for the events of Guardians of the Galaxy Vol. 3. Though Disney and Marvel never dated the third Guardians movie, Gunn himself once mentioned that the plan was to get it out in theaters sometime in 2020 — perhaps as the first Marvel movie of that year — after Avengers 4 bows in May of 2019. Naturally, fans assumed Guardians Vol. 3 would pick up after whatever goes down in Avengers 4. 
With the film missing a director, a production start time, and an official release date, and with Disney and Marvel only reportedly potentially using Gunn's already-written script, there's no telling what will happen to Guardians of the Galaxy Vol. 3 and what changes a new director might make to the story. Thus, the Russo Brothers understandably might have to alter parts of the Avengers 4 script to ensure a smoother transition to Guardians 3 if Gunn's script gets scrapped or if the new director reworks things in a major way. 
For our part, we're hoping that the Guardians aren't completely clipped out of Avengers 4. After facing doom, death, and overall devastation in Avengers: Infinity War, the galaxy-savers certainly earned their place in the next Avengers installment.