Yellowjackets Season 2 Episode 9 Review: A Tale Of Two Rituals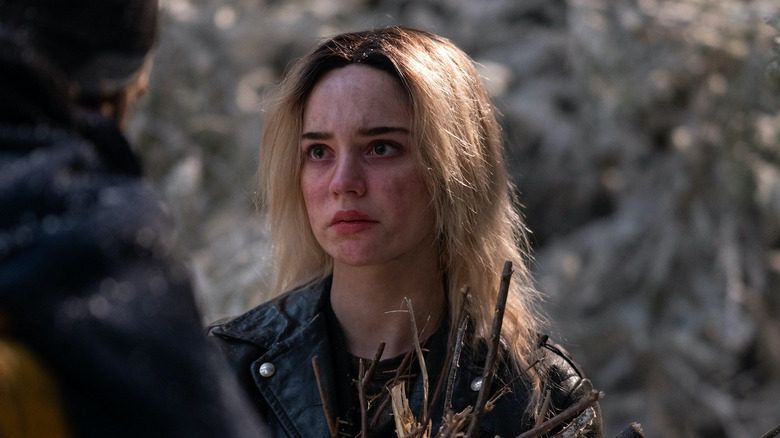 Kailey Schwerman/Showtime
The second season finale of "Yellowjackets," "Storytelling," packs a punch. While the adult versions of Shauna (Melanie Lynskey), Taissa (Tawny Cypress), Misty (Christina Ricci), Natalie (Juliette Lewis), Lottie (Simone Kessell), and Van (Lauren Ambrose) prepare to do the card ritual to discover which one of them will die, the teen versions of their characters are dealing with the fallout of the first time they performed that very ritual, discovering that things may not work out as they planned. This episode takes us through the ins and outs of things on both sides of the timeline, demonstrating that teen Natalie (Sophie Thatcher) has now fallen like the rest of them, and that while some things have changed, some things stay the same for the adults.
In the wilderness the teens have just killed Javi (Luciano Leroux) — or more specifically, let him die after he fell into the lake while taking Natalie, the one the group was really after, to a secret hiding place. Now they've recovered his body and taken him back to the house, where Shauna (Sophie Nélisse) gets him ready to eat. This clearly isn't easy for Shauna, but she does it. It's gruesome, and yet, it's what we've been waiting for. After all, the first victim they ate wasn't planned, they all just sort of dug in. This one, though, was a calculated plan for survival.
Everyone is waiting to hear what de facto spiritual leader Lottie (Courtney Eaton) has to say, but she's eager to hand the reins over to someone else: Natalie, claiming that the wilderness has chosen her as their true leader. Natalie seems conflicted, but also kind of happy about accepting this honor, a far cry from where she was when she was telling everyone they were crazy for listening to Lottie a mere day or two earlier.
Decades later, the adults find themselves trapped by the same ritual. The cards they draw don't reveal the queen initially, but eventually Shauna draws the card in question, and although everyone but Lottie said they weren't going to do it before the ritual, all of them give chase. Shauna has no choice but to run — until her daughter Callie (Sarah Desjardins) finds them and brandishes a gun in defense of her mother. What happens subsequently includes another person appearing in the woods, and one of the original Yellowjackets dying by another's hand.
Teenage wasteland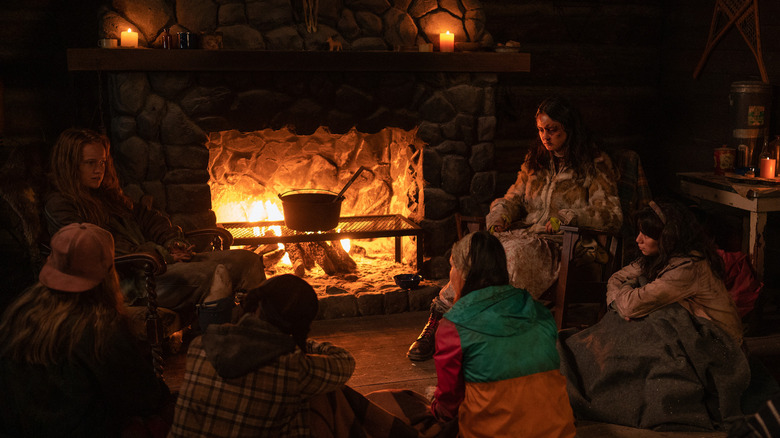 Kailey Schwerman/Showtime
The teens are locked in their own struggle, with survival being the main thing on their minds. As a result, they can't see much else. The only thing they previously gave any space to besides food was Shauna's baby and now that the baby is dead, food is pretty much all that's on their minds. This would be easier to believe, though, if they seemed like they were really starving. While they periodically seem like they're disturbed or having visions or otherwise losing their minds, it's hard to remember that this is because they're starving. Some visual indicators of this would help — sallow cheeks or hunched shoulders, for example — but that doesn't seem to be in the cards. Therefore, even though the acting is excellent, the show has a bit of a problem selling this part of the story.
That said, the machinations they go through in this episode are believable, from Shauna slicing and dicing Javi, to teen Travis (Kevin Alves) questioning teen Van's (Liv Hewson) motives, and reluctantly seeing things her way, to teen Natalie accepting the position of leader. It's screwed up in the best possible ways, especially the way Travis comes around to eating his brother.
One character remains undeterred: Ben (Steven Krueger), who's found the place where Javi was hiding and tries to recruit Natalie to spend the winter there with him. Riddled with shame over letting Javi die in her place, she says no, but encourages him to get out of there and maintain his position as a good person who doesn't eat other people. As innocent as that statement seems, though, it may turn out to be far more deadly. There's what happens at the end of the episode to the girls and Travis (no spoilers here), but based on the fact that Ben can't even seem to light a fire on his own, he's unlikely to make it until the spring.
The girls are on their way to becoming truly monstrous. At least some of them feel bad about what happened to Javi now. In time, however, even those who feel the worst about the situation are bound to feel numb to it. It's only a matter of time.
Following the same patterns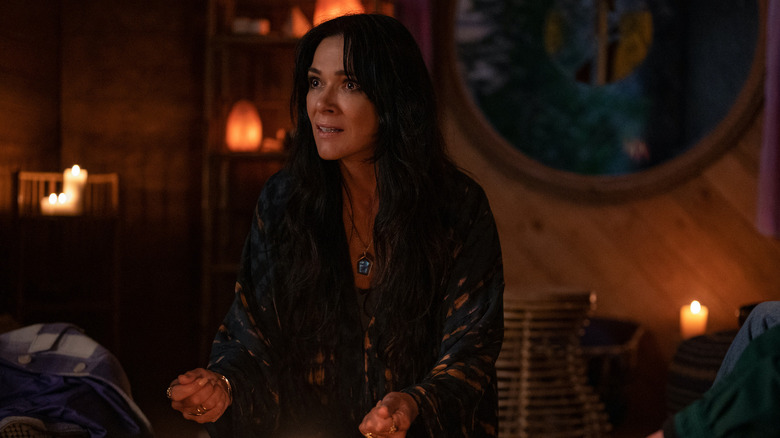 Kailey Schwerman/Showtime
In the present day, the group has figured out a way to distract Lottie while they decide what to do, but they haven't thought it through. They lean into the ritual so that she'll have to prepare, but as soon as they do, it appears that something greater takes over and they're right back where they were 25 years earlier. It's tragic and understandable all at the same time. The performances are near-flawless and they make the things that happen believable. 
Meanwhile, Walter (Elijah Wood) is staging his own "get out of jail free" ritual with Jeff's (Warren Kole) help. He's thrilled with how things turn out but finds that Misty isn't as thrilled with his work as he'd hoped in the wake of a shocking twist involving Natalie. The fallout of the whole thing is extra tragic given that they're acting now out of trauma and not even struggling for survival. Nonetheless, once the ritual has begun it won't stop until someone's dead, or at least that's what Lottie would say about it — and maybe Lottie has a point.
Either way, it's a difficult finale to stomach. The girls' story is still being revealed and I'm sure there are more twists and turns coming. Meanwhile, the women's story is unfolding in a way that no one expected. While the teens' time in the wilderness has an air of inevitability to it, the story of their adult drama feels like it's going off the rails and no one is able to stop it — perhaps until next season.