Yellowjackets: How The Handmaid's Tale & Rosemary's Baby Inspired Shauna's Birth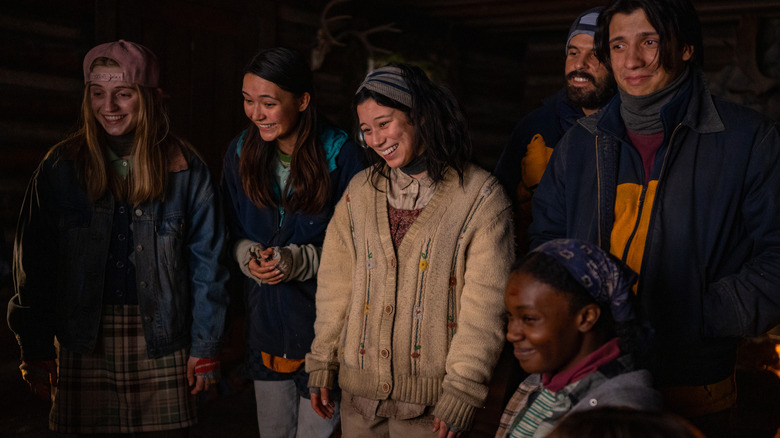 Kailey Schwerman/SHOWTIME
Contains spoilers for "Yellowjackets" Season 2 Episode 6 — "Qui"
Fans going into the sixth episode of "Yellowjackets" knew they were in for a rough time. The previous episode, "Two Truths and a Lie," ended with a teenaged Shauna (Sophie Nélisse) going into labor in the middle of the snowy, remote woods alongside her friend and teammate Taissa (Jasmin Savoy-Brown), so it was inevitable that "Qui" would deal with the birth of her baby. What happens next is, in true "Yellowjackets" fashion, bizarre, heartbreaking, and surreal. After a series of dreams in which Shauna imagines a motherhood where she finally successfully feeds her newborn son as well as a truly upsetting moment where the team eats her infant, she wakes up only to find that the baby didn't make it through childbirth.
Episode director Liz Garbus opened up about shooting the episode in discussion with Variety, revealing there were two huge pop culture inspirations for the sequence. "I sent Sophie birthing videos and medical videos, and how it might be different in the wild," Garbus said. "We looked at 'The Handmaid's Tale,' and the episode where Elisabeth Moss' character gives birth all by herself. But we took it seriously, but we knew we wanted to have fun with that dream timeline." 
Episode director Liz Garbus put so much thought into Shauna's birthing scene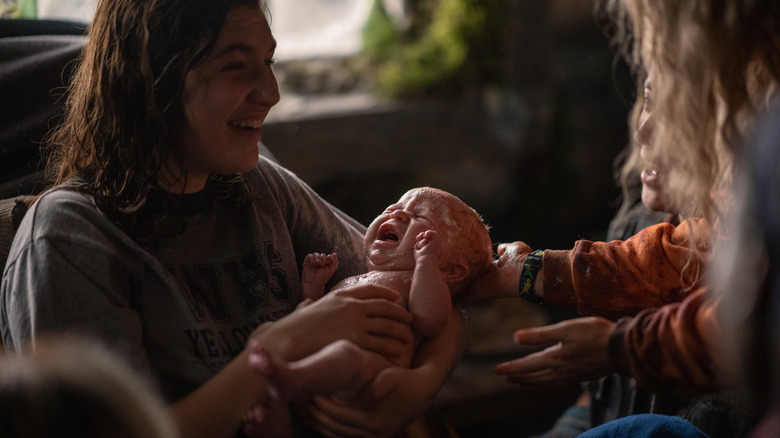 Kailey Schwerman/SHOWTIME
Apparently, the childbirth horror story "Rosemary's Baby" came into play as well for the scene where the team "eats" the baby. As Shauna walks into the main room of the cabin the team shares, she's met with bloody hands and deranged faces — so it's no surprise that the classic Mia Farrow was a part of the inspiration. "We looked at 'Rosemary's Baby' and the scene where Mia Farrow comes into the room and sees the grotesque faces of all the neighbors," Garbus revealed. "And we had fun figuring out how far out to take that particular moment for Shauna."
Garbus also described the battle between the real and the supernatural, which is present more than usual in "Qui." Team member Lottie (Courtney Eaton) has been having visions and experiencing trances during the group's time in the wilderness, and while some of the girls are believers in whatever Lottie's selling, some — like Shauna — are decidedly not. Lottie's spirituality definitely informs how she views Shauna's pregnancy, which puts the two at odds. Mentioning that Shauna and Sophie Thatcher's Natalie are much more practical, Garbus said, "Lottie and her crew are really believing that spiritual practices and amulets will make this baby safe. Taissa gets so scared that she engages in the magic with Van [Liv Hewson] of holding the amulet."
This is all for naught, though, as Garbus correctly said. "But sadly, it's the pragmatic timeline that prevails. If you're near starving, and you're in the wild, you're probably not going to have a healthy pregnancy."
The sequence was difficult for everyone — but especially for Sophie Nélisse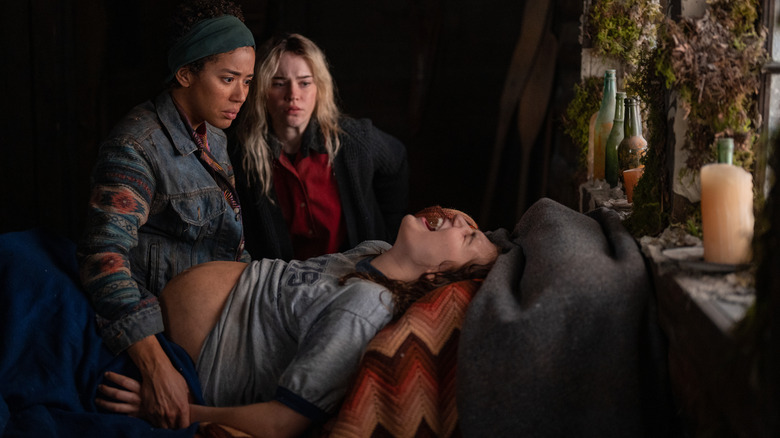 Kailey Schwerman/SHOWTIME
It should come as absolutely no surprise that as Shauna, Nélisse had to carry an extraordinarily heavy burden throughout the episode. As Garbus notes, the trauma of losing her baby on top of all of the other trauma Shauna and her teammates are dealing with is not something she ever truly recovers from. In the same episode, as the adult version of Shauna in 2021, Melanie Lynskey delivers a truly crushing monologue about her daughter Callie (Sarah Desjardins) and how she never really wanted her, but was overwhelmed by the responsibility of having her; it's very clear that her difficulties with Callie are tied directly to losing her son.
Garbus spoke to Nélisse's talent and fortitude during the same interview, showing that the young actress took on the immense responsibility of playing a series of moments that would affect her character forever. "Sophie is an extraordinary young actor who is going to do so many great things in her career," Garbus said. "That episode was a heavy lift. She had to go through this emotionally wrenching, devastating arc over five days."
After saying every cast member involved was incredibly generous with Nélisse, Garbus also said the actress wanted the sequence to honor real-life struggles, even though it was obviously heightened. "Sophie was so nervous about that scene," she said. "She took it seriously, and wanted it to feel real so that other people who had gone through childbirth and losing babies would relate."
"Yellowjackets" drops new episodes every Friday at 3 A.M. EST on Showtime's streaming service and follows